Since early 2011, PLDT has been pushing its Telpad products to homes and offices. I didn't understand the Telpad concept back then, and the relevance of a landline phone and a tablet. So now that I have an All New Dual-Core Telpad Dual S, it may help me find out why PLDT is harping that every household should need a Telpad.

Fibr Experience
Before I start my review, let me relate my story on how I got the All New Telpad. I was invited last month to attend PLDT Home's Fibr event which is like the culminating activity of all their services launched this year (Fibr, ClickPay, All New Telpad, Cignal Digital TV). I tested the Fibr connection in Buddha Bar and this is what I got on the Acer Iconia W3-810 I was testing that time: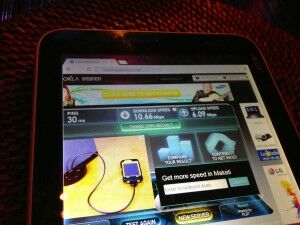 In the future (near future, I hope) I would like to have that kind of fixed-line connection in my household and home office.
So during that evening, we were asked to post a picture on twitter with #FibrExperience as the hashtag to win an All New Telpad. Yup, I was lucky to win that night, and not only that I got to have a picture with internationally-known DJ Tenashar.
SPECIFICATIONS:
OS: Android 4.1.2 (Jellybean)
Processor: 1.6 GHZ Cortex A9 Dual Core
Display: 600 x 1024 pixels, 7" LCD screen
Wireless Connections: Bluetooth 3.0, WiFi 802.11 b/g/n
Memory: 8GB Internal Storage, MicroSD up to 32GB, 1GB RAM
Connectors: Micro USB 2.0 OTG
Camera: 3.0MP (Main) , 0.3MP (Front)
Battery: (Tablet) 4,100 mAh; (Dock battery) 1,000 mAh
SRP: Free with a PLDT Telpad Plan (http://pldthome.com/pldt-home-call/telpad/telpad-plans)
Big Package
A big box was delivered to my home office a week after the Fibr event. I prepared to get my hands full on the Telpad's package contents.
The parts of the dock are easy to attach and I was able to setup mine in a couple of minutes. The Telpad Dual S also came with the usual charger and USB cable and PLDT added a nice touch by including an HDMI adapter. Setting up the Telpad's Google account is similar to other Android devices so if you have done this before then this will be a breeze. However, unlike other Android tablets, the Telpad doesn't have an apps drawer so all the apps installed are just found on the homescreen.
The Telpad Dual S looks like any ordinary Android tablet in the market today but the silver and white finishing on the back makes it look modern than the rest of its class. Aside from the Telpad logo, I noticed that there is a Huawei logo beside PLDT's. This means the latter partnered with Huawei to come up with this new Telpad. Huawei may not be that known as a smartphone and tablet manufacturer to the market but having used their devices this year, I'm glad that PLDT partnered with them. I trust them more in producing affordable devices than other Chinese companies.
The weight is thicker and heavier than the Cherry Mobile Fusion Bolt I reviewed earlier this year but not to the point it will discourage you to bring it elsewhere. Screen display is not the best of its class but viewable as long as you look directly at the screen and with the correct amount of brightness.
Welcome to the Future of Landline?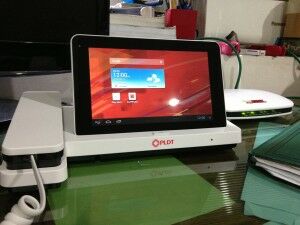 Tablets became a craze since the release of the iPad in 2010. Android tablets followed suit and cheaper variations started to surface in 2011. When the first Telpad was released, I wasn't interested to pick one up because I have an iPad and an Android tablet.
Then I remember my parents. They don't have a tablet and I thought the Telpad could be useful for people who don't have one like them. With the specs of the Telpad Dual S, new tablet users will find this tablet useful in their daily lives. Since the tablet is detachable from the dock, my folks can bring it anywhere. My dad can use the Telpad to search for a recipe or my mom can bring it to a mall and connect to any WiFi hotspot to read the latest news or use it to watch movies while on the road. If they're done with the Telpad, they can attach it again to the dock to charge.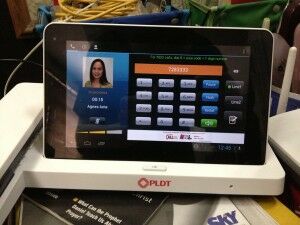 How will the Telpad function while it's connected on the dock? It will serve as your phone pad dialer to call up people stored in your contacts. You cannot use the physical keypad to dial a number while the Telpad is connected to the dock, nor turn on the speakerphone. You will be forced to use the Telpad to use these functions as long as it is docked.
Unfortunately, you cannot use it to make video calls via landline (which you can do on Skype on the Telpad). If your are subscribed to a Telpad plan, these additional features can be used on the tablet:
Caller ID
Caller Forwarding
Caller Waiting
Speed Dialing
3-Party Conferencing
Under The Hood
The Telpad Dual S is powered by a 1.6 GHZ Cortex A9 Dual Core processor which is capable in handling the apps I've installed. It played several of my video files and the sound quality while not too loud, is adequate enough for my personal viewing. I was able to install Riptide GP and Temple Run 2 and they both played flawlessly on the tablet. Moving from one window to another on the homescreen was fluid and I never detected any lags during my usage.
Honestly, I kind of underestimated the Telpad's performance and expected it to stutter while playing these games. However, there were times that that the tablet showed some sluggishness while playing The Sims. I am not entirely sure, but my guess the processor is not able to handle such graphics well.
One nice feature on the Telpad is the task manager found on the screen's recent apps button. Not only it will inform users which apps are opened, it can also tell how much memory is being consumed.
There are bundled apps with the Telpad that you can download like the games from EA, Clickplay and heyÜ which allows PLDT subscribers to make free calls to another heyÜ user.
Camera
Like any other low-end Android tablet, the camera of the Telpad Dual S is not recommended for using it as your main camera to take photos for your social networking sites. I only recommend it for Skype video calls and nothing else. Here are some sample photos that you can check.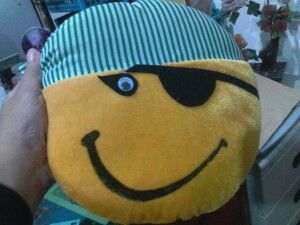 Even on my outdoor shot, the picture looked washed-out for me.
Battery Life
The Telpad Dual S is supplied with a 4,100 mAh battery. Continuous use gave me an average of 8-9 hours of web browsing, reading eBooks, articles on Flipboard, social networking and games. Otherwise, interrupted usage can even last more than a day like this for example: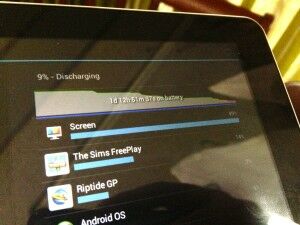 BOTTOMLINE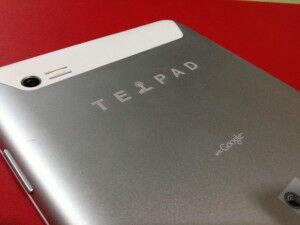 Would I recommend the PLDT All New Telpad Dual S? I say yes, especially to those who do not have a tablet in their households. The Telpad may not be as powerful as the Google Nexus 7 or an iPad, but realistically speaking, not all people need such power. The Telpad Dual S is certainly capable to do stuff what other people normally do on their tablets.
Also, Telpad comes with a landline phone and I now find it cool dialing landline numbers and see the details of these contacts on the tablet.
Now that my review is over, my mom and dad will be happy to experience using our All New Telpad Dual S as they are excited to use it ever since it arrived in our house.
LIKES:
Fluid Interface
Dual-Core processor
Comes with HDMI adapter
Silver/White finish at the back looks modern
DISLIKES:
Screen is not of exceptional quality
Weight is a bit heavy for its size
Pictures taken with the camera are washed out