RAKK Gears PH, one of the best and quality gaming accessories and peripherals brand in the Philippines, launched the RAKK Talan Air, its newest wireless gaming mouse last January 2022. The mouse comes in Black or White variant, and is an upgraded version of the RAKK Talan Wireless Gaming Mouse released in March 2021. The latest model features enhanced specifications such as high- precision sensors, improved clickers, two (2) hot-swappable batteries, and customizable high & low profile shells.
RAKK Gears promises "to empower and innovate gaming revolution through high quality products that will spark and enhance the gaming experience locally and globally." For this reason, the company continuously develop products with the best and in-demand features a user can get.
RAKK Talan Air Specs
Users can adjust the weight of this gaming mouse based on their preference and need. The adjustable weight starts from 63g when using honeycomb body without battery (wired) up to 77g when using solid body with battery.
Style and comfort are combined in this gaming peripheral. Users can customize the body with its removable high and low profile covers, adjustable button spaces, LOD 1mm, and RGB software support. Additionally, users can also purchase a Mouse Top Cover Kit separately to customize the top shell colors.
As RAKK Talan Air is known to be one of the best wireless gaming mouse in the country, users can enjoy limitless connectivity while playing their favorite PC games. Each 300mAh battery can be charged outside of the gaming mouse so users can enjoy continuous usage without compromising its wireless connectivity feature. The charging time of each battery is approximately one (1) hour and can be used up to 36 hours with 1000Hz and LED off.
RAKK Gears knows that precision and smooth movements are necessary to win games, that's why in this new launched item, it has Pixart 3370 sensors, PTFE Skates, and Kailh 8.0 clickers. RAKK Talan Air that will surely bring victory to users in their favorite games such as DOTA, League of Legends, Call of Duty, Valorant and more.
For a video detailing the RAKK Talan Air Wireless Gaming Mouse click on this link
Learn More about RAKK Talan Air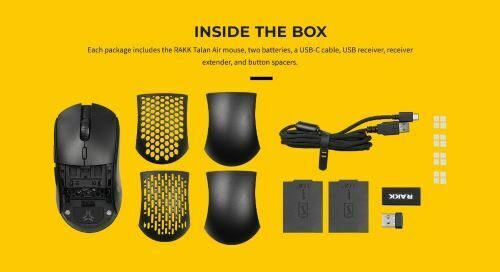 Every purchase of RAKK Talan Air includes the mouse, two (2) batteries, a USB-C cable, USB receiver, receiver extender, and button spacers. Price starts at Php2,395 and available in all EASYPC online stores ( Shopee , Lazada, and Website) and retail stores.
To know more about all the products and newest gaming accessories and peripherals of RAKK Gears, visit the RAKK Facebook Page.