I received the realme narzo 20 barely a week upon posting this review. I was intrigued by the name because realme usually has a letter before their model number (realme C1, realme X3 SuperZoom) or just the series number in their mid-range phones (realme 6 series, realme 7 series.) This time, this phone has a name: narzo, and what we have here is the realme narzo 20. We focused our energies on this phone for the past few days so we can share with you our findings of the realme narzo 20.
REALME NARZO 20 SPECS:
| OS: | Android 10 with Realme UI |
| --- | --- |
| Processor: | 2.0 GHz MediaTek Helio G85 Octa-Core processor | Mali-G52 |
| Display: | 720 x 1600 6.5" HD+ IPS LCD Display |
| Wireless Connections: | LTE-A, Bluetooth 5.0, WiFi 802.11 a/b/g/n/ac, A-GPS, GLONASS |
| Memory: | 64 GB Internal Storage expandable with a MicroSD Card up to 256GB, 4 GB RAM |
| Connectors: | Type-C USB 2.0, OTG Support |
| Cameras: | 48 Megapixels f/1.8 wide angle + 8 Megapixels f/2.3 ultra-wide angle + 2 Megapixels f/2.4 Macro (Main Cameras), 8 Megapixels f/2.0 (Front) |
| SIM Card Slots: | 2x Nano SIM Cards required |
| Battery: | 6,000 mAh |
| SRP: | P7,990 |
WHAT IS NARZO?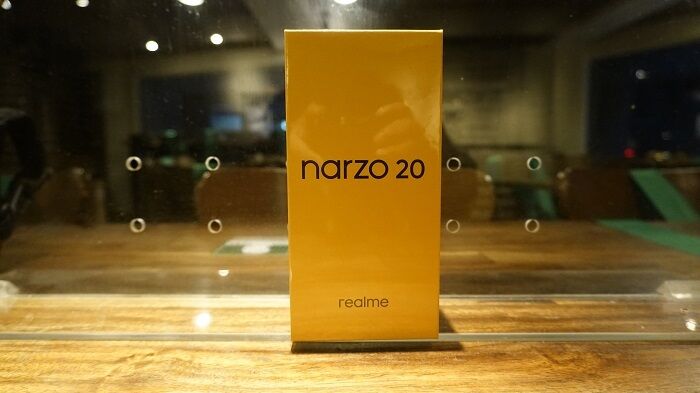 I asked the PR representative of realme Philippines about Narzo. He explained that Narzo is actually a sub-brand of realme which caters to mobile gamers. For their initial salvo, the Narzo 20 still has realme attached to its name to let people know of its association, but eventually, we would see stand-alone Narzo branding. realme also explained that Narzo products are only available via ecommerce sites. For the Narzo 20, it will be exclusively sold at Lazada.
THE UNBOXING
Unboxing reveals the Narzo 20, USB Type-C Cable, USB Charger, SIM Card ejector and User Manuals.
THE LOOKS AND FEEL
I pulled the realme Narzo 20 out of its box and plastic wrap and began examining its looks. I immediately thought about the realme C15 I reviewed last month because I swore it looks the same as that phone. I retrieved my realme C15 from my storage box and I was right – everything about the Narzo 20 is based on the C15's body. The placements of the volume and power buttons, the USB and headphone ports, speakers, SIM Card slots, as well as the cameras and fingerprint scanner at the back are exactly the same. The Narzo 20 can be mistaken as a realme C15 unless you are able to see the Narzo branding at the back. Also, the LED flash is found inside the camera module in place of a fourth camera lens.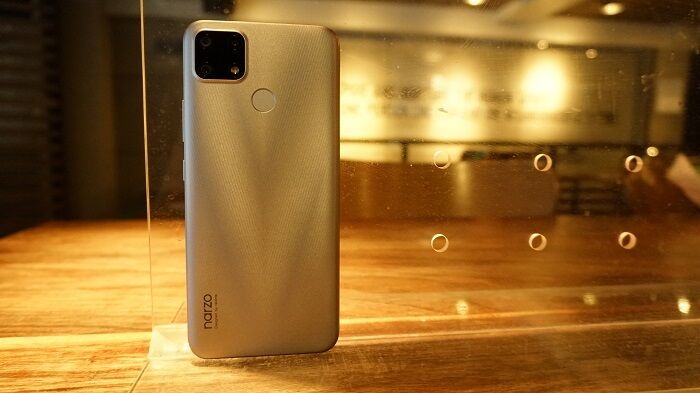 The texture of the back panel is also similar to the realme C15 but with a newer design. According to realme, the V design at the back represents victory for every winning gameplay of Filipino mobile players. The color I got is called Silver Sword while the other one is Blue Blade.
Coming off from my realme 7 Pro review, I found the narzo 20 to be a bit on the heavy side. At 208 grams, the added weight was probably caused by the big battery capacity realme has included in the narzo.
THE DISPLAY
The narzo 20 has a 6.5″ IPS LCD display with 720 x 1600 pixels and 20:9 screen to body ratio. The large display is definitely a plus for watching videos, engage in video conference calls or browsing websites. While everything in this area seems similar to the C15, I found out that the narzo 20 doesn't have Corning Gorilla Glass protection.
THE PERFORMANCE
Because the narzo 20 is being groomed as an affordable gaming smartphone alternative so it should be equipped with a powerful processor. Thank goodness it comes with a MediaTek Helio G85 processor which offers enhancements in gaming and at the same time consumes minimal power. Here are our benchmark scores with the narzo 20:
The benchmark scores defeats the Qualcomm Snapdragon 665 processor which is quite embarrassing since phones being sold with this processor are being sold in the mid-range segment. The narzo 20 is supported by 64GB of internal storage, 4GB of memory and has a dedicated MicroSD card slot that can accommodate up to 256GB. Phone is responsive and I had no problems running any of my common apps. Having 4GB of memory is certainly comfortable when juggling apps on the fly.
I installed two games to play on the narzo 20: Mobile Legends Bang Bang and Call of Duty Mobile. Graphics settings on Mobile Legends was set to High with High Frame Rate turned on while Call of Duty's Graphic Quality was set to Medium with High Frame Rate. Both games were consistently smooth even after a couple of hours of gameplay. Heat wasn't an issue at all for hours of playing. I am also thankful to realme's Game Space for blocking all notifications while playing games. I wish other brands have this feature.
There is one feature I really liked in the realme UI and that is the Focus Mode feature. I first encountered this in my realme C11 review which was effective in blocking all the distractions that surrounded me. It also helped me feel relaxed whenever I feel stressed at work. I couldn't find it in the C15 last September but I only discovered today that it doesn't exist as an app found in the app drawer but as Modes in the shortcut menu.
Another feature I learned with the narzo 20's realme UI is the Personal Information Protection. Basically, the phone will provide empty information pages whenever an app is requesting to access your personal information in your phone. Your call history, contacts and SMS stay private and secured.
THE CAMERAS
The realme narzo 20 has a triple-camera system lead by its wide 48 Megapixel lens with f/1.8, 8 Megapixels ultrawide, and 2 Megapixels macro. Like other previous realme phones, the 48 Megapixel main camera is not switched on by default. Instead, a 12 Megapixel camera does the job of taking photos unless you turn on the 48 Megapixel option in the main camera menu. Photos taken with the 12 Megapixel lens are good enough but I suggest using the 48 Megapixel camera for greater detail. Some images taken at night with Night Mode on were actually good, though I noticed a little bit of noise in my other night photos. Selfies are taken with an 8 Megapixel camera and as always, its beauty mode can save myself from embarrassment by adjusting the smoothness of my face, making it look less stressful.
Here are some sample photos:
THE BATTERY LIFE
Like its C15 counterpart, the narzo 20 is packed with a large 6,000 mAh battery. Three hours of video playback, three hours of mobile gaming, and the occasional tinkering of the phone for phone calls, messaging and social networking has left me with at least 37% late in the evening. I didn't charge the phone overnight, so I played YouTube videos again in the morning and played an hour of games. I was left with 11% after lunch time. Our battery benchmark app PCMark recorded 18 hours and 2 minutes. realme supplied the narzo 20 with an 18W fast charger to fill up the 6,000 mAh tank faster than ordinary chargers.
DR'S CONCLUSION
The realme narzo 20 is an excellent affordable gaming smartphone you can buy with large battery life. If you are not into gaming, then you can be assured that the processor, storage, memory and cameras will not fail your usual apps whether it is used for online learning, work or just a personal phone that has these features without breaking the bank. With a retail price of P7,990, this is certainly a good buy. You can purchase this from the realme Official Store in Lazada.
PROS:
Polished Design
Processor is enhanced for gaming
Good cameras
Long battery life
18W Fast Charging
CONS:
Teardrop notch is so 2018
Only available in one ecommerce store online