I spent reviewing the ROG Flow X13 for around a month, studying the possibility if this gaming laptop could be my next main workhorse and at the same time, a gaming machine. I had my eyes set on the ROG Zephyrus G14, thinking nothing else can make me stray away from my goal of getting it. Then when the Flow X13 was announced, I thought of ditching my plans of getting the G14 and buy this instead. Since our friends from ASUS Republic of Gamers very willingly chose us to review the ROG Flow X13, then it became an opportunity for me to help me decide if this should become my next gaming laptop.
ROG FLOW X13 REVIEW SPECS:
ROG Flow X13
ROG XG Mobile
CPU
AMD Ryzen 9 5980HS 3.1Ghz
RAM
16GB x 2 LPDDR4X (up to 32GB)
GPU
NVIDIA GeForce GTX 1650 Max-Q, with 4GB GDDR6 VRAM
NVIDIA GeForce RTX 3080 / 3070

Storage
1TB PCIe 3.0 SSD
Display
13.4" WQUXGA (3840x2400) 16:10 60Hz IPS-level Panel, 116% sRGB, Pantone Validated
Ports
2 x USB 3.2 Gen 2 Type-C with Power Delivery and Display Port; 1 x USB 3.2 Gen 2 Type-A; 1x HDMI 2.0b; 1x 3.5mm headphone jack; 1x ROG XG Mobile Interface
1xHDMI 2.0b; 1xDP 1.4 support G-SYNC; 1xRJ-45 LAN port; 1xDC input jack; 4xUSB 3.2 Gen 1 Type-A; 1xSD Card reader(Standard)/UHS-II(312MB/s)
Connectivity
WiFi 6 802.11ax; Bluetooth 5.1
Webcam
720 HD Camera
Operating System
Windows 10 Home
SRP
Supernova Edition (with XG Mobile) - P189,995
Ryzen 9 - P99,995
Ryzen 7 - P89,995
RTX 3080 - P89,995
RTX 3070 - P69,995
THE UNBOXING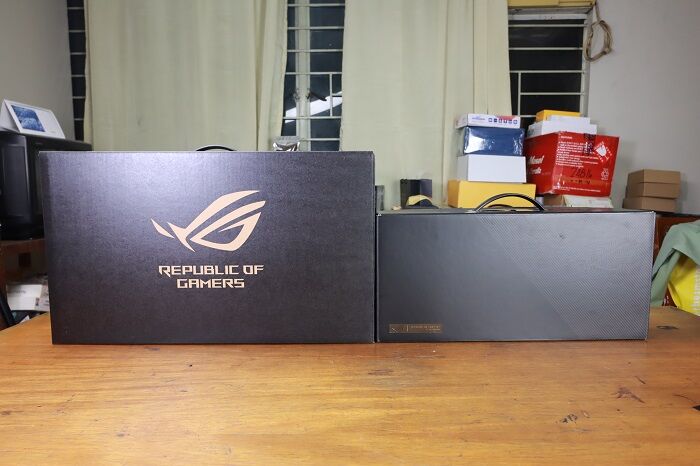 We received two boxes. The bigger box contains the ROG Flow X13 while the smaller one has the XG Mobile.
Aside from the ROG Flow X13, ASUS also threw in a sleeve for the gaming laptop. Why a sleeve? Mainly because the Flow's size and weight can definitely be held while walking around a mall. The bag has some thick protective material so placing it inside a messenger bag will not incur any damage to the laptop.
Also included in the package are the ROG Chakram Mouse and the ASUS Stylus Pen.
THE LOOKS AND FEEL
I've always wanted a small laptop. For years, my belief that the sweet spot for a laptop's size is 12-inches. I eventually settled for 13-inch laptops since 12-inches were rarely made. When I moved to gaming laptops, I wished that it would eventually have the same size of slim ultrabooks. The ROG Flow X13 is exactly what I wanted, and it's finally here! Dimensions of the Flow X13 are measured at 299mm x 222mm x 15.8mm and weighs 1.3kg.
Unlike most of ROG laptops, the Flow X13 doesn't sport a loud design commonly found in gaming laptops. RGB lighting is also not found which is quite unusual in a ROG gaming laptop. Instead, the Flow X13's lid has some textured lines which not only makes the laptop unique, but also easy to grip. At the lower left corner is a silver plated ROG logo which adds a touch of class.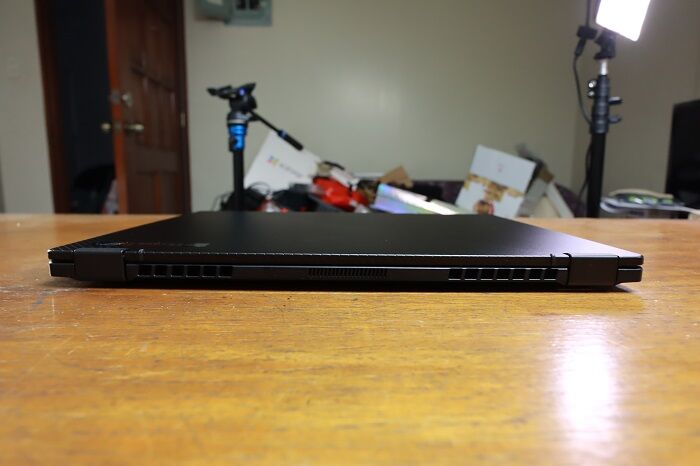 There are no ports at the back of the Flow X13. Two vents are placed apart from each other.
Ports found on the left side of the Flow X13 are for the Type-C USB, XG Mobile, HDMI 2.0, and a 3.5mm headphone jack.
On the other side are the power button, USB 3.2 Type A port and a USB 3.2 Type-C port.
I used to complain about the old keyboards of ASUS but there is nothing there for me to complain on for the Flow X13. The keyboard is nice to type on and I felt right at home typing blog posts or using the keys for gaming. Keys are responsive and provide good feedback. No RGB lights on the keyboard so hardcore gamers might find this lacking. Not for us though.
The ROG XG Mobile complements the ROG Flow X13, both in design and performance. It has these long, flowing lines wrapped around its chassis. Variants of the XG Mobile consists of NVIDIA RTX 3070 and 3080. Our ROG Flow X13 review units comes with an XG Mobile with RTX 3080.
The Flow X13 may lack some ports, but thankfully the ROG XG Mobile comes with a lot of them. It has HDMI 2.0,
Display Port 1.4 support with G-SYNC, RJ-45 LAN port, 4 USB 3.2 Gen 1 Type-A, an SD Card reader and a DC input jack.
Connecting the XG Mobile to the Flow X13 is easy thanks to its PCIe interface. You have to make sure that the connector is locked in order for the external GPU to work.
The XG Mobile has a built-in stand. Also a power cable is already attached so you need to plug it in before using it with the Flow X13.
THE DISPLAY
The ROG Flow X13 comes with a 13.4-inch WQUXGA 3840 x 2400 IPS level display with screen aspect ratio of 16:10. With this screen resolution, the gaming laptop is limited to 60Hz refresh rate. While I do appreciate having a 4K screen resolution, we think 4K displays are better off with larger laptops than smaller ones like the Flow X13. We don't get to appreciate the high resolution on a small sized display. If there is a variant that offers a Full HD with 120Hz refresh rate, we'll choose that one instead. Might be cheaper too.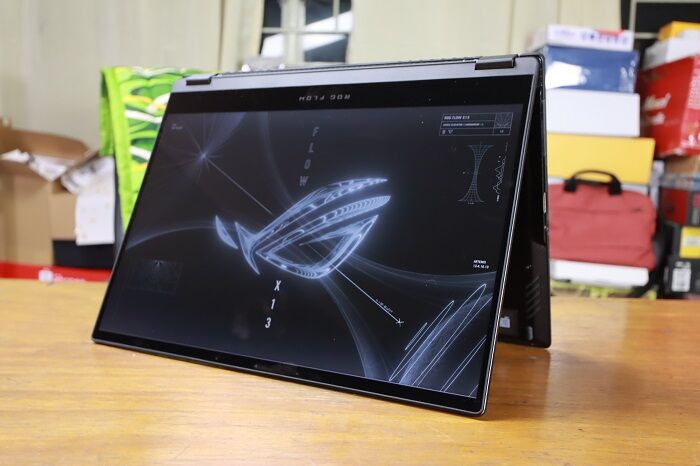 There are two unique things about the Flow X13's display. First, it's a convertible that can be transformed in tablet form. If you wish to use a wireless gaming keyboard then you can flip the screen to save some desk space.
Second, it comes with a touchscreen, which is quite unusual for a gaming laptop. I think the reason for adding a touchscreen with stylus pen support is to address the need of graphic designers who need a powerful convertible tablet they can draw on the go. I tried using the ASUS Stylus Pen with the Flow X13 and found the pen pressure acceptable enough for doing sketches.
THE PERFORMANCE
The ROG Flow X13 is equipped with the latest AMD Ryzen 5th Gen processor. Our review unit has the AMD Ryzen 9 5980HS 3.1 Ghz processor paired with an NVIDIA GeForce GTX1650 Max-Q GPU. Below are the benchmark scores of the CPU: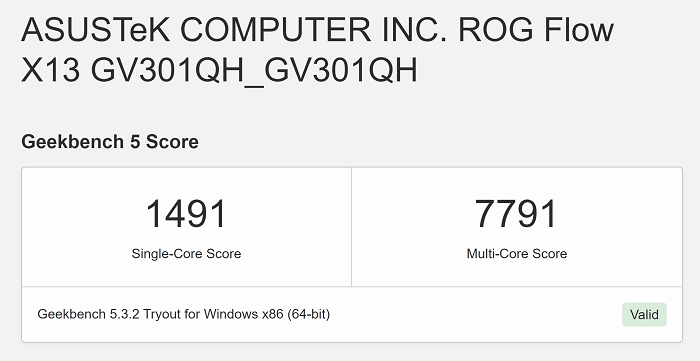 The ROG Flow X13 blew away the CPU Benchmark results of the ROG Zephyrus G14 we reviewed last year. But how about the GPU? Here are the benchmark tests of the Flow X13's 1650 Max-Q GPU:
Combined with the GPU, scores are lower than the Zephyrus G14. It just proves that the RTX 2060 GPU of the G14 is way more powerful than the GTX 1650 Max-Q GPU. Having said this, the GTX 1650 Max-Q is not that bad especially for FPS (First Person Shooter) Gaming. This GPU should suffice for games like Counterstrike Go, Overwatch and VALORANT. If you want to play the latest AAA games, then you must plug in the XG Mobile.
Now that the ROG XG Mobile with NVIDIA RTX 3080 is plugged in to the Flow X13, let's check the benchmark tests: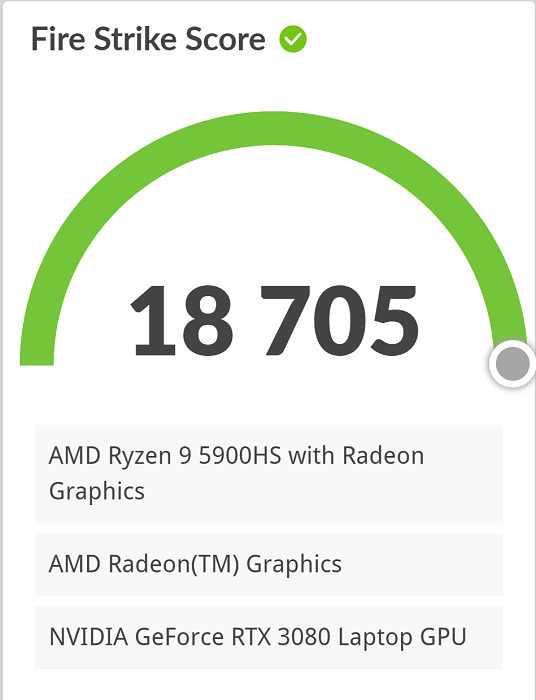 Noticed the huge jump in performance? We were blown away by this combination! These are the highest scores we have garnered so far in all our years of evaluating laptops.
With the XG Mobile attached, temperatures of the X13 Flow averages around 80-83 degrees Celsius. I was hoping for it to be lower at first, but later learned that this should already be expected for its size. Unlike the Zephyrus G14, I didn't feel any uncomfortable heat on the laptop's body especially on the keyboard meaning it's definitely playable during long gameplays.
THE BATTERY LIFE
The battery life I experienced with AMD Ryzen powered laptops like the ROG Zephyrus G14 and the Lenovo Legion 5 made me hopeful that the ROG Flow X13 would give me the same amount of battery life. Unfortunately, my actual usage can only reach up to 6 hours of runtime, 2 hours short of what they have advertised. Still not bad since since it's smaller than the usual gaming laptops and the charger isn't large and heavy so it's easy to bring along.
DR'S CONCLUSION
The ROG Flow X13 review experience was entirely great and I finally experienced using a gaming laptop with an external GPU. I really love the small form factor of the Flow X13 and while it only has a GTX1650 GPU, it would already suffice for my FPS playing needs. The convertible tablet with the stylus pen is also a plus factor since I sign documents digitally all the time.
It may seem I am already sold on the X13 Flow, but I am also lured to still get the Zephyrus G14 which was my first choice. For an additional P10,000 more, I can get the Zephyrus G14 and enjoy its more powerful RTX 2060 which can play the latest AAA games. If I buy the whole ROG Flow X13 with the XG Mobile package, that would be a whopping P189,995! Another dilemma I have here is bringing an extra accessory when laptops like the G14 already has the GPU power built-in. I would have thoroughly sort this out so I can finally make up my mind on which gaming laptop to buy.
That said, if you have the funds and willing to have a two-piece gaming laptop setup, then go for the ROG Flow X13. If you are willing to go the cheaper route (meaning buying the Flow X13 without the XG Mobile) and think a lower GPU would suit your needs, then the ROG Flow X13 is the gaming laptop for you!
PROS:
Smallest 2-in-1 Convertible Tablet with Stylus Pen Input
Powerful Processor
RTX 3080 External GPU
CONS:
Expensive with XG Mobile bundled
4K display is too much for a small screen
More information about the ROG Flow X13 can be found HERE.
ROG Flow X13 Review
The ROG Flow X13 review experience was entirely great and I finally experienced using a gaming laptop with an external GPU. I really love the small form factor of the Flow X13 and while it only has a GTX1650 GPU, it would already suffice for my FPS playing needs. The convertible tablet with the stylus pen is also a plus factor since I sign documents digitally all the time.
PROS
Smallest 2-in-1 Convertible Tablet with Stylus Pen Input
Powerful Processor
RTX 3080 External GPU
CONS
Expensive with XG Mobile bundled
4K display is too much for a small screen
Add your review