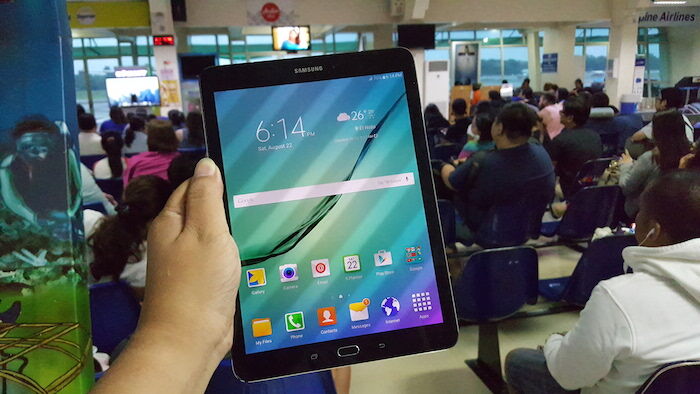 Last year, I used the Samsung Galaxy Tab S as my main tablet for around a month after it was announced. I liked the size and weight of the Tab S, and since I've been using Samsung products since the Galaxy S3 I felt right at home using it with ease. Personally, I considered it to be the best tablet of 2014. I didn't see anything else that can beat its form factor and performance.
Last August, Samsung Mobile Philippines invited us for a preview of the Samsung Galaxy Tab S2. Upon learning that I was going on a 1-week vacation in Palawan, the good folks from their Tablet group loaned me a Tab S2 for a couple of weeks. I thought it was a good idea to bring the Samsung Galaxy Tab S2 for a spin while on vacation.
SPECIFICATIONS:
OS: Android 5.02 Lollipop
Processor: 1.9 GHz Samsung Exynos 7 Quad-Core processor and 1.3 GHz Quad-Core Processor
Display: 1536 x 2048 9.7-inch Super AMOLED Display
Wireless Connections: LTE, Bluetooth 4.1, WiFi a/b/g/n/ac, GPS GLONASS
Memory: 32GB Internal Storage expandable with a MicroSD card up to 128GB, 3GB RAM
Connectors: Micro USB port
Camera: 8.0 Megapixels with Auto-Focus (Main Camera), 2.1 Megapixels (Front)
SIM Card Slot: 1x Nano SIM Card Required
Battery: 5,870 mAh (removable)
SRP: Php 29,990.00
THE LOOKS AND FEEL
There are two variants of the Samsung Galaxy Tab S2. The smaller Tab S2 has a screen display of 8 inches while the bigger version has 9.7 inches. The unit I evaluated was the bigger version which should be a better unit to test during an out-of-town trip.
Having compared the Tab S2 from the original Tab S during the media event, the former weighs a lot less than the latter which I really like. Despite of its larger size, the Galaxy Tab S2 isn't cumbersome to hold. It was quite easy to bring it out of my bag during my plane ride and I never complained of holding it while using it for entertainment during those 5-hour shuttle van rides in Palawan.
The sleek Galaxy Tab S2 goes well with the black matte finishing that makes it looks professional for corporate use. On the other hand, it received a number of second looks while I used it in the beach.
THE DISPLAY
I always expect an increase of the screen display's size whenever Samsung releases a new version. However, the new screen size of the Galaxy Tab S2 can not be considered an upgrade. Why? It's because the Tab S2's screen resolution of 2,048 x 1,536 is lesser than the original Tab S' 2,560 x 1,600 pixels.
It may bother some users who prefer a widescreen viewing experience for watching movies, but it's beneficial for web browsing and other regular usages. I am not quite bothered by it since the Super AMOLED display is really gorgeous to look at. It's like bringing along a small Samsung LED TV.
It's a different challenge though when viewing the Galaxy Tab S2 under the sun. I had a hard time reading on the tablet or watching movies whenever the sun is behind me at the beach.
THE PERFORMANCE
Samsung has been using the Exynos processors for a while now so I already know what to expect with the Galaxy Tab S2's performance. The Antutu Benchmark score shows it blew everyone else out of the competition.
I enjoyed using the Tab S2 as much as I enjoyed using my Galaxy S6. The Octa-Core processor might be an overkill for my leisurely activities but that's exactly why we need it. It's for us to avoid the tablet freezing while reading an eBook with music streaming music at the background via Spinnr or any hiccups that would ruin my good mood while streaming my favorite TV series and movies from iflix. None of those went bonkers even with apps left opened in the background, thanks to its 3GB of RAM. I also used Google Maps to navigate from Puerto Princesa to El Nido as well as for my island-hopping activities.
Since we're in the topic of multi-tasking, I love using the multi-window on the Galaxy Tab S2. It's nice to take advantage of the Tab S2's large screen to do all stuff at the same time. I know I was on vacation, but I peeked through my work email while watching Iron Man and browsing websites while taking notes (whew!)
To flex the muscles of the Galaxy Tab S2's Octa-Core processor, I installed and played a few games on it. As expected, N.O.V.A. 3., my favorite game with heavy graphics played smoothly on the Tab S2 as well as other games like Clash of Clans. I usually play CoC on smartphones and 7 inch tablets, so imagine my delight playing it on an even larger screen with AMOLED display.
BATTERY LIFE
Throughout my week's vacation, I managed to get an average of 9-12 hours of normal usage per day. I think it's not that bad, but I know it should be better because a tablet's battery is bigger than a smartphone and yet I'm getting the same hours of usage. By the way, I used my 3G/LTE connection on the Galaxy Tab S2 which could be the reason why I have that kind of battery life. If I'm connected to WiFi, I'm sure I'll be able to get a better battery ilfe.
DR'S CONCLUSION
I enjoyed using the the Samsung Galaxy Tab S2 during my vacation in Palawan. I'm really glad that I had it with me because I prefer using devices with big screens for easier viewing and usage. I normally ditch the idea of bringing out my heavy tablet while in transit, but because the Tab S2 is lightweight, it wasn't a hassle to carry throughout my trip. It did everything I wanted to do, and while most of these usage were for my leisure, I'm confident that the Tab S2 can handle all work-related tasks efficiently thanks to its powerful processor. Despite the downgrade in the screen display, the Super AMOLED screen still impressed me a lot. Like what I've said earlier, it's like carrying along a Samsung LED TV in my bag.
The Samsung Galaxy Tab S2 deserves one of my first DR's Choice Awards for this year. This is an excellent Android tablet and I highly recommend it!