Honestly, I don't know where to start with my first impressions post about the Samsung Galaxy Z Fold3 5G. I've been a fan of the Samsung Galaxy Fold series since it was launched back in 2019. I already knew back then how I would use the Fold especially whenever I am covering media events. Last year, I got to review the Galaxy Z Fold2 5G and after using it for months, I was convinced that the next version of the Fold will be my next main smartphone. And here we are! Samsung unveiled the Galaxy Z Fold3 5G along with the Galaxy Z Flip3 5G in their Unpacked event a few weeks ago and their third generation foldable phones are getting more interests than ever before.
Our friends from Samsung Philippines are aware that I am aiming to buy my own Fold this year so they generously loaned a review unit to try out first. This got me more stoked and after a week of getting acquainted with the new device, I am finally sharing my First Impressions of the Samsung Galaxy Z Fold3 5G.
SAMSUNG GALAXY Z FOLD3 5G SPECS:
Display/s
Foldable 7.6-inch QXGA+ (2208 x 1768) Dynamic AMOLED 2X Display (22.5:18)
Infinity Flex Display with 120Hz adaptive refresh rate (Main); 6.2-inch HD+ (2268 x 832) Dynamic AMOLED 2X Display (24.5:9), 120Hz adaptive refresh rate with Corning Gorilla Glass Victus
Processor:
2.84Ghz Qualcomm SM8350 Snapdragon 888 5G Octa-Core processor;
Adreno 660 GPU
Storage / Memory
256GB/512GB UFS 3.1 internal storage; 12GB memory
Wireless Connectivity
5G, 802.11 a/b/g/n/ac/6e, Bluetooth 5.2, NFC, GPS
Ports
USB Type-C
Rear Camera/s
12 Megapixels f/2.2 ultra-wide + 12 Megapixels wide-angle f/1.8 + 12 Megapixels f/2.4 + 12 Megapixels telephoto f/2.4 2x optical zoom
Front Camera/s
Cover: 10 Megapixel f/2.2;
Front: 4 Megapixel f/1.8
Battery Capacity
4,400 mAh
Price
256GB/12GB: P95,990
512GB/12GB: P87,990
SAMSUNG GALAXY Z FOLD3 5G FIRST IMPRESSIONS: HARDWARE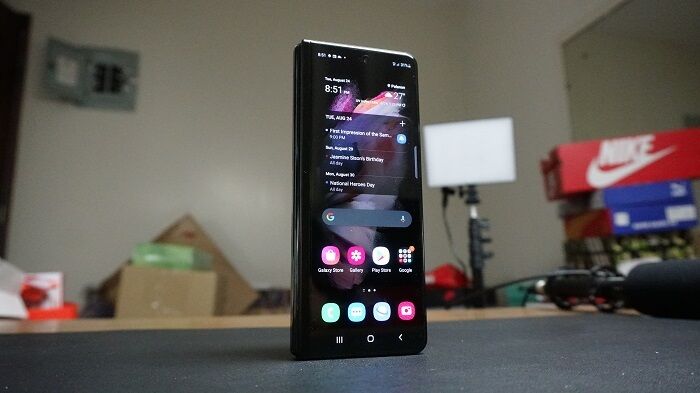 Other tech reviewers mentioned that the Galaxy Z Fold3 5G is a bit smaller than the Fold2. I thought they are almost similar in size, but after watching Linus Tech Tips's first impressions of the Fold3, it just confirms that the size difference is hardly noticeable. I also couldn't even tell if it's lighter than its predecessor. Whether it's bigger or smaller than the Fold2, it's still bigger than a usual smartphone.
The cover screen size is retained at 6.2 inches but its resolution was slightly increased. Also, the cover screen now supports 120Hz refresh rate which will let users enjoy a smooth navigation experience on closed or tablet mode.
Samsung built the Fold3 5G with their new Armor Aluminum, which they claim is to be the strongest aluminum ever applied on a Galaxy smartphone. It is now water resistant but sadly, doesn't support dust resistance so be careful to bring the phone to sandy places like the beaches.
I get this question a lot so let me include this in my first impressions. The hinge of the Fold3 5G is also made of their new Armor Aluminum, which feels very sturdy whenever I open or close the phone. I believe this mechanism would last for years.
Unfolding the Fold3 5G reveals a 7.6-inches tablet with a resolution of 1768 x 2208 pixels. On paper, it still has the same display specs of the Fold2. What's different now is it can support Samsung's S-Pen for note-taking or sketching. This is the feature I've been wanting to have when I reviewed the Fold2 last year and after months of rumors, SAMSUNG made it happen at a cost – they got rid of their Note series.
Unfortunately, the S-Pen is not included in the package and is sold separately. If you do buy the S-Pen, you will have to store it somewhere in your pocket as the Fold3 5G doesn't have a stylus silo of the Note series. The best option is to buy another accessory for the Fold3 5G – a Flip Cover with Pen. We are not sure if this will be available in the Philippine market but I do hope they would sell it too.
Another common concern about the Fold3 is the crease at the center. Yes, it's still there and personally, I am not bothered by it at all even when I reviewed the Fold2. It is noticeable if you view it at certain angles, otherwise it isn't noticeable at all.
Speaking of noticing the common concern, have you noticed that there is no punch-hole camera on the tablet's screen? The Fold3 5G is the first phone to have a camera underneath the display. Actually, like the crease in the center, you'll be able to notice when you look at it closely. Minimum pixels were applied on top of the hole so you can enjoy full view display without any holes to deal with.
What I like about the Fold3's screen is its new screen protector. I can say I was a bit annoyed at the Fold2's screen protector as it can be easily removed. Samsung improved it this time, and I didn't notice it at first. So far they did a good job, and I hope it will stay that way.
SAMSUNG GALAXY Z FOLD3 5G FIRST IMPRESSIONS: SOFTWARE
I wish to reserve these first impressions of the Fold3 5G's software but I will give you guys what I think so far. Compared to the Fold2, Samsung has greatly improved the UI of the Fold3 when opened in tablet mode.
The new UI lets Fold3 5G users maximize the tablet's display, like in the Settings menu shown above. Instead of going though different pages of sub-menus, you can see them on the right side of the panel.
Samsung mentioned in the Unpacked event that they have expanded their partnerships with companies like Google and Microsoft to have their apps support the Fold3 5G. So far, I noticed this with Google apps like Gmail and YouTube. When in landscape mode, the YouTube app shows the video on the left, comments at the bottom and other suggested videos on the right.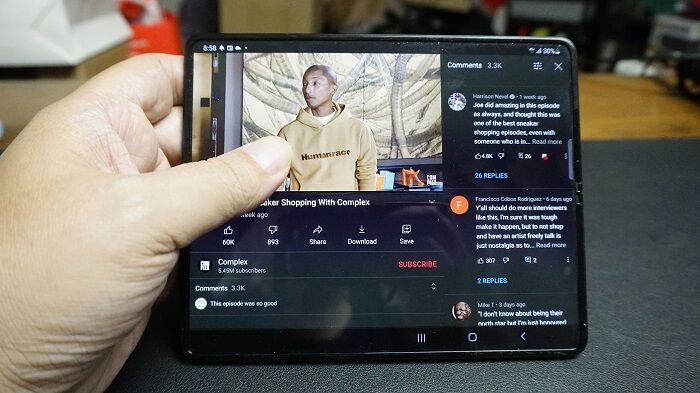 Tapping the comments section at the bottom will let you see the rest of the comments on the right side of the tablet. Cool!
Another common complaint in the Fold and Fold2 are aspect ratios of apps not set correctly. I discovered the "Labs" feature in the Settings menu that can let you customize aspect ratios of some apps. Hopefully, this would solve my apps' aspect ratios temporarily. I will talk more about this in my full review.
Full review of the Samsung Galaxy Z Fold3 5G will be posted next week. Meanwhile, please like our Facebook page facebook.com/DigitalReg, Twitter: @dronthego, and YouTube: youtube.com/DigitalReg.
Pre-order the Samsung Galaxy Z Fold3 5G via Samsung.com. You may also purchase it at retail outlets in SM Cyberzone.