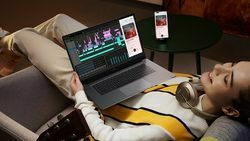 Working from home would probably soon be permanent given the circumstances the world is facing right now. Collaborative online meetings, virtual seminars, or conferences have become the new normal. And this situation urges everyone to find a powerful workhorse laptop that can enable them to do all things online. Interestingly, Huawei caught this need and innovated the PC game further with its new and improved HUAWEI MateBook D 14 2021 i3 processor.
The HUAWEI MateBook D 14 is an all-rounder laptop, featuring a combination of sleek design, powerful internals, and smart connectivity options. Read on to find out how the MateBook D 14 2021 checks all the must-have boxes in a modern notebook laptop.
ADD the Huawei MateBook D 14 2021 to your Shopee Cart Now!
Design and Display: Slim-bezel design and FullView
The HUAWEI MateBook D 14 comes with a Huawei FullView Display, measuring at just 4.8mm thin, three ultra-thin bezels frame the display, resulting in an outstanding 84 per cent screen-to-body ratio. The lightweight chassis is accentuated by a streamlined design with curved edges to produce a sleeker look. The small enhancements – such as the thinner bezels and recessed camera – allow Huawei to further shrink the form factor of the laptop. With these dimensions, the HUAWEI MateBook D 14 is one of the smallest and lightest 14-inch laptops in the same price band to date, offering a wide viewing experience in a portable package.
Processor and Battery Life: Powerful and Solid Performance
Today's youth see PCs not just a tool that lets them work, but a platform that lets them have fun as well. Available with up to a 10th Generation Intel Core i3-10110U processor that runs at up to 4.9GHz, the latest MateBook D 14 Intel edition can handle all basic tasks you have at hand. The HUAWEI MateBook D 14 excels at cooling and battery life. Its high capacity battery supports up to 13.2 hours of continuous local 1080p video playback on a single charge. This feature lets users freely use their laptop on the go with no worries.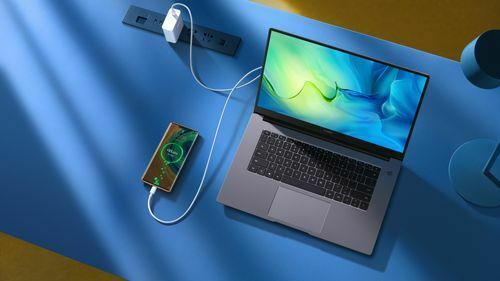 ADD the Huawei MateBook D 14 2021 to your Shopee Cart Now!
Security Feature: Touch Login
Passwords can be a pain to keep track of, especially when you're juggling multiple security codes for email, social media, banking apps, etc. The MateBook D 14 provides a welcome relief from remembering yet another password by combining the power-on and login functions in one button. Yes, there is a smartphone-esque convenience now available on a notebook, and the satisfaction of just pressing one button to wake up and log in is an awesome first for a Windows laptop.
Extra Functions: Multi-screen Collaboration
One of the more standout features of Huawei devices is the ability to continuously work on tasks from one screen to another. The MateBook D 14 enables seamless data transfer from Huawei smartphones via Huawei Share, a wireless NFC application that opens up possibilities for cross-device functionality. You can even use multiple mobile apps on the MateBook D 14 side-by-side without hitch, drag/drop/edit files back and forth, and even take calls with the laptop. You'll pretty much forget you have multiple devices running.
ADD the Huawei MateBook D 14 2021 to your Shopee Cart Now!
Conclusion
The HUAWEI MateBook D 14 2021 has all the hallmarks of a game-changing productivity machine, offering cutting-edge tech without compromising the look, style and design. If there's anything you want or need from a powerful notebook laptop, the MateBook D 14 has it and more.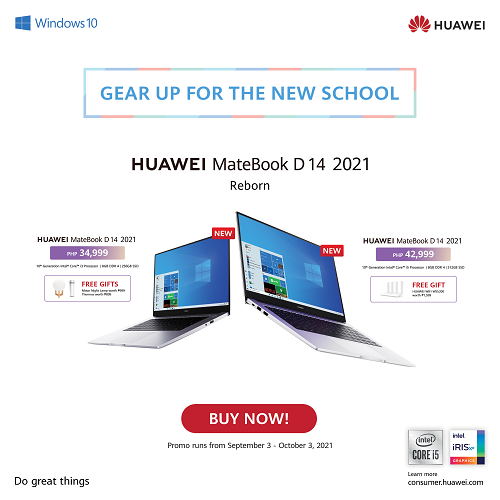 ADD the Huawei MateBook D 14 2021 to your Shopee Cart Now!
Bring home a Huawei MateBook D 14 2021 now! Available at all Huawei Experience Stores or flagship stores online in two variants:
8GB RAM + 256GB at P34,999 with free HUAWEI Wifi AX3 worth P1,599 and Moon Night Lamp worth P999
8GB RAM + 512GB at P42,999 with free HUAWEI Wifi AX3 worth P1,599