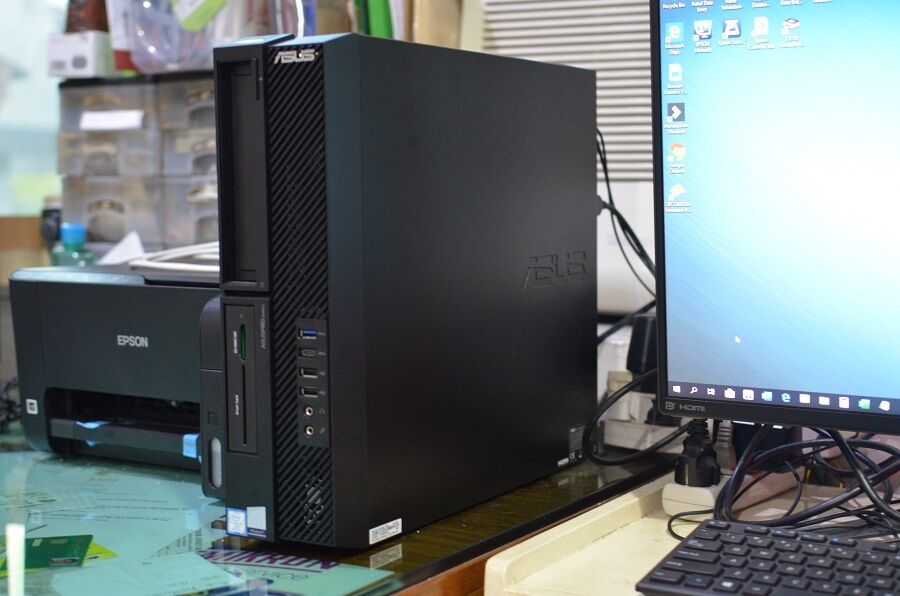 It's been a while since we last reviewed a Desktop PC suited for the SME/Commercial market. It was an ASUSPRO D320MT Desktop PC and our office was glad to experience a brand new machine because we were deprived to get a new one (our office desktop PC was in business since 2009.) Our friends from ASUS Philippines offered me to review one of their newer desktop PCs. Our staff in the office are so excited to test the ASUSPRO D540SA because the laptop I handed over them is starting to show its age. Did this desktop fit well with our archaic office environment? Would I recommend it? Let's find out!
ASUSPRO D540SA SPECS:
OS:
Windows 10 OS Professional
Processor:
Intel Core i3 8100
Intel Core i5 8500
Intel Core i7 8700 | Intel HD Graphics
Memory:
1 TB SATA HDD with 3 extra drive slots, 1 M.2 slot; 4GB RAM DDR4 2666MHz with 2 slots up to 32GB
Optical Disk Drive:
Tray-in DVD ROM
Card Readers:
15-in-1: smart card + MS/ MS Duo/ MS Pro/ MS Pro Duo/ SD/ MMC/ MMC4.0/ RS-MMC/ RS-MMC4.0/ SDHC/ MS Micro-M2/ Mini SD/ Micro SD/ Mini MMC
LAN:
Realtek REL8111H

Connectors:
(Front) 1 x 15 -in-1 Card Reader(Optional)
1 x Headphone
2 x USB 2.0
1 x Microphone
2x USB 3.1 / 1x USB 3.1 , Type C_(Optional) (Back) 1 x PS/2 Keyboard/Mouse Combo port
1 x RJ45 LAN
2 x USB 3.1 Gen 1
1 x D-Sub
1 x PS/2(Mouse)
1 x HDMI
2 x USB 2.0
1 x COM Port(Serial Port)
1 x Parallel Port (Optional)
1 x D-sub
3 x Audio Jack(s)
SRP:
Core i3 8100 - P36,995
Core i5 8500 - P43,995
Core i7 8700 - P52,995
THE LOOKS AND FEATURES – ASUSPRO D504SA REVIEW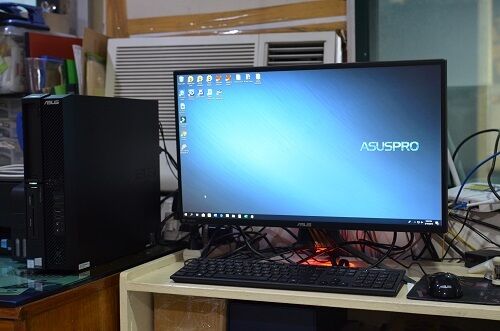 I liked the all black color scheme of the ASUSPRO D320MT and I'm glad they applied it with the D504SA. Our office tables have limited space available, but thanks to the slim tower design of the D504SA, it was able to fit perfectly.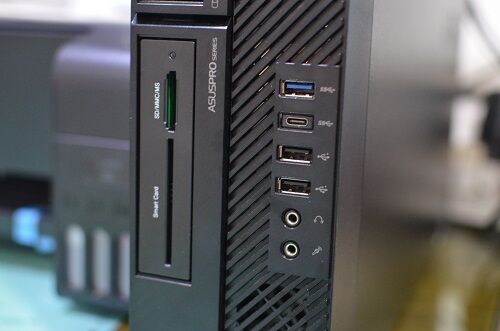 This desktop rig boasts a lot of ports. The front comes with two USB 2.0 ports, one USB 3.1, one USB 3.1 Type C, 1 headphone jack, 1 microphone jack, a 15-in-1 Smart Card reader and a SD/MMC/Memory Stick slot. Why the inclusion of these card readers in 2019? I'll explain that later.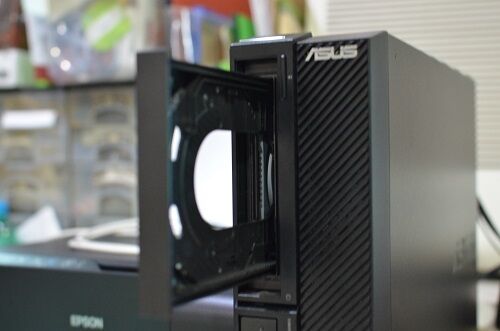 On top of the PC is a DVD-ROM. Some offices still use CDs especially if their files were backed-up with it.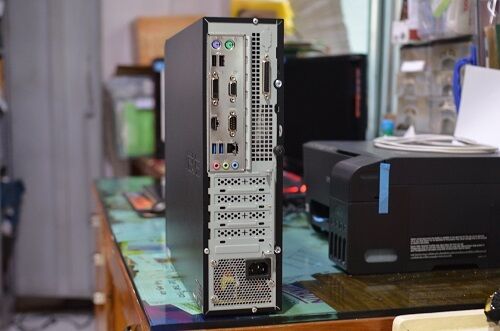 There are even more ports at the back of the PC.
Some of you might find these ports "ancient" to you. The two ports on top are the PS/2 Keyboard/Mouse Combo. Two USB 2.0, Parallel Port, VGA, HDMI, Serial port, two USB 3.1 Gen 1, RJ45 port, and 3 audio jacks.
Again, I'll explain why these ports are included in the rig later.
Power supply is found at the lower section of the rig.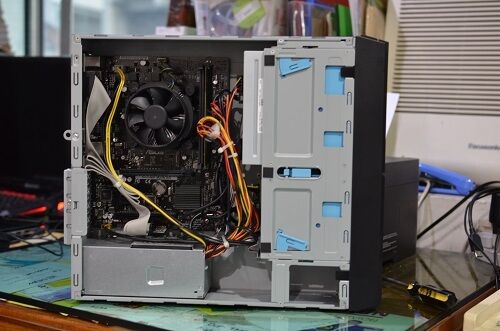 The cover on the left side of the ASUSPRO D540SA can be removed.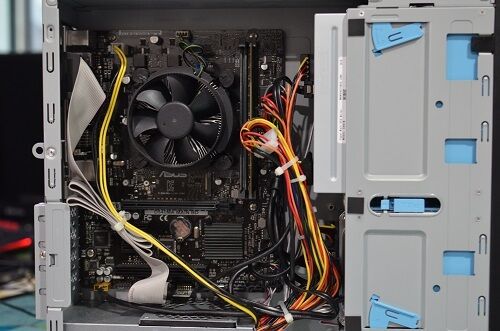 With the rig opened, you can upgrade your memory or storage if you wish. The memory slots can accept two 16GB RAM sticks. The 3.5″ drive can be upgraded up to 2TB SATA III Hard Drive while the M.2 can be updated to 512GB SSD.
The PC is not too heavy to move around the office, unlike your PC from the year 2000.
THE PERFORMANCE – ASUSPRO D504SA REVIEW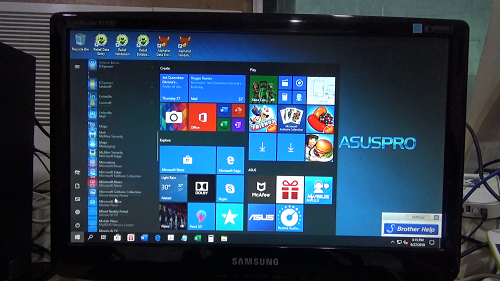 The ASUSPRO D540SA unit we reviewed is powered by Intel Core i7 8700. Paired with 4GB of RAM, we were able to work on all office documents that were thrown to us. MS Word and Excel worked exceptionally well and while our unit doesn't have built-in WiFi, we were able to connect it to our office's Fibr connection with a LAN cable.
I also did some photo and video editing and the desktop was able to handle it without much of a hiccup.
Now here's the thing. An old school office especially if it has an old school boss might not be receptive of the price a D540SA with Intel Core i7 offers. The good news is, ASUSPRO can customize this desktop PC according to your needs, and budget. If your budget doesn't agree with an Intel Core i7 powered D504SA, you may choose to get the lower Intel Core i3 which can generally still get some office work done.
I mentioned earlier about the non-inclusion of WiFi in the review unit I'm using. Having it included is optional but since the D540SA has three PCIe slots and a PCI slot, you can upgrade this on your own if you wish if you find it as a cheaper way.
Also, the beauty of this desktop PC is not only it's customized to an office's needs, but your old PC peripherals can be used with the ASUSPRO D540SA! You'll be surprised that some offices have working PS/2 Keyboard and Mouse while others are using dot matrix printers that needed Parallel ports. Since newer consumer PCs have already left out these legacy ports, the D540SA can accommodate these old peripherals. In the pic above, were were able to use an old monitor from 2009 by connecting it to the D540SA's VGA port. Our other new desktop, a TUF Gaming FX10 doesn't even have a VGA port!
THE EXTRAS – ASUSPRO D504SA REVIEW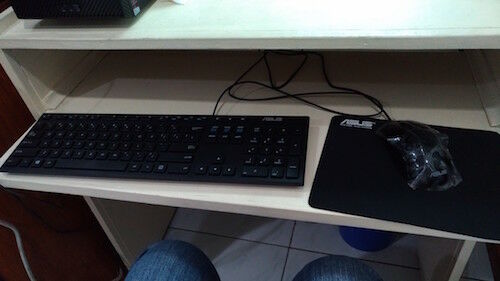 The D540SA comes with an ASUS Keyboard and Mouse, just in case you want your peripherals to be new as well.
DR'S CONCLUSION
Any variant of the ASUSPRO D540SA can suit your office needs. Banks and Government Agencies that require Desktop PCs with legacy ports can definitely rely on the D540SA's wide array of old and new ports. Small businesses like ours find it perfect, especially business owners who want the cheapest variant and would just slowly upgrade the PC, piece by piece.
Meanwhile, our office staff is feeling miserable after we returned our review unit. The good news is we might consider getting this PC once our laptop bogs down, which might happen in a few more years.
Interested parties can contact https://www.facebook.com/asusforbusinessph/ and setup an appointment with their sales team.
PROS
Slim tower design that's easy to move around the workplace.
Upgradable memory, storage and connectivity
Supports Legacy Ports
CONS
No built-in WiFi and Bluetooth