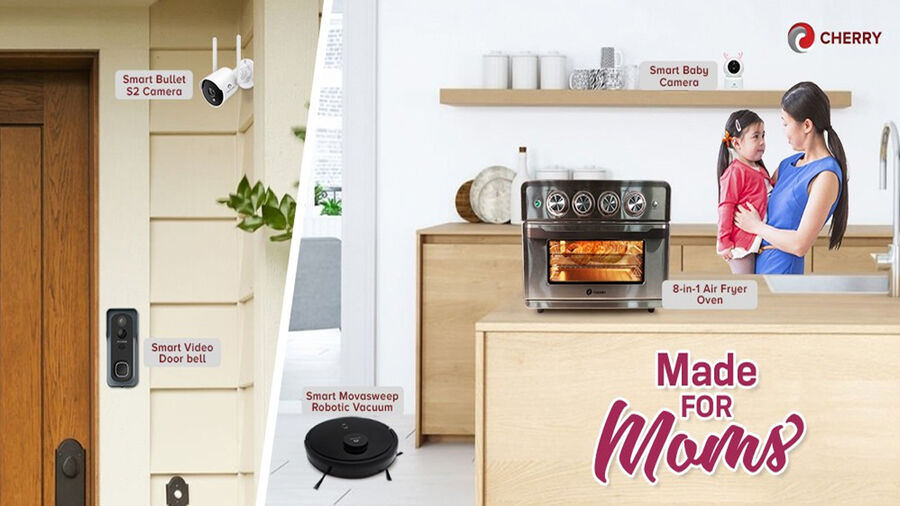 Moms hold things together like buttons do. They possess great power that comes from being mothers. From preparing our meals to keeping the house clean and watching our every move, she can do it all at once. We may regard her as strong and independent, but we should also listen to her unsaid needs. As Uncle Ben famously told Peter Parker, "With great power comes great responsibility," and every superhero needs a sidekick. Here are five (5) CHERRY products that can be an ally to help supermoms fulfill their duties, whether they work outside the home or stay at home with their children. These devices can bring different extra superpowers for safety, cleaning and cooking.
Supermom Power #1: Hawk Eye
Every parent wants the best for their family, and these days, best translates to "the smartest." The Internet of Things (IoT) has helped homemakers enhance home security and efficiency through devices with sensors and internet connectivity, such as smart security cameras that collect valuable information. You can remotely monitor the doors and make sure the kids arrive home safely. With these smart cameras, mom doesn't have to sleep with one eye open.
We can't always be at our door checking things out, but with Cherry Smart Video Doorbell, it enables you to see and hear who is outside through a two-way communication system and a 1080p 140-degree wide camera that allows you to take screenshots and record videos. It is now possible to attend with whoever is ringing your chime, whether you are at work, shopping, or simply cozily tucked under the covers. Get this for ₱3,250.
Need a little help in order to keep an eye on what is going on in your baby's room? The Cherry Smart Baby Camera has a sharp and clear Full 1080P Full HD video quality. Let its motion detection feature do its work as you catch up on your sleep. In addition, it offers two-way audio to help parents who are going back to work avoid the dreaded separation anxiety. It also has the capacity to record continuously, so even if you have to leave the house every day, nothing is actually missed. Get this now for ₱1,405.
Keep an eye out for both indoor and outdoor. Cherry Smart Bullet S2 Camera features 3MP video quality and a wide viewing angle with a 2.4 GHz Wi-Fi wireless connection. In addition, it supports two-way audio, 24/7 video recording, and Tuya cloud storage for motion-detected recordings. It is also flexible to install with wall screws. Cap this additional eye for mom at ₱1,610.
With the Cherry Home app, which can be downloaded for FREE from the Google Play Store and the App Store, you can effortlessly control and monitor all of these cameras on your smartphone.
Supermom Power #2: Dirt Drift
Talk about time and energy savings. There is undoubtedly technology that can outsmart mom's daily to-do list of cleaning chores. Cherry Smart Movasweep Robotic Vacuum has Intelligent Mapping Technology; it can recall the layout of your room and even your entire home. Mom can now sit back, relax, and have a cup of coffee while the Cherry Home Smart Movasweep Robotic Vacuum does its magic. Just download the Cherry Home App on your smartphone to take control at the tip of your finger. With a suction power of up to 2600 Pa, it is more effective in more ways than you might think. It automatically increases its suction when it notices a location with more dirt.
When you have a reliable cleaning robot, you never have to worry about missing a mess. Give mom a useful present, bring home Cherry Home Smart Movasweep Robotic Vacuum for ₱13,900.
Supermom Power #3: Food Explode
Any meal you want, name it, because the Cherry 8-in-1 Air Fryer makes food preparation quick and easy. It has eight cooking functions for different types of cooking, namely: roast, pizza, cookies, warm, bake, broil, air fry, and toast. Even if mommy is in a hurry, this air fryer will help her combat fat and oil by up to 80 percent. Surely it can help the family consume fewer fatty foods.
Cherry 8-in-1 Air Fryer also comes with a 60-minute timer, 30 to 230 degrees temperature setting, air fry basket, baking pan, and oven rack. It has 25 Liters capacity and comes with overheating protection.
This versatile and reliable companion is a time and space saver. Indeed, a nice gift for mom at a price of ₱8,800.
Superheroes aren't all suited and booted; sometimes they wear an apron, and we regard them as our moms. Her selflessness, bravery, and boundless compassion are personified. She is like an avenger running towards challenges, protecting the family at all costs.
For more Mother's Day gift ideas, watch out for the 5.5 sale. To purchase, visit:
Cherry Shop PH: www.cherryshop.com.ph