A few weeks ago, our friends from Huawei Philippines loaned us a review unit of the Huawei MatePad. It took me a while to get used to the MatePad, since some of the features I use in my MatePad Pro version are not present in the new tablet. I've used the MatePad as my main tablet for a couple of weeks and I'm ready to share my review.
You can read our unboxing and first impressions of the Huawei MatePad here.
HUAWEI MATEPAD SPECS:
| OS: | EMUI 10.1 based on Android 10 |
| --- | --- |
| Processor: | 2.27 GHz Kirin 810 Octa-Core processor | MALI G52 |
| Display: | 1200 x 2000 10.4" 2K IPS Display with aspect ratio 16:9:6 |
| Wireless Connections: | LTE, Bluetooth 5.1, WiFi 802.11 a/b/g/n/ac, A-GPS, GLONASS |
| Memory: | 64GB Internal Storage expandable with a Memory Card up to 512GB, 4GB RAM |
| Connectors: | Type-C USB |
| Cameras: | 8 Megapixels (Main) 8 Megapixels (Front) |
| SIM Card Slots: | 1x Nano SIM Card |
| Battery: | 7,250 mAh |
| SRP: | P20,990 |
THE LOOKS AND FEEL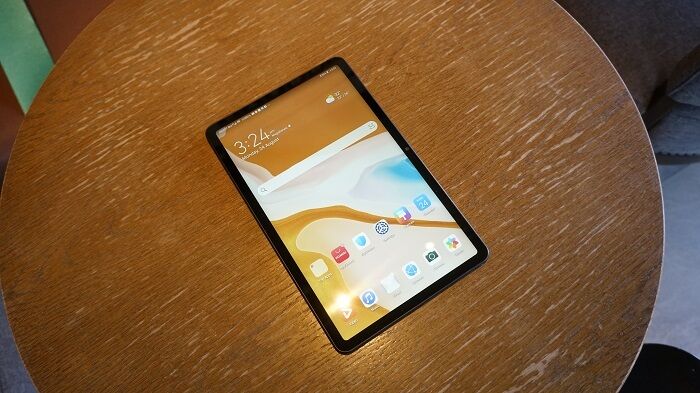 The Huawei MatePad looks handsome like its Pro counterpart. It has a slim form factor with a depth of 7.35mm and weighs light at 450g. It can be easily carried wherever I go. It slips inside my carry-on bag without any trouble.
The tablet is packed with a quad-speaker and quad-channel setup. Two speakers are found on top and bottom parts of the MatePad. Also on top is the power button while the USB Type-C port is at the bottom.
When using the 8 Megapixel front camera for video conference calls, I had to re-orient myself to look at the center camera. I was used to the camera placement on the upper left corner of my MatePad Pro.
The Midnight Gray color makes the tablet look professional. Bring this inside a meeting with the M-Pencil and bluetooth keyboard and let's see if you will not be taken seriously by the other parties.
THE DISPLAY
The MatePad comes with a large 10.4″ IPS display with 2K resolution. The big screen is perfect for almost everything I do: web browsing, content creation, video streaming, video conference calls, and even mobile games. The tablet's quad-speakers powered by Harman Kardon produced rich sound quality and they're even louder than most of my smartphones. Bezels are slightly larger than the Pro but it doesn't bother me at all. At least the bezels gave me more space to hold the tablet without touching the screen.
THE PERFORMANCE
Powering the Huawei MatePad is a 2.27 GHz Kirin 810 Octa-Core processor which is also used in the Huawei Nova 7i. This processor is no slouch based on the benchmark score results below:
I must say these scores are pretty impressive and made the tablet work like my MatePad Pro. It's capable of running productivity apps downloaded from the Huawei AppGallery and apk sites such as Microsoft Office, communication apps like Zoom and Microsoft Teams, Finance apps like PayMaya and Gcash, and apps for Entertainment like Netflix, iflix and Viu. 64GB of Internal Storage seems to be enough and the 4GB of memory is able to juggle all my open apps. Surprisingly, the MatePad has MicroSD expansion up to 512GB instead of the hard to find Nano Memory card.
While they are almost identical in size, the accessories of the MatePad Pro are not compatible with the MatePad. The latter doesn't have magnets on the top and bottom parts to attach the M-Pencil and the MatePad Pro's folio bluetooth keyboard. You'll need a separate accessory called the M-Pencil charger to attach to the tablet's Type-C USB port in order to charge and pair the pen.
The M-Pencil has to be charged first with its magnetic charger before it can be paired with the MatePad via Bluetooth. After that, the M-Pencil can be used to write notes, doodle, or simply use it to poke on the screen. The M-Pencil is very handy for people who always sign documents digitally. I signed contracts and NDAs a lot, and instead of having to print the document, sign, scan the signed document before sending it via email, I just signed the documents on the MatePad and send them right back to the sender. All done in just a minute! Clients are always amazed how I was able to quickly sign documents and send them back quickly. What they don't know is it just took a Huawei MatePad and M-Pencil to get the job done.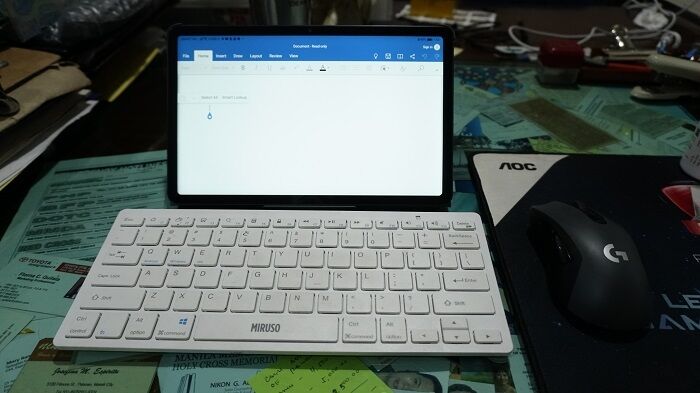 The MatePad can be paired with a bluetooth keyboard and mouse or attach a USB Type-C adapter to plug in some peripherals. I was able to plug in a Logitech USB wireless mouse and keyboard and it worked great with the MatePad. Even a P500 cheapo bluetooth keyboard can work with it.
Sadly, one very useful feature of the MatePad Pro is missing in this MatePad – EMUI Desktop mode. Being on desktop mode is like using a PC or laptop with almost a similar interface which makes multi-tasking easier with multiple windows popping up in the background. I also tried activating EMUI Desktop mode via wireless projection with a SMART TV but that option did not appear.
Multi-Screen collaboration is also supported in the MatePad but I noticed that it doesn't support 2.4 GHz Wi-Fi networks. I never had this problem with my MatePad Pro. I had no choice but disconnect the tablet from my office WiFi and pair via bluetooth. Even without the WiFi connection I have my SMART BRO SIM card inserted and use 4G+ connectivity. My Huawei P40 Pro communicates well with the MatePad and it rarely experienced any lags. I was even able to play Asphalt 9 Legends on the MatePad while it's being sourced from the P40 Pro.
Since I mentioned gaming via another device, the Matepad is capable of playing games. It kinda feels weird playing on a big 10-inch screen but I welcomed the idea. I played Call of Duty Mobile and it performed smoothly on all games. Graphic quality is set to very high and frame rate to high. Pretty impressive!
THE CAMERAS
Up to now, I think taking photos with a tablet is kinda silly, but I have to admit having one can be pretty useful especially for impromptu photos. The MatePad has an 8 Megapixel rear camera which takes decent photos indoors with good lighting. The front camera also has 8 Megapixels but I wasn't satisfied with the pictures as they looked washed out. However, the front camera of tablets are mostly used for video conferencing and it does the job well. Check out the sample photos: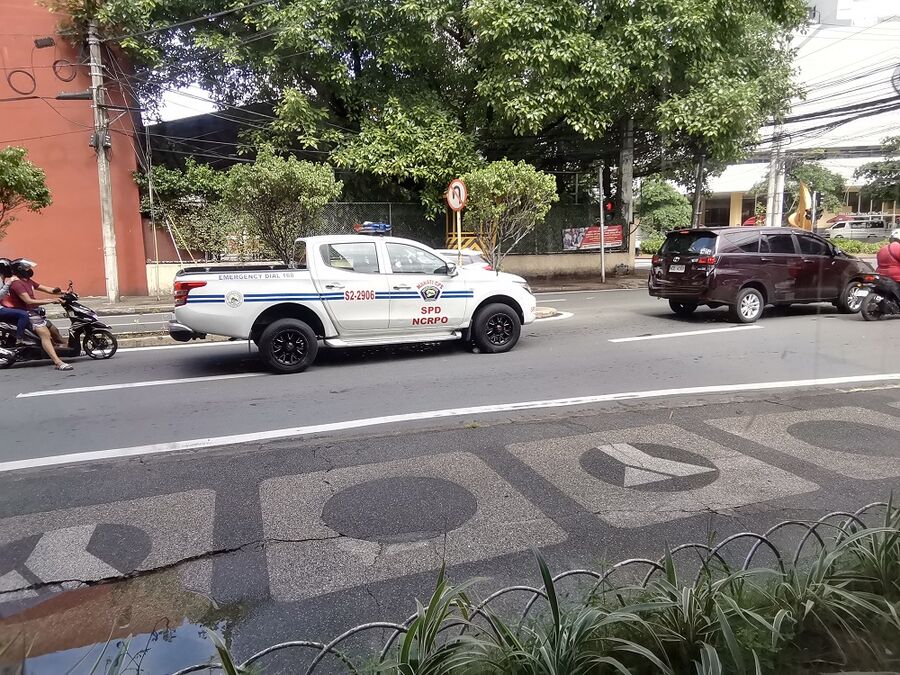 THE BATTERY LIFE
Battery capacity of the Huawei MatePad is 7,250 mAh which I reckon is good enough for the tablet. I was able to use the MatePad for a full day while connected to LTE most of the time and paired to a bluetooth keyboard. Charging with the supplied USB charger takes around 4 hours.
Unlike the MatePad Pro, it doesn't have reverse wireless charging meaning you can't charge your other devices like your smartphones or wireless earphones when you don't have your powerbank with you. I also found this useful with my MatePad Pro whenever I needed extra battery juice on my other devices.
DR'S CONCLUSION
A lot of people became interested in the Huawei MatePad Pro but found it a bit pricey especially with the additional accessories. The MatePad Pro alone costs P32,990, while accessories like the M-Pencil and the Folio Keyboard are each priced at P5,590 and P6,990. Hence, the Huawei MatePad at P20,990 is a cheaper solution and while it doesn't have some of the features of its Pro counterpart, it can still do the job done. If you need to draw or sign documents on the MatePad, then I highly suggest purchasing the Huawei M-Pencil with the M-Pencil charger.
PROS:
Good build quality
Slim form factor
Loud quad-speakers
Fast processor
Multi-Screen Collaboration supported
CONS:
MatePad Pro accessories will not work
Needs additional M-Pencil charger for pen to work
No EMUI Desktop
No reverse wireless charging
More information about the Huawei MatePad can be found here.