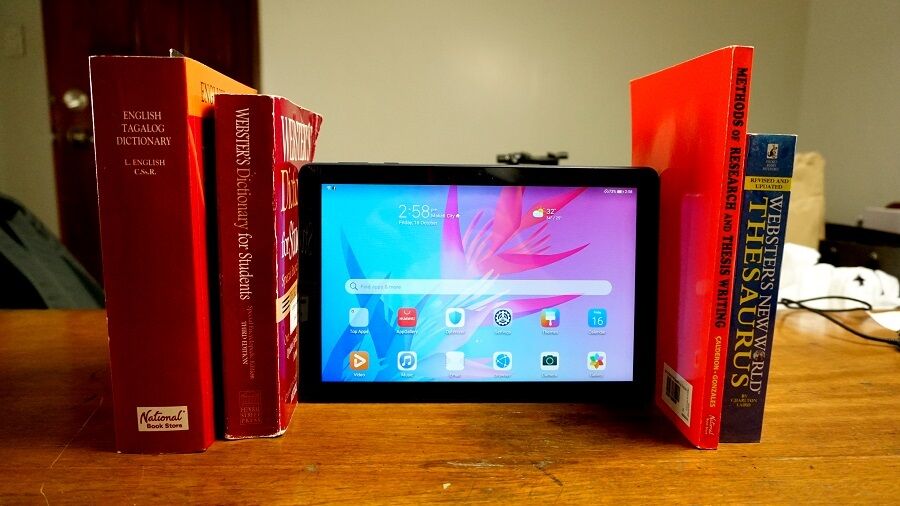 The demand for tablets rose again this year due to its requirement for online learning at home. We've been receiving tablets for evaluation for the past few months but most of them have a price range above P20,000. Huawei sent us one of their new tablets, the Huawei MatePad T 10 for evaluation and the good news is it is priced only at P6,999. Here's our review of this new MatePad tablet.
HUAWEI MATEPAD T 10 SPECS:
| OS: | EMUI 10.1 based on Android 10 |
| --- | --- |
| Processor: | 2.0 GHz Kirin 710A Octa-Core processor | MALI G51 |
| Display: | 800 x 1280 9.7" Full HD IPS Display |
| Wireless Connections: | LTE, Bluetooth 5.0, WiFi 802.11 a/b/g/n/ac, A-GPS, GLONASS |
| Memory: | 32GB Internal Storage expandable with a Memory Card up to 512GB, 2GB RAM |
| Connectors: | Type-C USB |
| Cameras: | 5 Megapixels (Main) 2 Megapixels (Front) |
| SIM Card Slots: | 1x Nano SIM Card |
| Battery: | 5,100 mAh |
| SRP: | P6,999 |
THE UNBOXING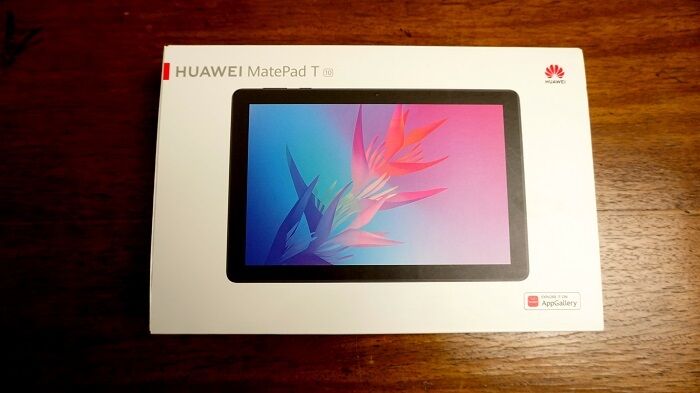 Usually, Huawei products under the Mate series have a premium type of box. The MatePad T 10 has a simpler type of packaging, suggesting this is sort of a budget version of the MatePad.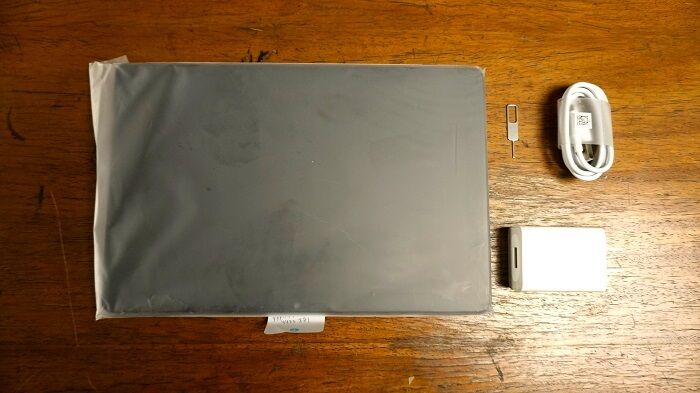 Unboxing reveals the Huawei MatePad T 10, A USB Type-C Cable, 10W USB Charger head, SIM Card ejector and User Manuals.
THE LOOKS AND FEEL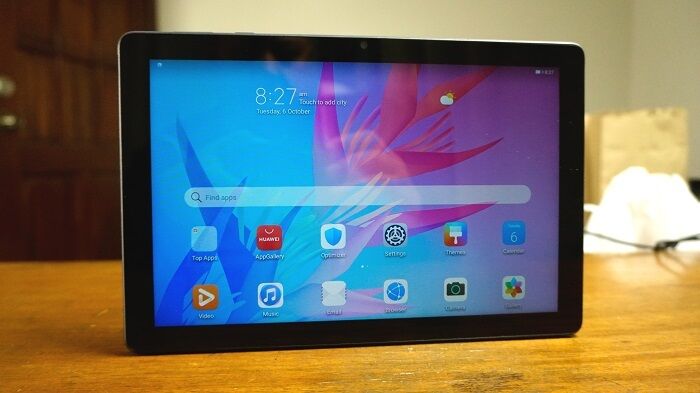 Seeing the Huawei MateBook 10 T for the first time makes me feel like being transported to 2015 when tablets used to have big bezels. These days tablets have smaller bezels like the Huawei MatePad Pro, my current tablet of choice.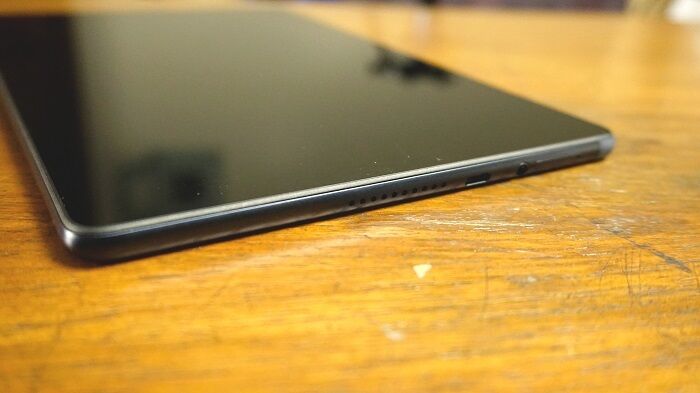 The MatePad T 10 has a speaker placed on each side. A USB Type-C port, 3.5mm headphone jack and the SIM Card slot are found on the right beside the speaker.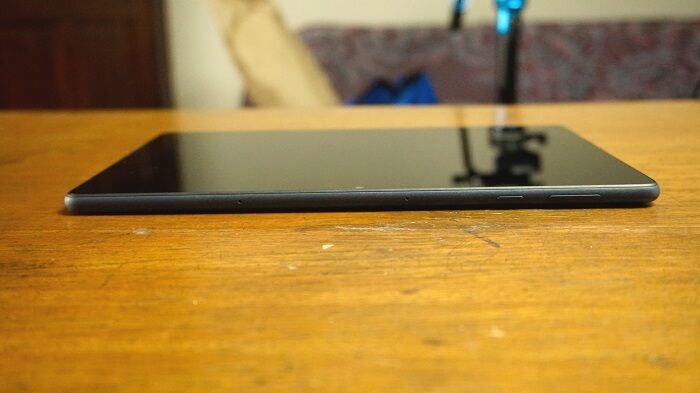 Found on top of the tablet are the volume controls and power button.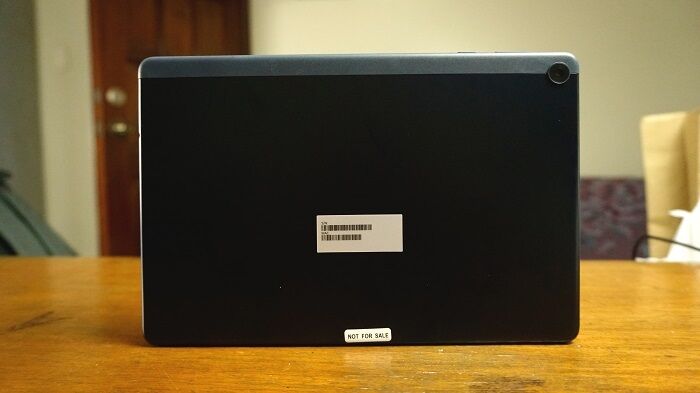 The back panel of the MatePad T 10 is mostly made of metal with Deep Sea Blue as the color of choice. On top of it is a bar which makes the tablet two-tone. On the upper right corner is an 8 Megapixel camera.
The tablet is a bit shorter and a bit thicker than my MatePad Pro but the MatePad T 10 still looks good and professional overall for its price.
THE DISPLAY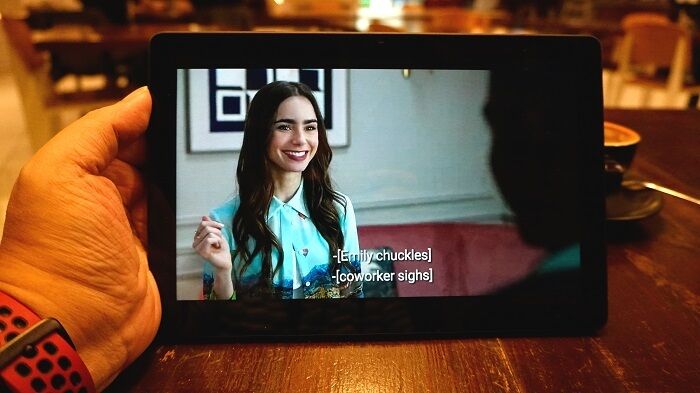 The Huawei MatePad T 10 has a 9.7″ IPS display with a 1280 x 800 resolution. I mentioned about the bezels earlier which are thick for today's screens but in reality, they're not that bad because it gives users an area for them to hold the tablet without accidentally touching the screen. Screen quality is okay and its size is perfect for web browsing, video streaming and for reading documents and ebooks.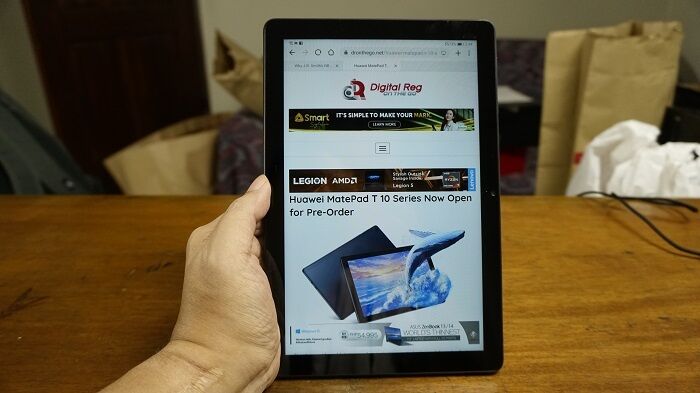 The main concern nowadays are kids having to stare at the screen for almost eight hours a day. Parents would be glad to know that the MatePad T 10 has an Eye Comfort feature that can reduce harmful blue light. It is TÜV Rheinland certified, assuring the user that this feature is absolutely safe.
THE PERFORMANCE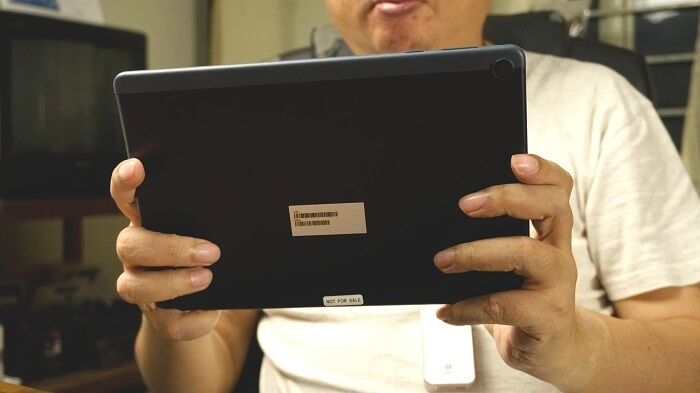 The Huawei MatePad T 10 is powered by a 2.0 Ghz Kirin 710A Octa-Core processor, a mid-range processor that Huawei has been using for years including the Huawei Nova 3i and the Huawei Y9 series, For the life of me, a couple of benchmark apps kept on crashing on the MatePad so I'm sharing my lone benchmark result: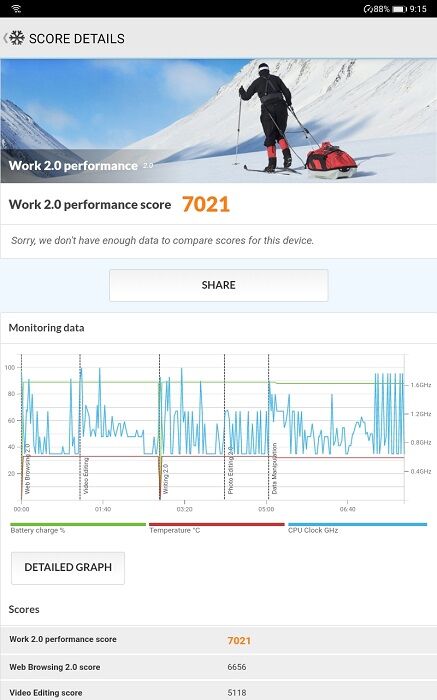 The tablet functions quite well enough and it should please younger users who want to do things quickly. Navigation is smooth and the 2GB of memory is capable enough to multi-task open apps. There is 32GB of internal storage and if it gets filled up with school work or multimedia files, then just pop in a memory card as the MatePad T 10 can accommodate up to 512GB.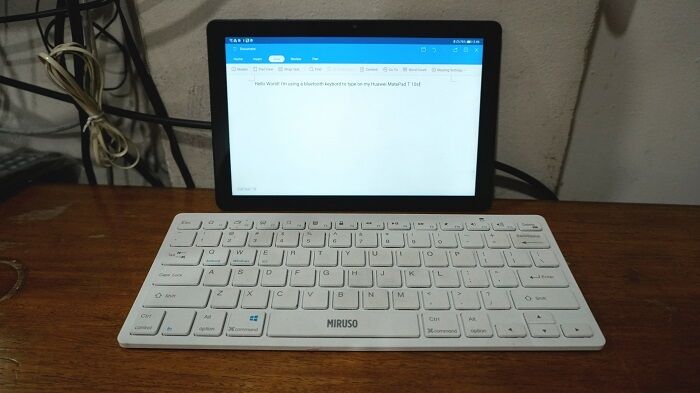 Like the Huawei MatePad, the MatePad T 10 can be paired with a bluetooth keyboard and mouse so users can easily input their notes and reports on the tablet. However, unlike the MatePad and MatePad Pro, the T 10 doesn't have M-Pencil support to scribble notes or doodle.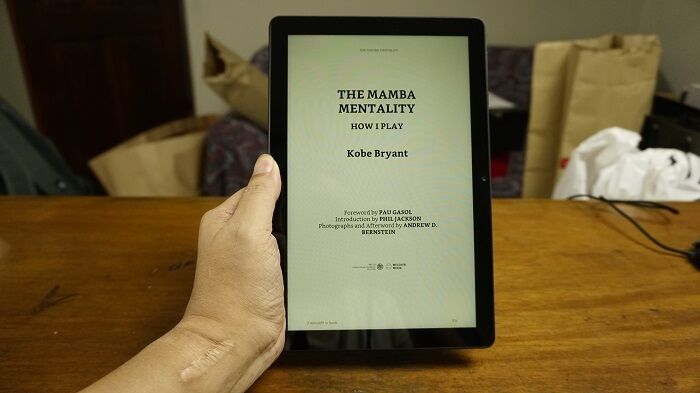 Online classes require a lot of hours staring at devices and that would somehow affect the eyesight of the user, especially young students. I mentioned Huawei's Eye Comfort feature earlier which reduces brightness while retaining most of the colors on the screen. The Ebook mode will totally turn off the colors of the tablet and makes it even more comfortable when reading ebooks or other documents. The dual speakers on the sides are loud enough for users to hear engaged in video calls or watching videos.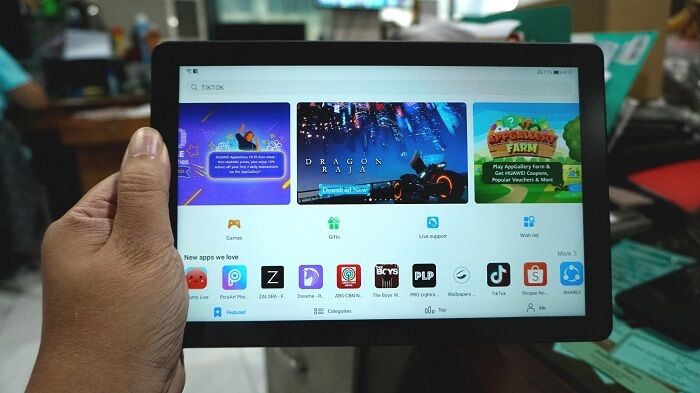 Now let me get this out there before I forget. Huawei devices as of late 2019 doesn't have Google Mobile Services and Google apps built-in. There are ways to install apps using APK services, but please bear in mind that installing Google apps like Gmail or Google Classroom requires a lot more than that. There are some tutorials found in YouTube on how to install Google Mobile Services (Google Calendar, GMail, Google Play) on the MatePad T 10. If you are technically challenged, have someone capable to do it for you. If you don't need Google and its apps, then you can simply sign in to the Huawei AppGallery and download the apps you need. You can read how I was able to live off without installing Google apps on my Huawei P40 Pro by clicking this link.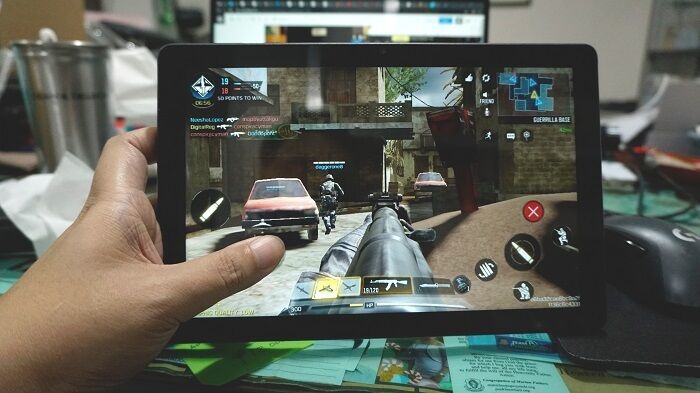 The MatePad T 10 can play some games too. I downloaded Mobile Legends: Bang Bang and Call of Duty Mobile using Petal Search. I have set Mobile Legends to high frame rate and was able to enjoy playing the game on a bigger screen. On the other hand, I had to adjust my fingers with Call of Duty Mobile as I found it harder to play the game on a bigger screen. It played well though under Low Graphics with High Framerate.
THE CAMERAS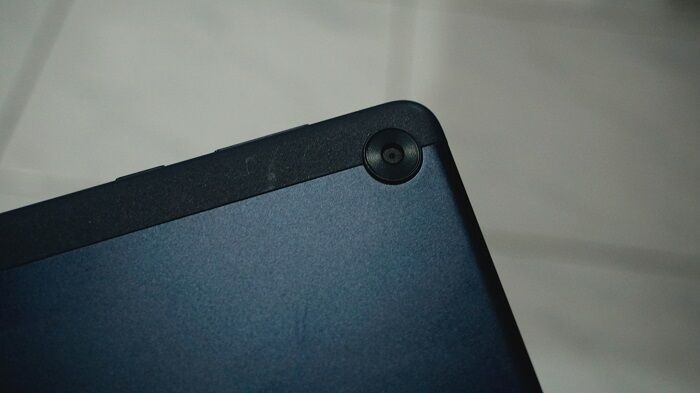 The Huawei MatePad T 10 has a 5 Megapixel camera on the rear and a 2 Megapixel lens on the front. Picture quality is good enough for those spur-of-a-moment photos but of course there are smartphones that provide much better photos. Had a bit of a difficult time with the front camera in terms of lighting when I tried to achieve a natural look of my selfie. Here are some sample photos: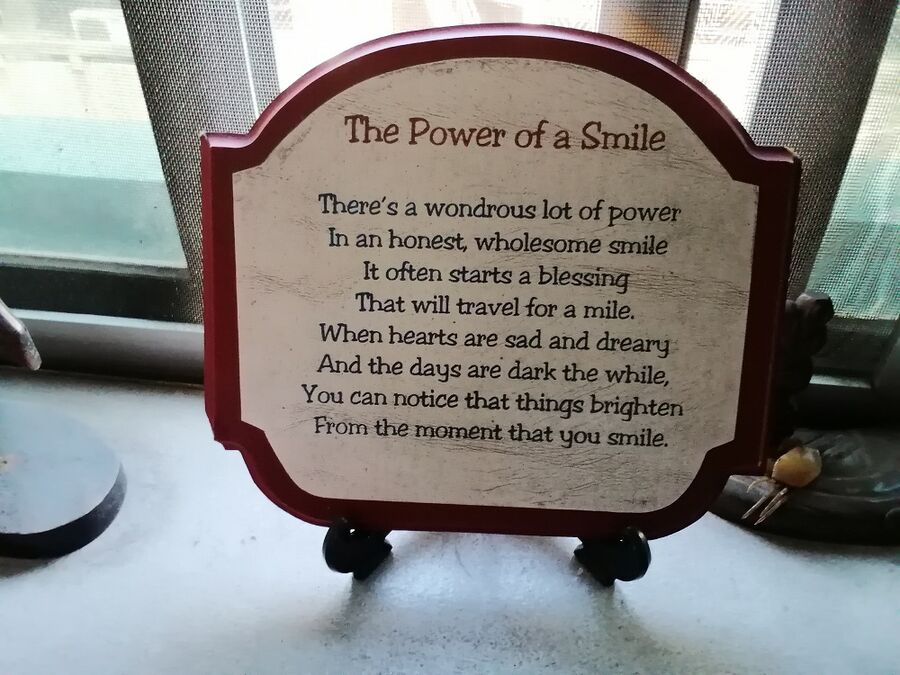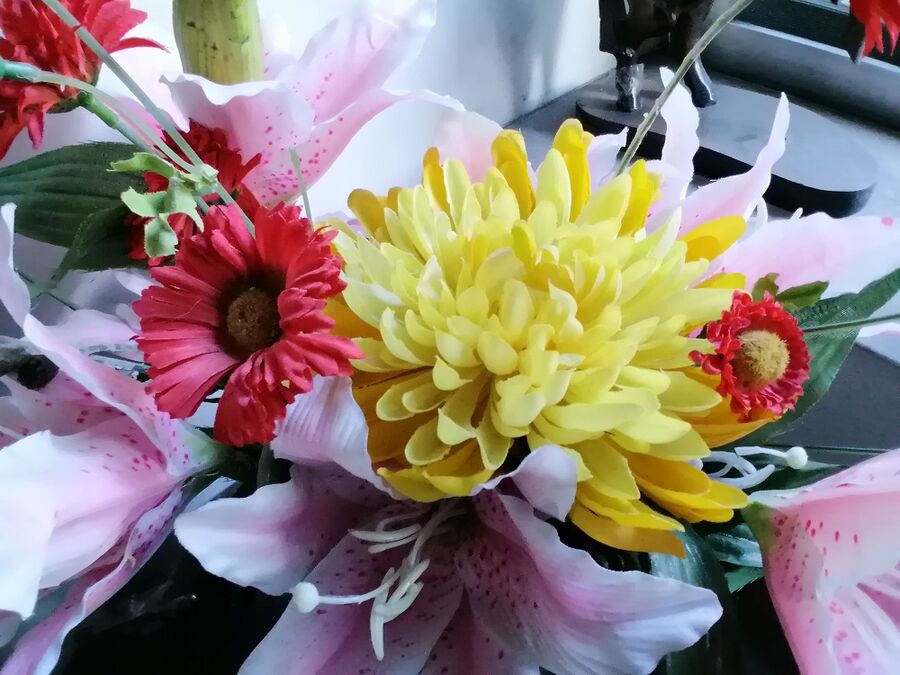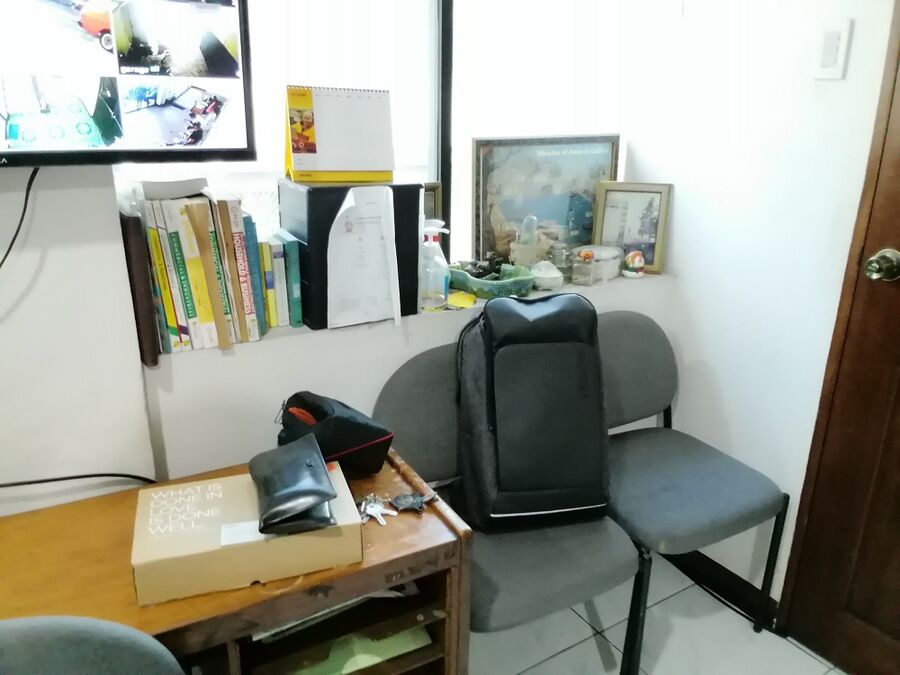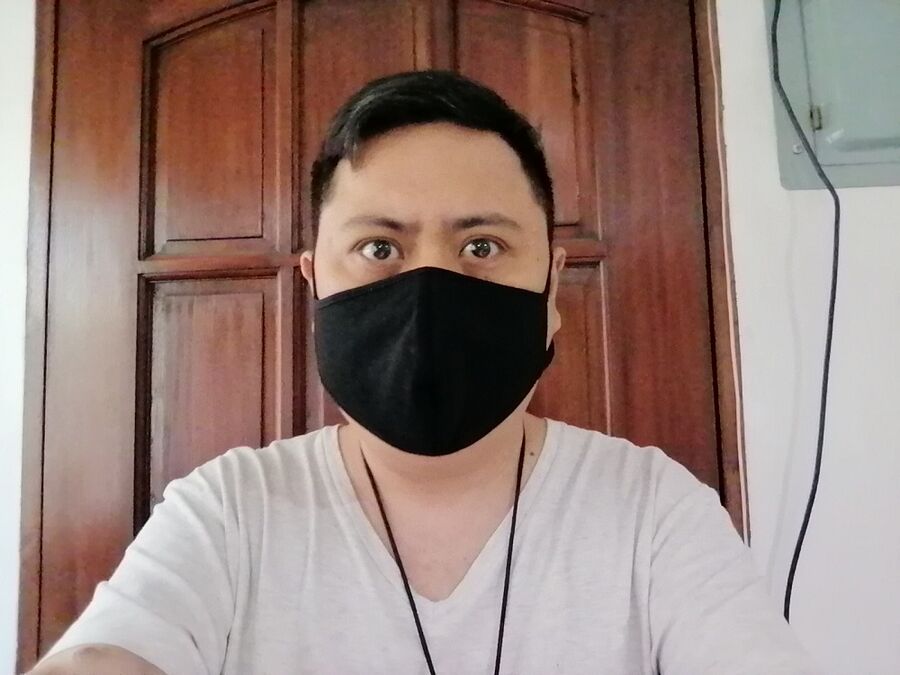 THE BATTERY LIFE
The MatePad T 10 is packed with a 5,100 mAh battery, a bit smaller compared to the 7,250 mAh capacity of the Huawei MatePad. Normal usage can let the tablet lasts for a day, but heavy usage including hours of video calls will make you look for a power outlet or a powerbank. Also, the T 10 doesn't have reverse wireless charging which the higher-end MateBooks possess.
DR'S CONCLUSION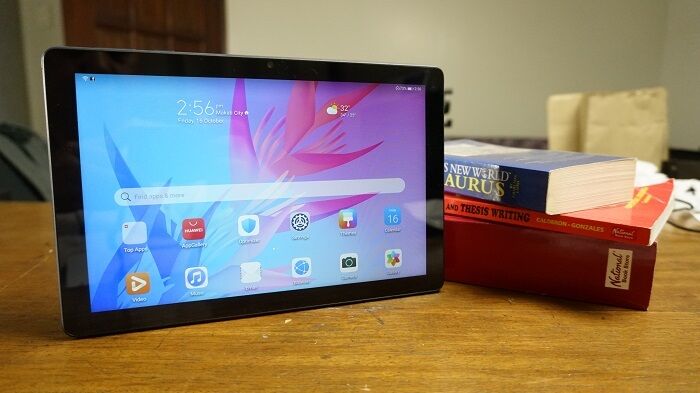 The Huawei MatePad T 10 doesn't have the same power and extra features of the MatePad and MatePad Pro, but its performance is not a slouch. While we lack some benchmark tests to prove its power, based on its processor, it can blow away the competition in the entry-level tablet segment. The It's a bit pricey compared to the competitors 10-inch tablets at less than 6k, but if you want the premium feel and reliable performance, you can't go wrong with the Huawei MatePad T 10.
PROS:
Premium built and finish
Loud Dual Speakers
Performs better compared to entry-level tablets
CONS:
Battery life is quite short for the tablet's siz
More information about the Huawei MatePad T 10 can be found here.