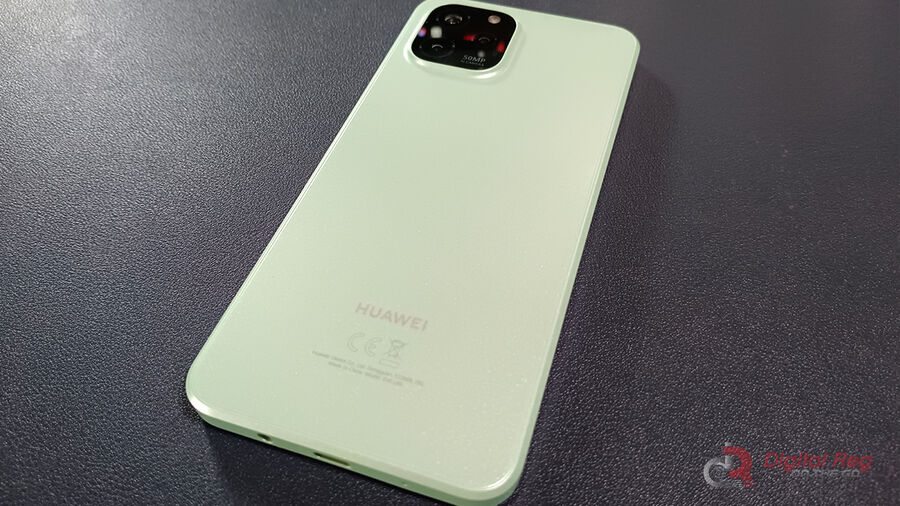 The Huawei nova Y61, the Chinese giant's new entry-level smartphone will be unveiled today together with the latest flagship, HUAWEI Mate50 Pro. Fortunately, we got an opportunity to have an early review unit which we enjoyed using for the past couple of weeks. The Huawei nova Y61 promises to inherit the long-lasting battery life and performance of the Huawei nova Y series with bumps on its specs. Let's find out if it delivers its promises.
Huawei nova Y61 Specifications
OS:
EMUI 12 - Android 10
Processor:
HiSilicon Kirin 710
Display:
6.52 inches 60HZ IPS LCD Display
Wireless Connections:
4G, Bluetooth 5.1, WiFi, GPS. GLONASS, BDS, GALILEO, QZSS
Memory:
6GB RAM + 64 GB Internal Storage
Connectors:
USB Type-C, OTG
Cameras:
Rear Camera
Main - 50MP, f/1.8
Macro - 2MP, f/2.4
Depth - 2MP, f/2.4

Front Camera
5MP, f/2.2
SIM Card Slots:
Dual SIM (Nano-Sim) or one SIM and SD Card
Battery:
5,000mAh with 22.5W charging
SRP:
6GB + 64GB: Php 7,999
The Unboxing
The Huawei nova Y61 comes in an aesthetic design with the nova logo on the left side, with the phone image in the center, and the model name in the lower part with the AppGallery logo underneath.
Inside the box, we have the Huawei nova Y61, Clear Silicone Case, SIM ejector pin, USB Type-C to type-A cable, and user manual. We didn't get a charger but they indicated on their website that it is included. And also, our phone doesn't have a protective film attached to the phone but it is noted on their website that it should have it.
The Design
We have the Huawei nova Y61 in its Mint Green variant. It is also available in Midnight Black and Sapphire Blue. We like how our nova Y61 comes in a pastel green color making it refreshing to see as well as being quite a unique color for a smartphone. The back panel design is wrapped to its frame. All Huawei nova Y61 back panels have a design called "Star Effect Finishing" where if it is placed under the light, it glows like a bright galaxy. Its matte finish makes prevents the panel from being a fingerprint magnet.
The build shape is boxy making it great to handle. The dimension of the nova Y61 is 164.28mm in length, 75.8mm in width, and 8.94mm in thickness with a weight of 188g, which is average and easy to carry.
For the camera, we have a small extruded platform where there is a 3-camera layout with a flash on the upper right corner which has a similar pattern to an iPhone with a "50MP AI CAMERA" labeled on it. And due to the extruded camera, the phone is wobbly when placed on a flat surface even if you use the supplied case.
With regards to the buttons and ports of the nova Y61, we have the volume rocker and power button that has a built-in fingerprint scanner on the right side. For the left side, we can find the SIM card slot where you can have two nano SIM inserted or one nano SIM and a MicroSD card. On the bottom part, we have the microphone hole, USB type-C port, and audio jack. You can find the speaker grill on the top side.
The Display and Sound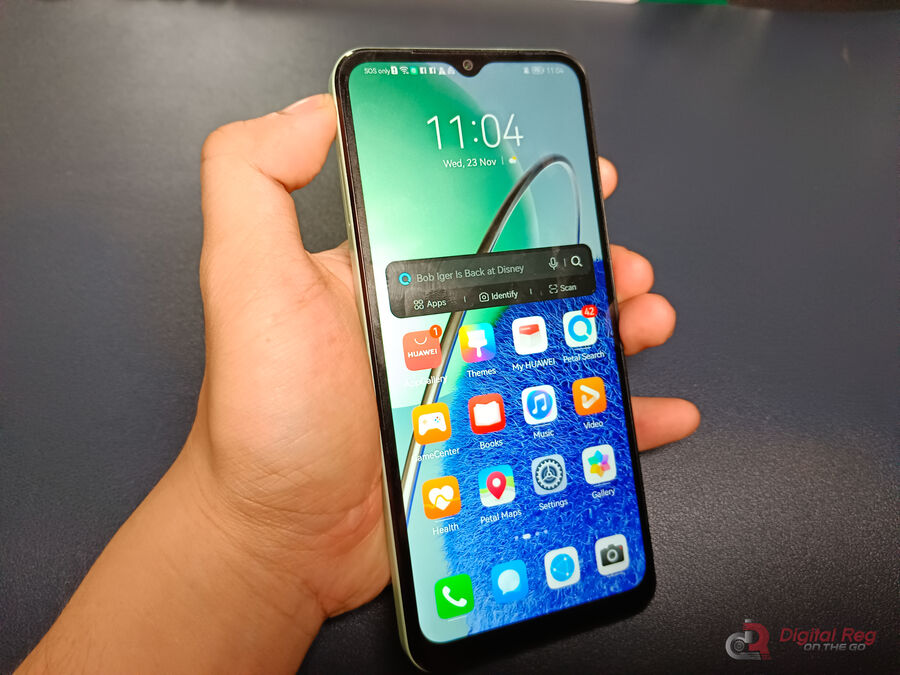 The Huawei nova Y61 has a sizable 6.52 inches IPS LCD display with a resolution of 720×1600 pixels 20:9 aspect ratio that is running at 60hz refresh rate. The bezels with the nova Y61 are thick and we get a teardrop-style camera. Due to it being just an LCD display and not an AMOLED display you can quite notice how thick the bezels are with it.
Out of the box, the nova Y61 display settings are set on Vivid for Colour Mode and default for the Colour Temperature which makes it neutral. The default settings we got on our display are vibrant and have a decent viewing angle.
For the speaker, it is a single-firing speaker. The sound quality is not that great as it sounds tinny and if you maximize the volume it is peaking.
The Performance
The Huawei nova Y61 is equipped with a HiSilicon Kirin 710 2.0Ghz. It is an octa-core processor which is 4x ARM Cortex-A73 @ 2.0Ghz and 4x ARM Cortex-A53 @ 1.70 with a Mali-G51 GPU. It is paired with 6GB of RAM and 64GB of internal storage. The phone runs EMUI 12 on top of Android 10 but it still doesn't have Google PlayStore, and only has AppGallery to be able to install apps on this phone. Here are some benchmarks scores of the Huawei nova Y61.
This is my first time using a Huawei smartphone that doesn't have a Google PlayStore and I am not used to the lack of Google apps. Thankfully, there is a new way to have Google PlayStore on a Huawei device and it is called "GBox". It is still not the same level as a smartphone that comes with a Google Play Store but it does give you the necessary apps like the Google apps (Google Drive, Gmail, Youtube, and so on). If you want to learn more about it, click here.
Navigating the phone was decently smooth and the apps are quite responsive. The control panel and notification bar are separated, you can access the control panel by pulling down on the top right side and the notification bar on the top left side. By pulling down on the center, you will access the search bar with the suggested apps that you recently opened and the top searches.
Our default search engine is Petal Search, besides searching websites or images on it, it can also search apps making you not go through the hassle of opening the AppGallery. It also has a Google Maps alternative and it is called Petal Maps, it works similarly to Google Maps. For accessing our emails, there is an email app that you can log in to your Microsoft Exchange, Gmail, Outlook, Yahoo, or your custom email provider. For your office suite alternative on Huawei, there is Huawei Docs where you can create docs, presentations, spreadsheets, and memos. In the Huawei Docs app, there is also a Huawei Drive menu that is an alternative to Google Drive. Almost all the things you need with Google have their respective alternative apps already on Huawei.
For the gaming experience with the Huawei nova Y61, it doesn't have a gaming feature like other brands that are able to turn off notifications, quickly screen record, or boost performance when gaming. Upon playing games on the Huawei nova Y61, we didn't experience any problems with the low demanding games like Mobile Legends where we were able to play it on high graphics with high refresh rate. On the other hand, we tried playing high demanding games like CODM and we experienced slight stuttering with the game with the low graphics set and high frame rate. We also wanna try to play Genshin Impact as that is our intensely high-demanding game on our list. Unfortunately, we were greeted with problems as we were forced to install an older version of it as we were unable to install the latest version. So we moved on to playing Asphalt 9 and with the default graphics setting and we are able to play it also with minimal stuttering. Overall our game experience is decent, but with the lack of Google Play Store on this Huawei nova Y61, expect that not all Android games can be installed.
Lastly for the security feature of the Huawei nova Y61, the side-mounted fingerprint sensor on the power button is good, nothing special to it. It also has a Face Unlock and it is quite slow.
The Camera
Going to the camera department of the Huawei nova Y61, in its rear camera layout it carries a 50MP primary camera, a 2MP macro camera, and a 2MP depth camera. As for the front camera, it has a 5MP selfie camera.
The default camera has an all-right feature pack to it. It has Portrait, Night, Aperture, Photo, Video, Slow-Mo, Panorama, Light Painting, Time-Lapse, Moving Picture, Stickers, Super Macro, and High-Res modes. You can also find in the app, its alternative to Google Lens the AI Lens when you press the icon in the upper left corner on the Photo mode.
The AI Lens can do Code Scanning – it can scan QR code or barcode, Instant Translation, Shopping – it is able to recognize items from multiple sellers, Calories – By pointing your camera to your point it gives you the estimated calories of the food you will be eating, and lastly Identify – It able to tell what object you are showing to the camera. So far by testing it, the Code Scanning, and Instant Translation for sure is helpful. But with the Shopping, and Calories features, unfortunately, we always encounter problems when using those features.
Regarding the picture quality of the camera, the 50MP primary camera has almost neutral control with acceptable details to it when we take a picture in a pretty lit environment. As for the poorly lit areas, our camera mode switches to night mode which will take 5 seconds to fully capture an image. The results have soft detail to them and due to it requiring 5 seconds to fully capture an image. There is a possibility that the image will not be as focused as you might have a shaky hand. If you didn't use the night mode and rather use the photo mode for night shots, you will notice it has a hard time balancing the light exposure making the part that is much brighter to be blown out.
To be able to fully utilize the 50MP primary camera, you will need it to set to the High-Res mode as the Photo mode or Portrait mode uses only 8MP of the primary camera. The result of the High-Res mode is significant as you will notice that the details are much sharper compared to the Photo mode that we got.
As for the other two cameras on our rear cameras, the depth sensor works in tandem with the 50MP main camera to produce well-lit aperture photographs or create a bokeh background, and when we shoot using the Portrait mode, there were instances we are able to capture a fair separation of the subject to its background. Moving to the 2MP macro lens we are able to take an acceptable image that shows decent details when we have a fully lit environment.
For the 5MP selfie camera, we got nice selfies by using the Photo mode, but if we set to capture using the Portrait mode, we got the occasional noise appearing in our image. So far, our selfies show that separation from the background is decent. As for the beauty mode in our selfie shots, we didn't see that much effect on it even if it was already set on 5 out of 10.
The Battery
The Huawei nova Y61 has a 5,000mAh battery capacity which is typical nowadays and it supports 22.5w fast charging that charges via USB Type-C. We ran a battery benchmark software and we got a result of 14 hours and 16 minutes which is a pretty decent result as other phones that have the same battery capacity only get around 13 hours.
Huawei nova Y61 Verdict
The Huawei nova Y61 is a pretty impressive all-round entry-level smartphone. We got adequate performance, attractive design, and satisfactory camera for its price point. You will need to be open to the idea of installing your apps via APK or learning to use alternative methods to regain the Google Play Store like the GBox method as the AppGallery still lacks the other apps. If you are amenable with this for an entry-level smartphone, then we highly recommend the Huawei nova Y61.
The Huawei nova Y61 is priced at PHP 7,999 and is available on Lazada and Shopee.
To buy the HUAWEI nova Y61 from the HUAWEI Official Store at Shopee, click on this link: https://shope.ee/20LgR3oePI
Huawei nova Y61
The Huawei nova Y61 is a pretty impressive all-rounded entry-level smartphone. We got adequate performance, attractive design, and satisfactory camera for its price point. But you will need to be open to installing your apps via APK or learning to use alternative methods to regain the Google Play Store like the GBox method as the AppGallery is still lacking sometimes. If you are all right with the downside of having a Huawei smartphone and this is around your budget smartphone, for sure we highly recommend the Huawei nova Y61.
PROS
Long Lasting Battery
Attractive Design
CONS
No Ultrawide Camera
No Google Mobile Services
Add your review
|
Read reviews and comments