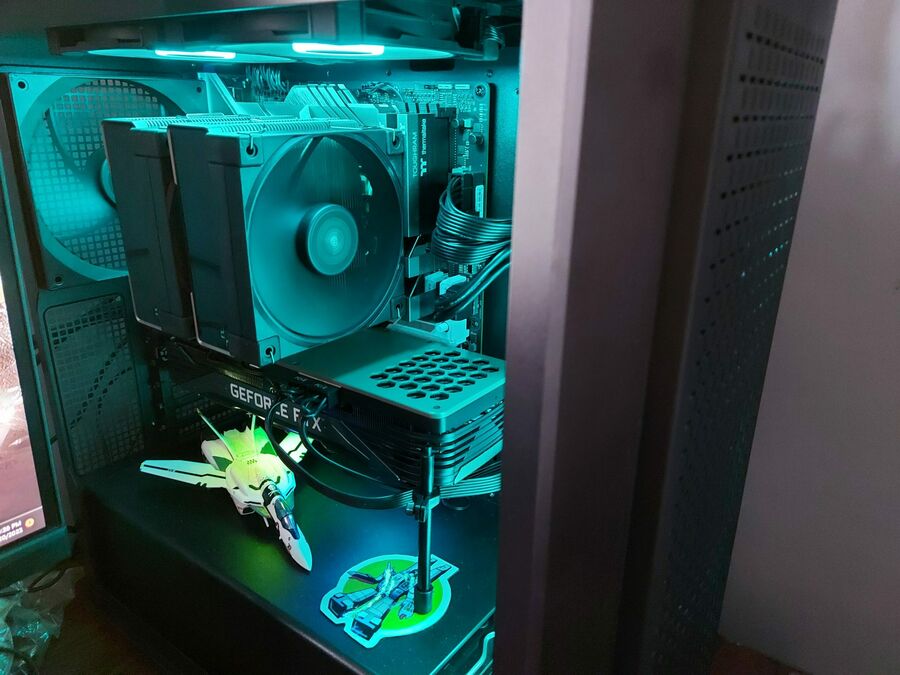 Update: Since Intel has launched more of its 13th Gen CPUs, it should be safe to unveil the guest CPU that came with the motherboard 🙂
In case you missed, an earlier article was posted earlier providing my initial insights on the board. In this article, I'll continue the review with the ROG STRIX Z790-A D4 Benchmark. I have run several benchmark tests: Gaming/Synthetic/Real World.
For the PC setup, I will be using the following parts:
Motherboard: ASUS ROG STRIX Z790-A D4 Motherboard
CPU: Intel 13th Gen Core i5 13600 (Engineering Sample) / Intel 12th Gen Core i5 12600KF for testing OC features and other benchmarks
Cooler: DeepCool AK620
RAM: Thermaltake Toughram 16GB (8×2) DDR4 3200 non RGB kit
Storage: 500GB x 3 Kingston NV1 NVME PCIe 3
Power Supply: DeepCool PQM850 850W Gold Modular Power Supply
GPU: ASUS ROG STRIX GeForce RTX 3060 12GB OC / PNY XLR8 GeForce RTX 3080 10GB
Case: DeepCool CG560 Airflow
Case Fans: DeepCool FC120 5x daisy-chained ARGB Fan / DeepCool FK140
STRIX Z790-A D4 Board and Software Analysis
First off, the difference between Z690 and Z790. Be reminded that this generation is in the "Tock" phase of releases from Intel, hence very minor changes are expected. The meat of the change with the Z790 chipset from Z690 lie in the number of PCIe lane allocation. While both chipsets have a total of 28 PCIe lanes, they have a large difference. Z790 allocates 20 lanes for PCIe Gen 4 and the remaining 8 lanes to PCIe Gen 3. Whilst the Z690 chipset allocates 12 lanes for PCIe Gen 4 and 16 lanes for PCIe Gen 3. The other change the Z790 chipset carries is the additional USB 3.2 Gen 2×2 20Gb/s port to a maximum of 5 ports. But as mentioned in my first thoughts post, with the STRIX Z790-A D4 (and other STRIX models), they've added in back one PCIe x16 slot as an additional peripheral connector. It can support a thunderbolt card + M.2 card combo, if you're pushing it.
Armoury Crate
As I've built and setup a fresh installation of Windows 11 Pro, I've also included ASUS Armoury Crate. The app still prompted me to install AI Suite III, for board power management (and overclocking); and surprised me that Cooling feature Fan Xpert 4 with AI Cooling II is now managed from within Armoury Crate. As a power user, I'd rely more on tweaking CPU overclocking directly from the BIOS, but as for fan management; I prefer to change/tweak it from the desktop. And in my history with fiddling with fan profiles, I'd usually override the fan settings after letting the motherboard take care of the automated optimization on my STRIX B450-E, since it doesn't really give a balanced cooling setup then.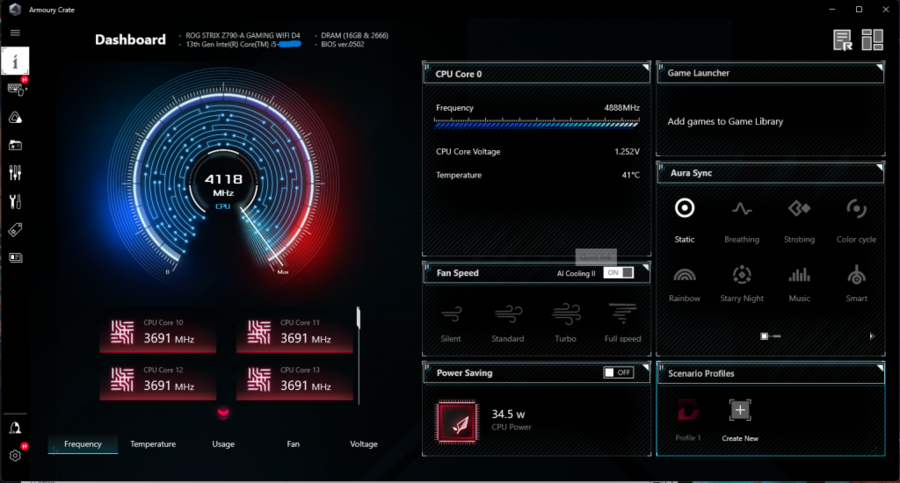 The board supports ASUS's lighting system Aura, as well as its companion app Aura Creator for customized effects. Other features of the motherboard include onboard Two-Way AI Noise Cancellation which is a big help in removing background noise picked up by our headset (make sure it's USB powered).
In the Fan Xpert 4 section of Armoury Crate, we are presented with a clean UI of all connected fans in my review unit. CPU Fan are the two fans I've connected from the AK620. Chassis Fan 2 is the rear exhaust fan, a DeepCool FK140 model cooling fan included with the case. The five FC120 ARGB fans are all connected to Chassis Fan 3, and they and the FK140 fan regulate intake and exhaust of CPU cooling.
ASUS BIOS / AI Overclocking / Performance features
The ASUS BIOS come in two modes: Advance Mode and EZMode. Initial bootup shows me EZMode, but switching to Advanced Mode opens up more of the board's settings. Now, since I'm currently using this 13th Gen Core i5 CPU, the Extreme Tweaker isn't showing up in the list (first hint for the CPU model, it's a nonOC model). Switching to an unlocked Intel Core i5 12600KF opens up more options on the BIOS menu, like the AI Overclocking option.
AI Overclock by ASUS provides a safe way for non overclockers, or those looking to study up on overclocking their CPU for better performance. For beginners pressing F11 on the keyboard will load a page listing the steps required for auto tuning AI Overclock. Once the steps are followed then AI Overclock should be tuned and working for users.
Alternatively, users can set it on manual and follow the suggestions on tweaks provided by AI Overclock for manually setting up overclocks.
The resulting AI Overclock on the Core i5 12600KF results a stable OC of 5GHz for all P-Cores and 4GHz for all E-Cores. This is kept in check with
However, when using a non-K CPU, I can still adjust maximum CPU speeds via the Thermal Velocity Boost menu. That and memory overclocking using XMP settings are the only things that can be performed when using a non-K CPU.
Board features that are on by default are Re-Sizable BAR, CPU TPM, and the necessary storage settings that passes Windows 11 installation requirements. Thus, letting me setup Windows 11 in a snap just by simply selecting my USB Installation media as the boot device.
WiFi 6E Connection
The ROG STRIX Z790-A D4 comes with an onboard WiFi 6E card with Bluetooth 5.2, which is same as the STRIX Z690-A model. All in all the improved coverage is good, letting me have a better connection with my home network. One improvement that I like that was continued from the ROG STRIX 12th gen motherboards is the magnetic antenna. It simply sticks to my chassis easily compared to the older generation of non-magnetic WiFi Antenna included in ASUS motherboards. Also, users can download ASUS Gamefirst V software that manages the WiFi's allocation between applications, browser and file downloads and uploads. This works best for those that need their internet connection focused to a specific application for unimpeded experience.
Two-Way AI Noise Cancelation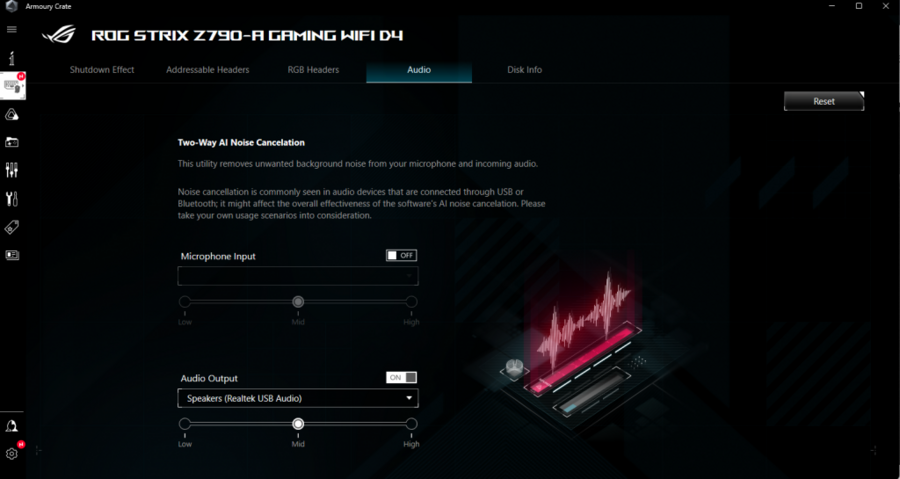 One of the unique features included with the motherboard is the Two-Way AI Noise Cancelation feature carried exclusively by ASUS headsets before 11th Gen Intel and a mix of AMD AM4 motherboards (B450/B550-X570) . I've already tested the AI Mic Noise Cancelation before on a separate device that reduces external noise coming from a speaker's background. AI Noise Cancelation for the speakers for me is new and I will need to further listen to the nuances of any noise being blocked out coming from another user, may it be from calls or recordings.
Other BIOS and Software Features
Other software included in the motherboard's support is the Sonic Suite. While it adds additional value for managing audio output, it broke audio for one of my most commonly played game Tom Clancy's: The Division 2. Ironically, it's the same problem encountered from when I was using my STRIX B450-E board with my AMD CPU a few years back. It did force me to uninstall the suite.
ROG STRIX Z790-A D4 Benchmark and Review
As mentioned at the start of the article, I'll be sharing benchmark tests results, and most will be focused on gaming. There are of course some synthetic tests like 3DMark and Cinebench, plus a real-world render test through Vegas Pro 17.
Gaming Benchmarks
For gaming benchmarks, I've picked several titles that I currently have that should give an idea how well the motherboard handles in conjunction with the CPU and GPU. There are five runs per game or benchmark application, and these will be displayed in a chart with their highest/lowest run and average of all five runs. I'm a bit of an old school reviewer when it comes to the reported data, still using the old and true average FPS reports. But I will include some notes on observed stuttering (if there are).
To give a quick summary of how the board ran, the STRIX Z790-A D4 Benchmark results show that the sample 13th Gen i5 CPU handled well, boosting (and in most cases) not breaking sweat in gaming tests, with most games not utilizing more than 10% of the CPU. Handling GPUs aren't an issue as well since the PCIe x16 slot runs on PCIe Gen 4 speeds maximizing the modern RTX GPUs I have on hand. Also, the AI Cooling II Tuning performs well with its fan tuning. Fan noise is very minimal when Turbo Boost is active for the i5 CPU.
CounterStrike: Global Offensive
Ah, the oldest of the bunch, from as far as I remember, CS:GO tended to be CPU intensive than GPU and the results does show on 1080p and 1440p runs. Given that the highest settings do utilize the GPU. Running on the RTX 3060, FPS is kept at a relatively high 450-ish average in 1080p resolution while 1440p runs around an average of 334 frames per second.
When swapped to a RTX 3080, I get even higher frames at 632 FPS on average for 1080p and 513+ FPS on 1440p.
Cyberpunk 2077
The most taxing of the bunch of games, Cyberpunk puts the CPU and GPU to the wringer, having a lower FPS count. While being a more GPU intensive game, the CPU did not have any load issues, maintaining an incredibly low utilization while the GPU carries well at 99% utilization (as it should). At 1080p on the RTX 3060, it gives a very useable 67+ FPS average with it peaking at 68FPS. While running the same GPU on 1440p, it still runs at a modest 42+ FPS on average (and that's on ULTRA settings AND no DLSS boost). An important thing to note is how smooth the benchmark run was.
On my older Ryzen 5 3600 system, even with a higher end GPU like the RTX 3080, I still get some stuttering during benchmark runs. An aspect of the game's overall performance still relies on having a fast and efficient CPU. Speaking of RTX 3080, performance in 1080p gives an impressive 127FPS average, while 1440p gives a commanding 90FPS average. Expect game performance from both GPUs to further improve once settings are optimized and DLSS is brought in to play.
Tom Clancy's The Division 2
A major staple in my list of games, The Division 2 has its own benchmarking feature and is both a CPU and GPU demanding title. Comparing the 13th Gen i5 CPU to both my Ryzen 5 and previous Core i5 (i5 4460), the difference is significant. There were no traces of noticeable stuttering while playing the game on any resolution (or if there's any noticeable). The game is still plagued with random crashes, but that aside performance for the RTX 3060 at 1080p is around 88+ FPS, while on 1440p it runs an average of 58.8 FPS which is still modest as it's more of a cover-shooter than a run and gun game.
Switching up to the RTX 3080. it's boosted up to 135.4FPS on average at 1080p. While in 1440p, I get an average of 116.4FPS. Comparing it to my Ryzen 5 3600, I get around 95FPS on 1440p and 120FPS+ on 1080p.
Forza Horizon 5
This is my staple racing game with typical high FPS. The average framerate on 1080p is around 96.2FPS and the lowest framerate ran at an exact 96FPS, while its peak run was at 97FPS. When resolution is switched to 1440p, the game suffers a minor hit. It runs at 82.4FPS on average.
Using the RTX 3080 meanwhile cranks it up to 125FPS on 1080p while a very small hit on 1440p, at 118FPS on average.
Grand Theft Auto V
The granddaddy of open world games that I have (and have used for benchmarking years back), I'm including benchmark results in this review as well. As an older game however, we're hitting the technical limitations laid on the game's code. As such, unlocking the frame cap through command line parameters pushed it higher. On the RTX 3080 while it did hit higher frames on the benchmark, stuttering became a problem during actual gameplay. Hence reversing some commands that further unleashing the frame capping (and even activating v-sync).
With the RTX 3060, I get around 108FPS+ average frames on 1080p resolution. On 1440p, however, it dipped down to 78FPS+ on average.
With the RTX 3080, I've gotten better results, with 1080p resolution at 140FPS+ average and on 1440p, a more modest 126FPS+ average.
Synthetic Benchmarks
In this section, I'll just go and cover two synthetic benchmarks I ran for this build. Same with video games, I ran these five times. However, some benchmarks focus on the CPU more than both CPU and GPU. Also other benchmark functionalities like Times Spy will run only on 1440p resolution for a valid run (with score).
3DMark Time Spy
With a total of 10 runs, the combination of the 13th gen Core i5 13600 CPU and ROG STRIX RTX 3060 provided an average score of 9027.4 Points. This is quite a high number indeed, however since this CPU is still unreleased, I can't say where it stands officially in 3DMark rankings. But comparing it to my old R5 setup with the RTX 3060 it's roughly around 500pts better.
Pairing the CPU with my RTX 3080, it scores even higher hitting an average score of 16979.2, which I think is within the area of a Premium Gaming PC.
3DMark CPU Profile
The 3D Mark CPU Profile is a series of synthetic tests that scores the CPU's rendering performance. Here are the results:
The CPU performs certainly well for this test especially for multicore tests, which means it will do very well for tasks requiring lots of processing such as video rendering or 3D rendering.
Cinebench R23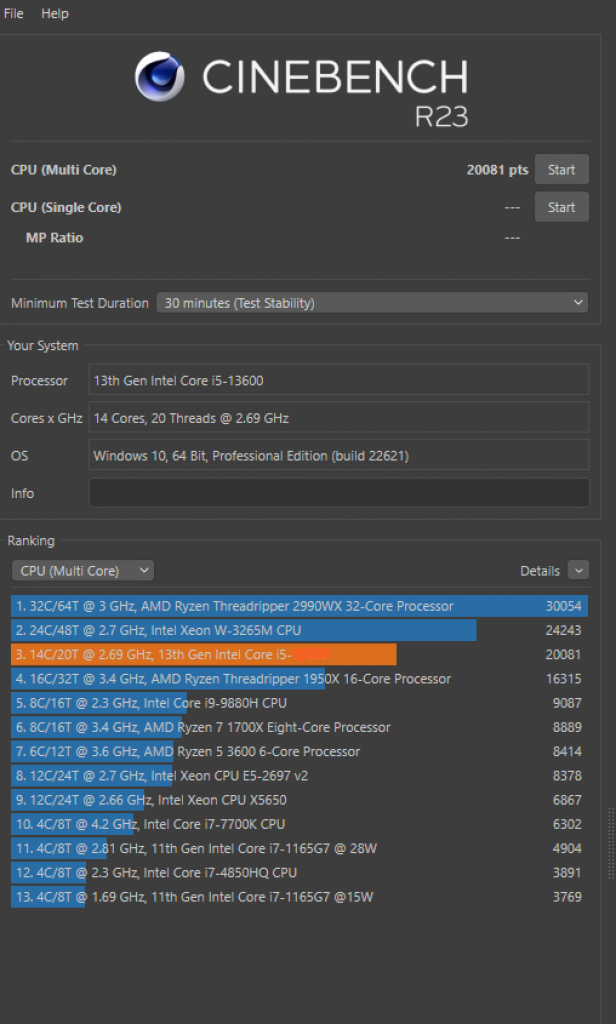 Of the synthetic benchmark tests for CPU, Cinebench R23 really pushed the performance of the 13th Gen Core i5 13600 as HWInfo reports its speed hitting the 4.9GHz* boosted frequency, and the temperature peaking at 87 degrees with the AK620 and chassis fans spinning up to keep it cool for the entire duration without throttling while still keeping quiet. STRIX Z790-A D4's temperature's kept at a minimum even at full tilt during its benchmark. The Multi Core results show it soundly beating 9th Gen Core i9, an 11th Gen Core i7. Now against the 12th Gen Core i5 12600KF it edges it out by roughly 1650 points, with this CPU edging out due to the additional 4 cores and additional thread it carries.
Blender BMW Render Test
This is an actual test to see how quickly the CPU can render a BMW. This test can be downloaded as a part of a demo from Blender's site. Same with the other benchmarks done, I've run this five times and got an average of 1:50.7.
Vegas Pro Video Render
Another actual test. This time using Vegas Pro 17 and rendering an 8:30 video of a run in Forza Horizon 5. This is rendered using Magix AVC/AAC MP4 Internet 1080p 59.94FPS Preset Render (non NVENC support).
The render took around 10:09 minutes on average to render the clip. This renders a bit faster compared to what I normally get with my older machine (with NVENC support).
Conclusion
The ROG STRIX Z790-A D4 continues ASUS' robust build quality and user-friendly features. While the Z790 chipset is a minor feature increment from Z690; there were some updates made to make it more future proofed having more support for more PCIE Gen4 slots. Add to it, the return of a third PCIE x16 slot for additional expansion card support (as mentioned in my first thoughts post). Many of the nifty features introduced with the 12th Gen Intel motherboard series from ASUS were carried over. The Q-Latch for M.2 SSDs are a big help, given some screwdrivers don't have strong magnets to hold onto the small M.2 screws, or it's easy to track these screws when they fall off the table.
The ROG STRIX Z790-A D4 Benchmark results show how the board is able to manage Intel CPU Speed Boost well with custom fan curve provided by ASUS AI Cooling II. As it's a DDR4, motherboard, it offers a great value for money as DDR4 memory modules have really gone down in price. Swapping the mystery CPU Core i5 13600 with my Core i5 12600KF opens up the AI Overclocking feature further expanding its capability.
On price, right now, the ROG STRIX Z790-A D4 is priced competitively between the upper-end ROG Maximus and the more casually oriented TUF and entry level Prime model. A quick check at my suki PC shop (PCHub) has it priced at Php 22,995. So, a builder/user looking for a more affordable motherboard for made for doing easy overclocks, while having more PCIE 4.0 allotment than the Z690 version, and enough USB ports to connect peripherals they need. Plus being an Intel board, the Thunderbolt header is a bonus.
For some downsides, the Sonic Studio App does interfere with audio on some of my games; hence, the need to uninstall it. The positioning of some of the fan headers are awkward, as most are focused on the bottom of the board. The OPT fan header sits beside the 12V CPU header and a rubber pin cover hides it. It can be tricky to wire since it's also partially covered by the VRM heatsink.
The ROG STRIX 790-A D4 represents the best cost-effective ROG motherboard that balances software features, DDR4 support, and PCIe 4.0 support that's sure to leverage modern GPUs and SSDs alike.