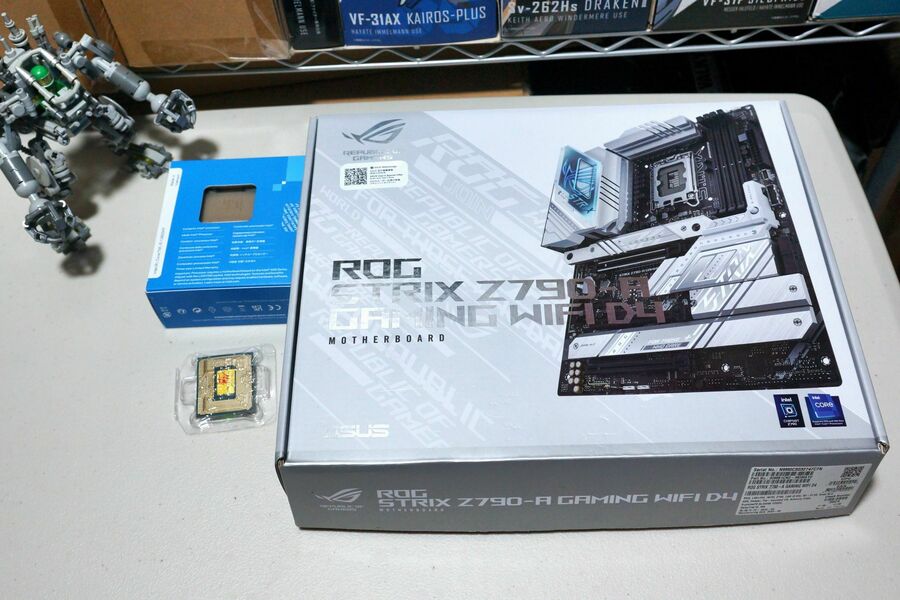 In this review, ASUS Republic of Gamers sent me their new ROG STRIX Z790-A D4 Motherboard along with a mystery Intel CPU. However, I'll be splitting this into two parts: my first impressions of the motherboard. The second part will cover the performance aspect as I'll be comparing the mystery Intel CPU (said to be an i5 CPU) to my i5 12600KF.
Unboxing ROG STRIX Z790-A D4
The ROG STRIX Z790A is the White version of the Strix Z790 Series of motherboards from ASUS and it is the only model that supports DDR4 memory. It is however, closest in configuration with ROG STRIX Z790-F, and having the same heatsink coverage due to the inclusion of a PCIe 3.0 x1 slot.
In typical ROG fashion, the board comes packaged in a heavy cardboard box with ROG branding. And unlike the usual black and red themed design, it comes in a cool white packaging with silver accents. Now, comparing this with the Z690-A D4's design, the STRIX Z790-A D4 has a bigger "screen" or transparent plate for its AURA RGB lighting, as well as a much simpler VRM heat sink design. The intricate design seems to have been applied instead on the M.2 heat sinks instead, having more cuts and silver accents.
The package consists of the motherboard, antennae, manual, an ROG sticker pack, cable ties, an extra thermal pad for the m.2 heatsink, replacement m.2 Q-Latch, m.2 rubber packages and backplate rubber, and finally an ROG key chain (why didn't I have this in my Strix B540E?)
ROG STRIX Z790A D4 Board Details and Assessment
As mentioned, the STRIX Z790-A D4 resembles the STRIX Z790F; however, the Z790-A D4 uses the good old DDR4 for its memory. This helps builders save a bit, especially with DDR5 memory modules sold are still pricey in the Philippine Market. Now, onto the rest of the motherboard.
The color scheme for this board is a combination of silver and white accents on black. Heatsink/shroud design, is the same as the Z790F model. BUT a closer inspection of the board provides some interesting details like Pac-Man's ghost just above the 1st PCIe 4.0 x16 slot. Pac-Man himself is seen at the back, clearly munching on power pellets. Another ghost is also found at the bottom. And on the I/O shield has the classic Pac-Man chasing a ghost (and vice-versa). It's a subtle call out to the venerable icon of gaming!
More fan headers you will need*
The STRIX Z790-A D4 has multiple fan headers on board. A maximum of five individual fans (if we're looking to individually connect one into each, but we'd usually bundle multiple fans into fan hubs) can be connected to each chassis fan header. Though I do noticed that the usual chassis fan #1 header is missing from the top of the board (beside the CPU fan header), and is located at the bottom of the board… and that chassis fan #2 is beside the CPU Pump header. At first glance we'd think that there's only one fan header on top of the board, but note that the CPU Opt header is located beside the CPU power header. And CPU Opt plus Chassis Fan #5 header have rubber covers installed making them more obscured.
User friendly features for builders
The STRIX Z790-A D4 carries on established features from the Intel 12th Gen motherboards, which improves ease of building. First off is the Q-Release button for removing GPUs from the motherboard. I've mentioned in the unboxing portion that it came with M.2 Q-Latch pieces. The Q-Latch is another feature that ASUS added in order to avoid parts loss (those small small M.2 screws), and a quicker way to install M.2 SSDs.
M.2 Cooling, THICC Heat Sinks
With modern SSDs running at even faster speeds, they tend to run hot and will definitely require some way to disperse heat. When the PCIe 3.0 NVMe SSDs were released, some SSD makers tried to alleviate high performance SSD issues with built in heat sink. These worked, as boards before had one or no built in heat sink. With modern motherboards now supporting PCIe 4.0 SSDs which are even faster, premium boards like those from ROG now cover all of the M.2 slots of the board. There are four M.2 slots onboard. Not bad at all, given the price drop of PCIe 3.0 NVMe SSDs we can sport around 8TB total on a modest budget, or go with a PCIe 4.0 SSD for the OS drive and several PCIe 3.0 SSDs. and these will be cooled by the thick heat sinks of the Z790-A D4.
PCIe Slot Added Back, from Huh? to Ahh!
Now, with the STRIX Z790-A D4, it looks like ASUS added back an additional PCIE x16 slot into the board. Specifications say, that it has one PCIe 5.0 x16 slot, two PCIe 4.0 x16 slots and one PCIe 3.0 x1 slot. The STRIX Z690-A, its predecessor has fewer PCIe slots. While the Z790 chipset simply added one more USB 3.2 Gen 2×2 port, it's practically the same as the Z690, so why add a PCIE x16 slot when dual GPUs are now out of fad?
Having an additional set of x16 slot permits additional cards to be added, like a combination of M.2 expansion card and a capture card, or dual M.2 expansion cards, or even USB PCIe cards should you still find the multiple USB ports still lacking. That assumes the return of the extra PCIe slot, additional flexibility for the Z790 board (this applies to the Z790-E/F boards as well actually), then this configuration offers more flexibility than the Z690 STRIX released last year. Though I do notice that, since the inclusion of the extra PCIe x16 slot, the second M.2 slot that occupied that same area now got bumped further to the right, eating up the space where two SATA 6 ports used to be; hence only 4 SATA 6 ports. My case, I'm switching away from using SATA drives and moving to M.2 drives so it's an OK compromise.
To Be Continued…
This is it for the first part of the review. In my next post, I'll be testing the board using an engineering sample of a 13th gen i5 CPU, plus on my 12th gen i5 12600k. From there, I'll be giving an overall performance review. First impressions; the presentation of the board and its ample amount of ports and headers offer builders flexibility.