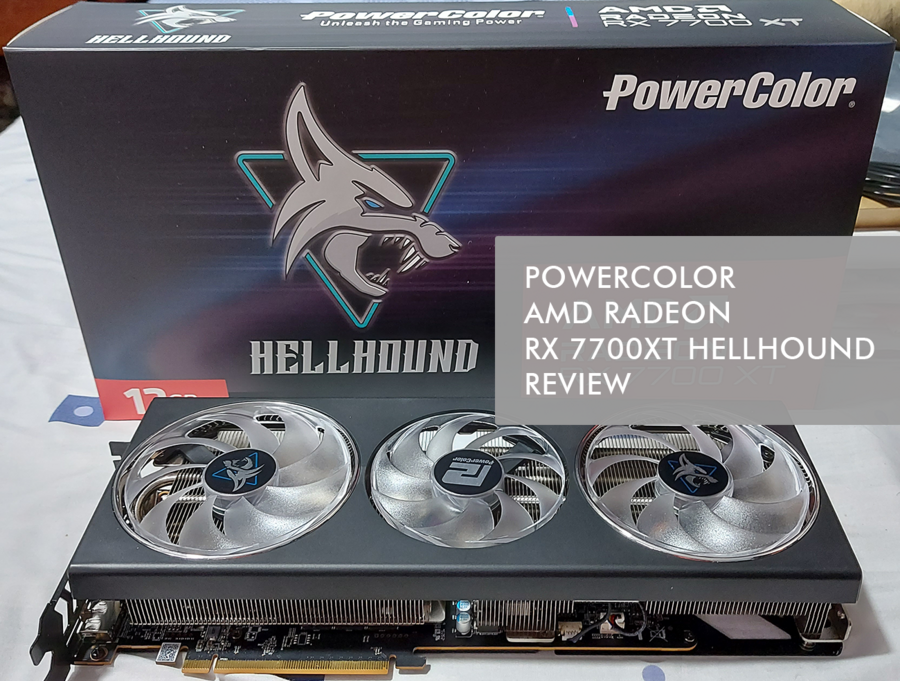 PowerColor has sent in their unit of the new Radeon RX 7700XT Hellhound Graphics Card for us to review. The AMD Radeon RX 7700XT (and Radeon RX 7800XT) are new graphics cards from AMD that completes their lineup of mainstream and enthusiast graphics cards for the RX7000 series running RDNA 3 GPU architecture. These were released early this September 6, 2023. As per current Philippine Pricing, the PowerColor RX 7700 XT Hellhound should be priced at around Php 32,000 from Bermor, which closely matches the NVIDIA RTX 4060Ti 16GB model and undercuts the NVIDIA RTX 4070 GPU.
PowerColor RX 7700XT Hellhound Product Design
Unlike the other PowerColor Graphics Cards that I have reviewed, the Hellhound box/package does come in two pieces, an outer cover box with product details and a flip top box; a premium, which can compare it to higher end brands.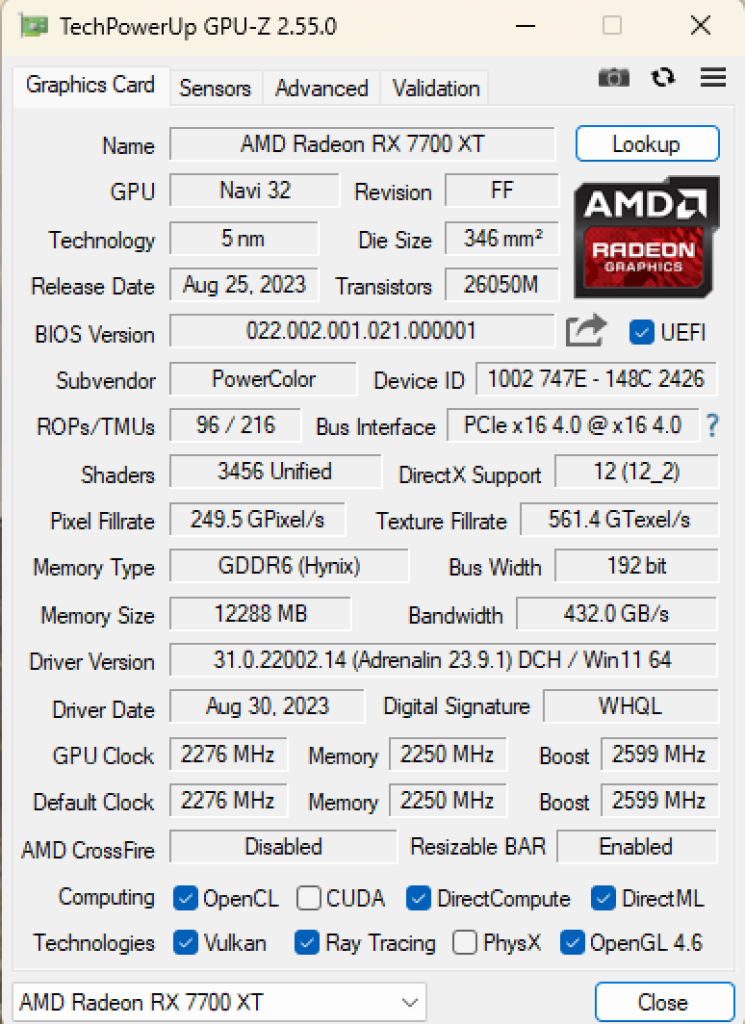 The Hellhound is the mid-tier model line from PowerColor, offering bigger graphics card cooler design, factory overclocking, dual bios and well, lighting (not RGB lighting but, switchable Red or Blue colors). For the PowerColor RX 7700XT Hellhound, it comes with a triple fan configuration. The RX 7700 XT Hellhound's cooler design uses a thinner, yet wide design which emphasizes the use of a wider and longer cooler. This keeps the graphic card's height to around 2.5 slots high, which is a current trend for high midrange graphics cards. A word of caution, this particular graphics card is 332mm long thanks to its cooler, so make sure your chassis can fit it, especially if you have your liquid AIO setup in front of the case. Another thing to consider is due to the length of the graphics card, having a bracket to support it is definitely a need here. Upon installation the RX770 XT Hellhound sagged even with the backplate.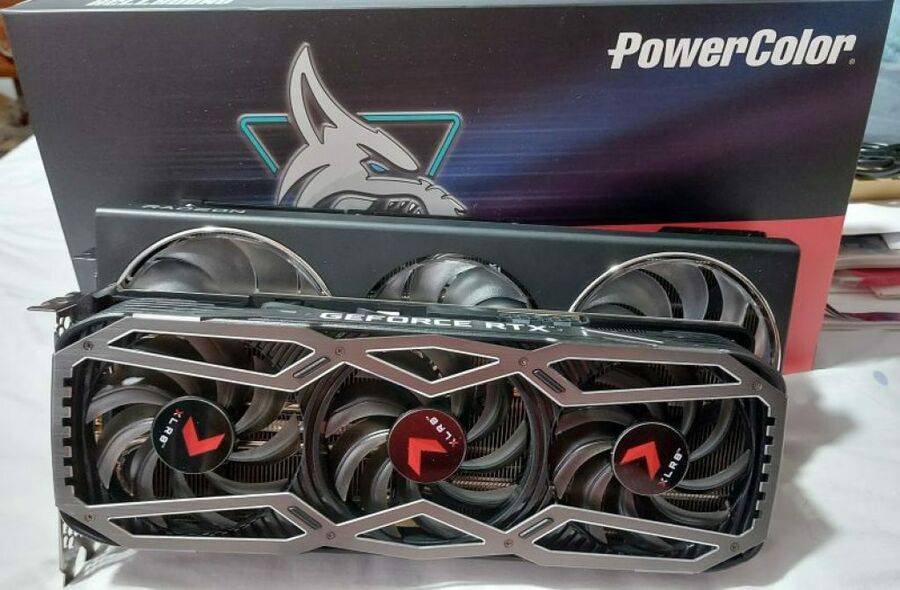 Comparing the GPU with the RTX 3080 (PNY XLR8 XRGB) the length and width of the RX 7700XT makes it a bigger graphics card. But the RTX 3080 10GB card has the thicker design, and looking closely, it's the cooling fan design that makes it thicker, while having the same thickness for the heatsink.
With the RX 7700XT Hellhound, PowerColor set it up with dual BIOS, which allows us to switch between two profiles: Silent and OC. Silent profile keeps fan speed at a lower RPM and balancing it with performance, while the OC profile will keep the fan spinning at a higher RPM once it reaches a certain temperature (60 degrees, OC Boost activates the fan at around 55 degrees) in order to control temperature while boosting the GPU clock speed. These profiles work hand in hand with the Fan Stop feature, stopping the three cooling fans. Recommended PSU starts at 750W and does not require ATX 3.0 models as it still requires 2x 8pin PCIE cables.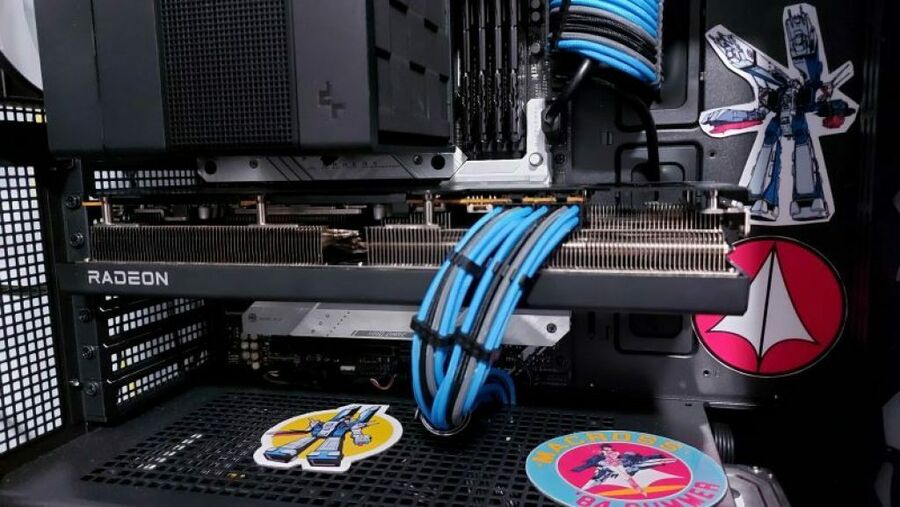 Design-wise, the RX7700XT Hellhound carries over the boxy aesthetic from their Fighter model line, which I find appealing, especially if going for a simpler build like that of my current machine. It has a backplate design with cutouts for cooler fin flowthrough and a Hellhound logo with cutouts for the LED lights to highlight it. As mentioned earlier, lighting for the graphics card is a simple two-color switch-controlled lighting. Blue and red (Intel and AMD perhaps?) are the only two choices we have.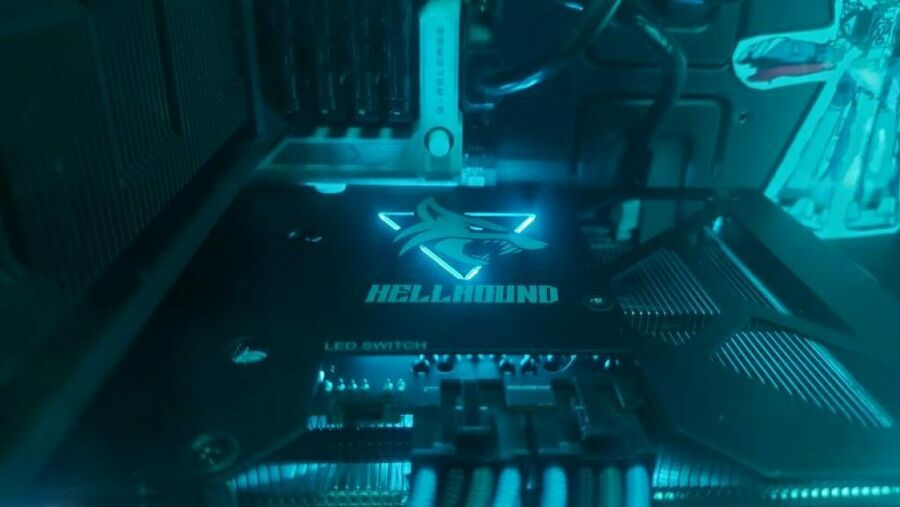 PowerColor RX 7700XT Hellhound Performance
For this performance test, I'll go over a set of games and the usual 3DMark tests and compare it with several GPUs that I have already tested previously. For gaming benchmark tests, I've now moved to using CapFrameX as a recording medium for doing tests as the data are much more complete and uniform to all games (except older titles that use DX9 like Counter Strike, which will use its internal benchmark tool).
Cyberpunk 2077
I have benchmarked the game under version 1.63, before the latest update that came out last September 26, 2023. Performance wise, it holds very well and performs almost just as well as my RTX 3080 in non ray-traced settings, making it a real bang for your buck graphics card for both 1080p and 1440p gaming. But, as a game that takes full advantage of Ray Traced lighting, reflection and shadows making it a very eye catching game, performance tanks with it turned on (and set to ultra, can be adjusted to perform better). Turning on AMD's FSR does greatly improve performance however, but it's best to leave it at under balanced. Setting it under Performance will give higher frames but will severely trade-off graphics quality.
Shadow of the Tomb Raider Definitive Edition
Shadow of the Tomb Raider is lush full of jungle backdrops and ruins making it hungry for resources, but the RX 7700XT Hellhound manages it well to go above 120FPS on average in 1440p. This is one of the earlier games that utilized Ray Traced Shadows technology, and since it is only one aspect of Ray Traced technology was used in development, performance impact is limited, still netting a respectable 85 FPS for 1440p, and 112 FPS for 1080p on average. AMD Supports the game with the older AMD FX CAS, which very, slightly improved performance by one or even half a frame from my tests.
Tom Clancy's The Division 2
Benchmark for this game took a while, as a.) they haven't seemed to resolve the benchmark tool being disabled when I got the graphics card, and b.) the latest update made game performance have micro stutters while running the game. After performance stability issues were fixed this week I was only able to perform benchmark tests. Suffice to say, 1440p performed well but under the 120FPS average mark. The RTX 3080 edged out by a few FPS, not even close to 10% difference. Which is really good for this tier of graphics card.
Forza Horizon 5
The RX 7700XT Hellhound continues to perform really well in 1440p with the game's Ultra settings setting an average of 108.9 FPS, trailing to a 132.2 FPS average at 1080p resolution. And this is without the use of FSR technology. It also looks like it did beat the RTX 3080 10GB's performance for this game.
Counter Strike Global Offensive
This may be the last time I will be using CS:Go for benchmarking, as by the time this review is published Counter Strike 2 should be out and using DirectX 12 API for its graphics. For data gathering, the Custom Workshop add on Benchmark tool is used to get performance statistics.
3DMark Performance Tests: Time Spy, Speedway and Port Royal
3DMark is a synthetic test suite for testing Graphics Card performance. Here are the results from each of the DX12 benchmark tests:
| | |
| --- | --- |
| Benchmark | Score |
| 3DMark Time Spy | 16245 |
| 3DMark Port Royal | 9080 |
| 3DMark Speedway | 3165 |
Conclusion
At a price of Php 32,000 locally, it sits squarely between NVIDIA's RTX 4060Ti and RTX 4070 GPUs. While the upper end model RTX 4060Ti 16GB almost matches in price with the RX 7700XT Hellhound. The RX 7700XT is definitely a step up from the RX 7600 I have reviewed previously, and handles better with Ray Tracing turned on. Surprisingly there are some games that it performed well that it closed the gap with the RTX 3080 10GB. With FSR 3.0 over the horizon, which promises Frame Generation as well, it still going to take a while when game developers implement it onto their titles. However, as observed, the graphics card does 1440p well and while I haven't included Starfield into the benchmark tests yet… observed performance is smooth and PowerColor's thermal design manages to keep the GPU temperature controlled. Temperatures were kept at a warm 60 degrees maximum at an ambient temperature of 28 degrees.
So, for those looking for a brand-new GPU that can handle 1440p gaming well without breaking the bank, the PowerColor RX 7700XT Hellhound is certainly worth a look. But as online stores go, I can only find it online from Bermor's store, hopefully there would be others that carry it.
The PowerColor RX 7700 XT Hellhound is a 1440p Budget Graphics Card
With a price of Php 32000, the PowerColor RX 7700XT Hellhound offers great value for 1440p gaming and rivals that of similarly priced NVIDIA GPUs (RTX 4060 Ti 16GB)
PROS
Great performance for 1440p
Heatsink Design performs well keeping temperatures down.
Great price to performance, can rival that of the RTX 3080 in some games.
Uses existing PCIE 8pin sockets
CONS
Graphics Card sags upon installation, requiring a bracket or brace.
Graphics Card length may require a longer chassis or relocation of other parts.
Availability may be a problem.
Add your review
|
Read reviews and comments