Fresh from its organizing stint in the Southeast Asian (SEA) Games esports competition, Mineski Global has set its sights on developing the school esports landscape. Mineski and the Philippine Collegiate Champions League (PCCL) have partnered to form the National Interschool Cyber League (NICL.) With this new league, they to transform esports into a world-class, big-league competitive sport in schools nationwide.
PCCL will offer member schools a chance to participate in the new league
and develop their own comprehensive esports programs in collaboration with Mineski. They have a long track record in national collegiate basketball championships spanning 50 years and has recently recalibrated its program to include a wider list of activities to help spur participation among students and institutions. PCCL is best known for bringing together leagues such as the University Athletic Association of the Philippines (UAAP), the National Collegiate Athletic Association (NCAA) and the Cebu Schools Athletic Foundation, Inc (CESAFI). Last year, PCCL hosted the Digital Games Championship, its maiden foray into esports which saw 108 teams from various schools participate. A team from the University of the East won the championship.
For this year, Mineski has drawn up a comprehensive schedule of activities to engage students not just in competition but also in training, coaching, and even development of full careers in esports. In addition to tournaments, Mineski has drawn up plans for on-campus activities that will help promote careers in esports, responsible gaming and other esports-related topics for students. Already, the First Asian Institute of Technology and Humanities (FAITH) Academy, based in Tanuan, Batangas has been among the pioneers in offering an esports curriculum to its students.
Mineski and PCCL will not only manage and organize the NICL but will also create a sustainable and multi-pronged esports program nationwide under the banner of the Youth Esports Program (YEP).
Five-time PBA Coach of the Year Chot Reyes has been chosen as the President of PCCL Esports. "We'll be exploring ways of training and motivating athletes for careers in esports. This program will also promote esports as a legitimate part of the school curriculum and reveal the positives it can bring to the table," Reyes said. "The same way basketball grew from the grassroots level, we're now excited to promote and grow esports in the country," he added.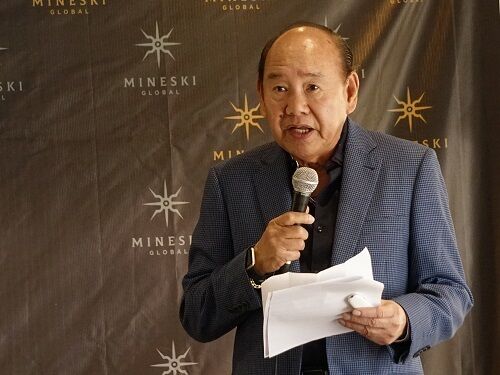 "This is the future of sports and competition. Esports is more inclusive than other sports and will help lead even more of our new generation to play competitively and responsibly in tournaments and engage in activities at par with the rest of the world," said Rey Gamboa, PCCL Chairman.
"The continued growth and development of esports in the country presents us with another avenue for excellence, sportsmanship, and inclusion. Esports advances not just skills but also values of hard work and determination among all players," said Mineski Global CEO and founder Ronald Robins.
Esports took the limelight in last year's Southeast Asian Games, as it was included as a medal sport in the regional event for the first time. Filipinos like Caviar "Enderr" Acampado from team Liyab, and co-trained by Mineski, led the national esports team to several victories. Acampado is the lone Filipino gold medal individual winner at the games while Team Philippines won the overall esports title.
PCCL-member schools and esports teams looking to participate in this year's NICL program can visit the Mineski Events Team – MET Events Facebook page.