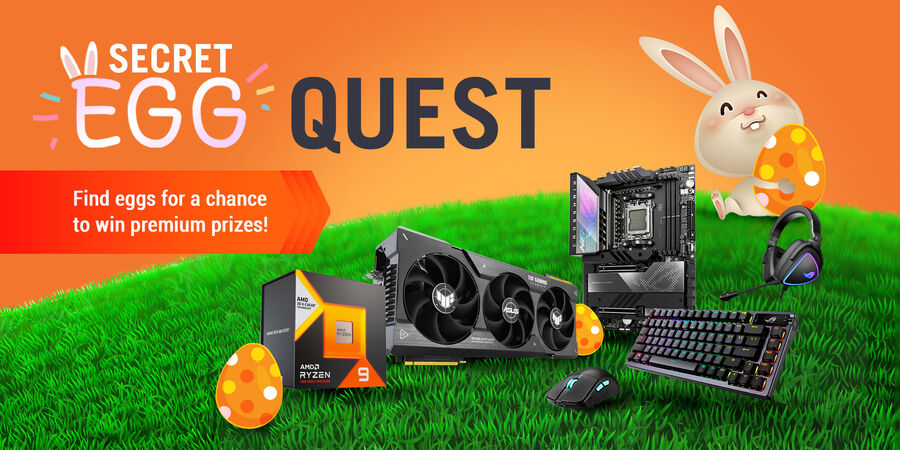 ASUS today announced a global Easter giveaway contest where participants can win top-shelf PC gaming hardware, including an ROG X670E Hero motherboard, AMD Ryzen™ 9 7950X3D processor, TUF Gaming RX 7900 XTX graphics card and premium ROG peripherals.
ASUS Global Easter Giveaway Details
Starting April 7, 2023, ASUS will hide a variety of Easter eggs on several of its AMD X670E and B650 motherboard product pages, and some of them will be trickier to find than others (there are three levels of difficulty of eggs hidden in the product pages). Participants who identify the correct number of Easy Eggs and submit their answer to the Gleam contest page may enter to win a set of three award-winning ROG peripherals: an ROG Harpe Ace Aim Lab Edition mouse (Review to be up soon on the site), an ROG Azoth keyboard and an ROG Delta S headset. If contest participants correctly identify the total number of Sneaky Eggs, they can enter to win both an ROG Crosshair X670E Hero motherboard and an AMD Ryzen 9 7950X3D processor to fuel a state-of-the-art PC gaming build.
Last but not least, there is one camouflaged Challenge Egg that will move around ASUS product pages over the course of the contest. If participants correctly identify one of the website locations of this egg, they may also enter for a chance to win a TUF Gaming RX 7900 XTX OC graphics card.
The ASUS Global Easter PC Gaming Hardware giveaway contest concludes on May 7, 2023. Terms and conditions apply. Please see the contest website for details.
Motherboard bundle promotion in Western Europe (Only for Western Europe)
In this same time frame, ASUS is also running a promotion on its e-shops in Italy, Spain and Portugal where select ASUS ROG and ProArt motherboards are bundled with a free ROG peripheral.
For more information on this contest and on the promotion in western Europe, please contact your local ASUS representative.