The TeamGroup Booth at COMPUTEX 2023 hosts not just their memory and storage products but also cooling solutions.
With the advent of PCIE Gen5 storage comes higher speed, and higher speed comes higher temperatures. TForce developed several solutions for reducing PCIE Gen5 M.2 SSD temperatures, some as basic as a thicker heatsink…. but let's not get ahead of ourselves. We'll go through the memory and storage offerings before we go through the other products.
TeamGroup Booth Memory Products
TeamGroup's primary bread and butter product are its various TFORCE RAM modules. Exhibited are their range of modules from Zeus, Dark Z, Dark Pro, to RGB RAM modules like XTREEM, Night Hawk, and Delta. New products on display where the new DDR5 XTREEM, DDR5 ARGB XTREEM.
T-FORCE XTREEM ARGB DDR5
Dazzling Aurora & Extreme Performance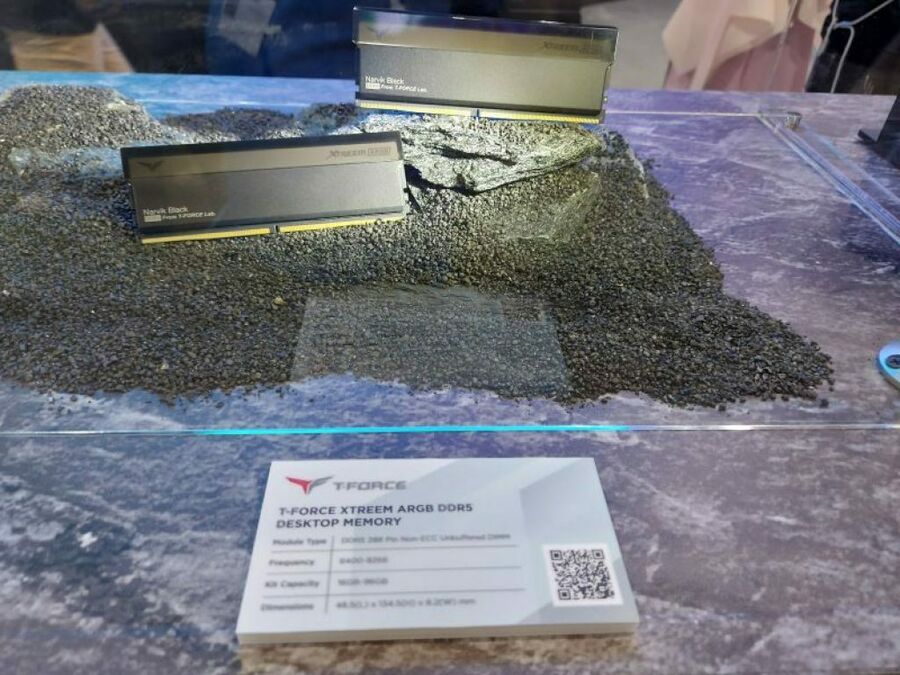 T-FORCE XTREEM ARGB DDR5 Gaming Overclocking Memory is equipped with innovative dual light pipes which utilize black translucent acrylic and multi-optical designs to display a soft aurora-like flow of light. The matte heat spreader of the XTREEM ARGB DDR5 is made of high-quality 2mm black aluminum alloy, which has undergone aluminum extrusion, CNC processing, sandblasting, and black anodizing, creating a unique material that combines the hardness and durability of basalt and the soft texture of black beach sand. It comes in a variety of frequencies starting from 7,000MHz~8,266MHz and is specially designed for gamers after an extreme performance and dazzling RGB lighting.
T-FORCE XTREEM DDR5
Ultimate Overclocking & Invincible Cooling
T-FORCE LAB is committed to pushing the boundaries of DDR5 frequency and setting new records with XTREEM memory series, much loved by overclockers worldwide. The new T-FORCE XTREEM DDR5 Overclocking Memory comes in frequencies starting from 7,000MHz~8,266MHz, offering the highest speeds in the entire T-FORCE DDR5 series. For maximum overclocking potential, XTREEM DDR5 uses a high-quality 2mm thick aluminum alloy heat spreader and a highly thermally conductive silicone gel to provide a superb cooling effect. The two-piece heat spreader has a slanted fin-type design and is treated with sandblasting and black anodizing, giving it a low-key matte texture reminiscent of black beach sand. On top, the glorious T-FORCE logo adds a majestic and elegant flair to the overall appearance.
TeamGroup Booth Storage Products
For storage, TeamGroup offers different solutions found over their booth. New models in particular are their coolers for their T-Force CARDEA PCIE Gen5 M.2 SSDs. These PCIE Gen5 M.2 SSDs now boast speeds of up to 14,000 MB/s read times, making quite hot. As a way to keep things cool, TeamGroup introduced several cooling solutions for these drives.
T-FORCE DARK AirFlow Cooler Series / Gen5 M.2 PCIe SSD
Flagship Speed and Extreme Performance
The T-FORCE DARK AirFlow Cooler Series / Gen5 M.2 PCIe SSD is expected to reach a maximum sequential read and write speed of over 12,000MB/s and 11,000MB/s, respectively, making it the fastest flagship PCIe Gen5 SSD from T-FORCE. T-FORCE DARK AirFlow Cooler is equipped with an exclusively-designed aluminum fin heatsink with multiple layers and heat pipes passing through, which significantly increases its thermally conductive area. Combined with an active fan cooling device and multi-faceted cooling design helps Gen5 M.2 PCIe SSD eliminate heat sources and maintain optimal operating temperatures when running at full speed. T-FORCE Gen5 M.2 PCIe SSD also supports S.M.A.R.T., a patented smart monitoring software that allows users to fully grasp the status info of the SSD at a glance and perform quick and easy checks and adjustments.
As for external storage, TeamGroup announced two USB drives during COMPUTEX 2023. One is a USB3.2 Gen2 with type-C plug and another is a USB3.2 Gen1 drive with a standard Type-A plug, but is made out mostly of recycled plastic.
TEAMGROUP C231 USB3.2 Gen 2 Flash Drive
A Type-C Design for Convenient Access
TEAMGROUP C231USB Flash Drive features the USB3.2 Gen 2 high-speed interface, a maximum read and write speeds of up to 1000MB/s, and a large capacity of up to 2TB, making it easy to transfer 4K UHD video, access high-definition images, or backup large amounts of files. C231 uses a Type-C connector, which is supported on a variety of devices and allows for easy insertion due to its symmetrical shape. Its convenient push-and-slide mechanism also eliminates the need for cap storage, making data transferring even simpler. C231's sleek matte black metal exterior adds a stylish touch to users' daily device collection, while the hole design allows users to attach it to key rings, backpacks, or other accessories for easy carrying and storage on the go.
TEAMGROUP C175 ECO USB3.2 Gen1 Flash Drive
Reduced Carbon Emissions for a Greener World
TEAMGROUP C175 ECO USB3.2 Gen1 Flash Drive is made from 75% PCR (post-consumer recycled) plastic, reducing carbon emissions by up to 69%. For perspective, that's nearly the emissions of 203,000 sheets of A4 paper eliminated for every 100,000 C175 ECO. Besides giving a new life to recycled plastic, C175 ECO comes with a concealed storage clip that reduces the chance of cap loss and therefore environmental pollution. With carbon reduction, eco-friendly designs, and green living, we can better protect our planet.
Other mentionable storage products are TeamGroup's heatsink for the PS5's SSD slot that seamlessly fits. Another is an external drive for the XBOX Series X (works around the expensive proprietary XBOX internal storage drive) a M.2 2230 sized SSD for Steamdeck use, and a MicroSD card for Nintendo Switch.
TeamGroup Cooling Solutions
TeamGroup also markets CPU Liquid all-in-one products. And the TeamGroup Booth has several of the new Liquid AIOs on demo. The first is a new version of its Siren series.
T-FORCE SIREN GA360 ARGB CPU All-In-One Liquid Cooler
Brilliant Lighting & Rapid Cooling
T-FORCE SIREN GA360 ARGB CPU All-In-One Liquid Cooler was developed in collaboration between T-FORCE and ASETEK Designworks. It features the latest 7th generation ASETEK V2 pump, next-gen high-efficiency motors, and smart control PWM technology, allowing for precise real-time adjustment of water block motor and fan speeds based on CPU temperatures, producing optimal cooling efficiency with minimal power consumption. The top-notch cooling performance makes it perfect for the new generation Intel and AMD multi-core CPUs. The liquid cooler uses an "aurora" ARGB water block and fan and supports multiple lighting control programs, providing gamers with a gorgeous aurora-like display. In the spirit of eco-friendliness, SIREN GA360's entire manufacturing process is RoHS-compliant, and its packaging is made of recyclable materials, allowing the GA360 to deliver incredible gaming prowess while supporting a greener environment.
In addition to presenting the GA360, TeamGroup will be introducing the industry's first all-in-one SSD liquid cooler at COMPUTEX, specially designed for Gen5 PCIe SSD with a Taiwan Invention Patent.
Unlike other PCIE Gen5 SSD drive cooling solutions found in COMPUTEX 2023, the TeamGroup's solution for cooling, aside from the previously mentioned DARK Airflow cooler series is to use a 120mm Liquid AIO to cool the SSD. This solves the problem of having a thicker PCIE Gen5 cooler obstruct the CPU Cooler or GPU from properly fitting. There are several models both working and non working for us to observe in the TeamGroup booth
This completes our coverage of the TeamGroup Booth at COMPUTEX 2023!