In late May 2023, we embarked on an exciting journey to Taipei, Taiwan, to cover one of the biggest technology events of the year: COMPUTEX 2023. With a packed itinerary and the need to stay connected at all times, we were fortunate to have the Cherry Roam 5G U50 travel pocket Wi-Fi by our side. The Cherry Roam 5G U50 was launched in December 2022 and proved to be a reliable companion throughout our trip, providing us with seamless connectivity and unmatched convenience.
Our Trip To Taiwan
We landed at Taoyuan International Airport at 1:30 a.m. Normally, we won't be able to connect to an airport's WiFi while we are still inside the plane. While waiting for our fellow passengers to disembark, we turned on the Cherry Roam 5G U50 to check our social media accounts and messages. Surprisingly, there was no need for us to select any network on the Cherry Roam. It immediately connected to a network and was able to use it immediately.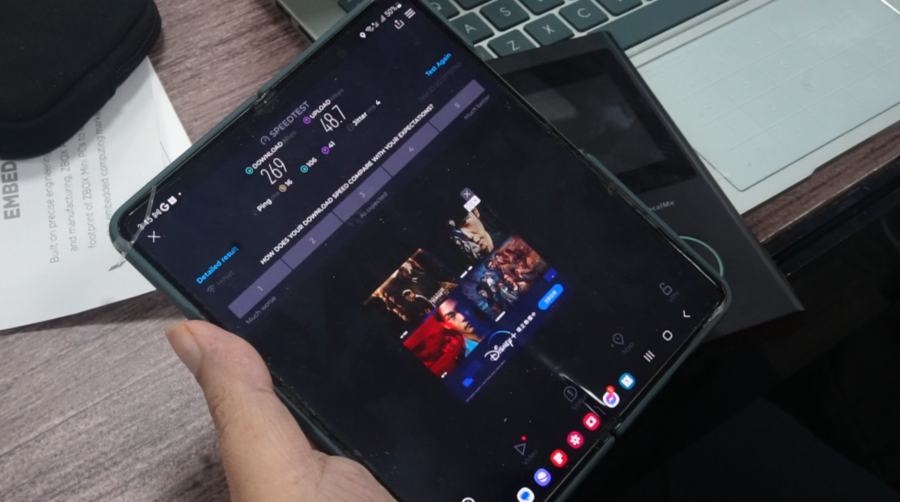 During our stay in Taiwan, our Cherry Roam 5G's network provider was HiNet, which consistently provided fast 5G speeds. We averaged download speeds of 267 Mbps and upload speeds of 48.7 Mbps. Wherever we went, the connection was always fast and reliable.
Covering COMPUTEX 2023 requires us to have an internet connection as we need to pump out the latest news happening during the week-long event. We have multiple devices in our gear bag like smartphones and laptops, and while most of them are connected simultaneously, the Cherry Roam 5G U50's connection didn't slow down at all. We were able to upload articles to our site, videos to our YouTube channel, and short posts on our social media pages without any trouble.
We didn't only use the Cherry Roam 5G U50 for work. We also used it for navigating Taipei. It also helped me book our Uber trips when we find the MRT stations too far for us to walk. It also guided us where to eat good food near our location.
After several days of COMPUTEX coverage, we rewarded ourselves on the last day of our stay in Taiwan by visiting Ximending in the afternoon and Guanghua Digital Plaza, which is like the tech paradise where all things tech from phones, laptops, cameras, gaming consoles and peripherals, and other tech gadgets can be found. We wanted to buy some pasalubong for our loved ones while at Ximending, but our brains were too tired to calculate the exchange rate mentally. Thankfully, the Cherry Roam 5G U50 was still operational, and we were able to convert the exchange rates, eventually buying all the pasalubongs we could find.
ALSO READ: Roaming Seoul with Cherry Roam
The Cherry Roam 5G U50
The Cherry Roam 5G U50 provided our internet needs with easier access during our stay. So, we did not worry much about the internet connection when we traveled around Taipei. Also, it didn't slow down or have problems when we tried connecting multiple devices to the pocket WIFI. Aside from being your travel pocket WIFI, you can also use it as your emergency power bank to charge up your smartphone.
So, if you are going to travel to other countries, we highly recommend to use the Cherry Roam 5G U50 as it provides great connectivity, ease of use, and long battery life. It is a great companion to be able to connect you to the internet when you are traveling abroad.
The Cherry Roam 5G U50 is priced at Php 16,000 and it is also available for rent. The rental price is Php 100 per day and it is required to get an insurance fee of Php 300 and have a refundable deposit of Php 3,000 which you can claim once you return the device.
Here are the rates for the internet package.
Visit https://cherryroam.com.ph/ to purchase or rent the Cherry Roam 5G U50.