In June 2023, we had the privilege of attending an event where Lenovo unveiled their latest lineup of refreshed devices, and among them was the Lenovo Legion Slim 5i Gen 8. This laptop now incorporates cutting-edge technology, featuring the most recent Intel 13th Gen processor and Nvidia GeForce RTX 40 series graphics. Lenovo graciously provided us with the highest-specification model for review, equipped with an Intel Core i7-13700H processor and Nvidia GeForce RTX 4070 graphics. In this article, I am eager to share my insights and firsthand experiences with this exceptional machine.
Lenovo Legion Slim 5i Gen 8 Specifications
| Model Name: | 16IRH8 |
| --- | --- |
| Processor: | Intel Core i7-13700H |
| GPU: | Nvidia GeForce RTX 4070 |
| Display: | 16″ WQXGA IPS 240Hz 500nits display |
| RAM | 32GB (2×16) DDR5-5200MHz |
| Storage | 1 TB PCIe Gen 4 SSD |
The Design
Similar to the previous year, the Legion Slim 5i maintained its appealing minimalistic design, which doesn't draw excessive attention and is suitable for business settings. The laptop combines aluminum and plastic materials, sporting an all-gray finish, subtle branding on the lid, and ample ventilation on the sides and underneath.
I'd also like to highlight the functionality of the cooling fans in this laptop. You can already see that it has numerous vents on the sides and at the back. While I'm playing games on the laptop with a mouse on the right side, there were instances when the hot air from the laptop blows toward my right hand because of these vents.
Despite its naming convention, it is still considered heavy and thick. It weighs over 2.3kg with just the unit itself and over 2.5kg with the charger. With dimensions of 14.16 x 10.25 x 0.78 – 0.99 inches, it may still be considered hefty by some, but as a gaming laptop, it is a decent weight for a gaming laptop.
Opening the lid, the Legion Slim 5i can open up to 180 degrees. You will see it has a keyboard that has a Numpad which features four-zone RGB backlighting and large arrow keys. On top of the keyboard, you will see a large grill which is not for speaker purposes but for airflow, and on the center of it you will find the power button. As for the touchpad, it is decently sized with a smooth finish.
Going through the sides of the laptop you will find the ports mostly placed on the back part. On the left side, you will find the audio jack and two USB type-C ports. On the right side, there is an SD card reader and the camera killswitch. The two USB-A 3.2 Gen 2 ports, an ethernet port, an HDMI port, and a power connector are located on the back. For its wireless capability, it has Wi-Fi 6E and Bluetooth 5.1.
The Display and Sounds
The Legion Slim 5i have a 16″ IPS display with an anti-glare coating and slim bezels on the sides. It has a refresh rate of 240Hz, a display resolution of 2560x1600p, and 500nits brightness which is not that bright on some occasions especially when you use it outside. As it is paired with an RTX 4070 it equipped its display with a G-Sync feature.
Out of the factory, it is already color calibrated and they claim that it has a 100% sRGB color gamut. They included in the laptop an X-Rite Color Assistant software that enables you to manage its display color profile. It is a good addition to Slim 5i particularly if you are a graphic or video editor.
We don't have the tool for checking its color accuracy but throughout our usage of the Slim 5i, we can say it has an enjoyable and pleasant experience watching content and playing games. It has a decent black as an IPS display, the colors are vibrant and it has minimal backlight bleed.
The two speakers are located underneath the laptop. They are optimized with Nahimic audio but are disappointing in terms of how loudly they can produce sound, according to my preference. There are some instances where the sound can be muffled due to their placement. That's why I preferred using headphones when reviewing the Slim 5i.
The Performance
The Legion Slim 5i we are reviewing comes with a maxed-out spec that they are offering for this model. It has an Intel Core i7-13700H processor paired with an integrated Intel Iris Xe Graphics and a dedicated Nvidia GeForce RTX 4070 8GB GDDR6 that is 140W. For RAM it has 32GB (2x16GB) LPDDR5 5200MHz and 1TB M.2 PCIe Gen 4 SSD.
The Slim 5i has three power modes that you can switch – Quiet Mode, Auto Mode, and Performance Mode. By changing the modes it changes the fan speed, thermal performance, and the LED light on the power button. You can switch to performance mode if you plug in the laptop.
During our testing of the Legion Slim 5i, we ran on its three power modes for the synthetic benchmarks to see its differences. We also ran some games to test out its capability as a gaming laptop.
Cinebench R23
On its Auto Mode, it scored high on multi-core nearing the Intel Core i9-13900H we reviewed last time. It gains an 18.89% uplift performance when you switch it to Performance Mode and a 13.8% weakened performance on Quiet Mode. But throughout its power modes on the single-core benchmark, it has tiny differences.
3Dmark Time Spy
We see that it performs decently as it is slightly lower than a desktop 3060 Ti on its graphics score on Auto Mode and beat it if it switched to Performance Mode. As for CPU score, it is similar to other Intel Core i7-13700H and slightly higher than its previous generation.
Geekbench v6.1
We tested its CPU performance again, and surprisingly, it slightly surpassed a desktop i9-12900 in the multi-score category, as indicated by the Geekbench leaderboard. On the other hand, the single-core score is typical, as it performs in a similar range as its competitors.
Unigine Superposition
We ran Unigine Superposition on 1080p Extreme to determine its graphics card performance. We see that it scored pretty well and beat the desktop GTX 1080 Ti and RTX 2070 when we checked the leaderboard.
League of Legends
There are some people requesting to still check the FPS performance on League of Legends. Even if is a low-demanding game. We played a ranked game on all High graphic settings and we got an average FPS of 349 FPS and 129 FPS of 0.1% on an Auto Mode. It is already given for this laptop to be able to play and get a high FPS on this game title.
Valorant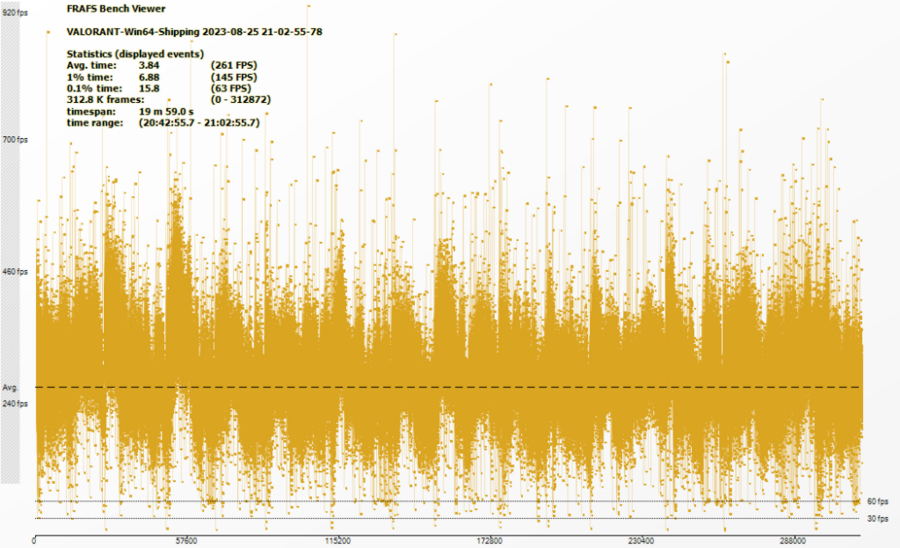 On our Valorant test, we ran it on a High graphic setting and played a rank game. With Auto Mode, it got an average of 261 FPS, and 63 FPS on 0.1%
Tom Clancy's Rainbow Six Siege
On a high setting of Rainbow Six Siege and Auto Mode, it only got an average of 116 FPS, 120 Max FPS, and 103 Min FPS. It is below the 240Hz monitor it had but you can easily lower its graphic setting and switch to Performance Mode to make it somehow higher FPS.
Shadow of the Tomb Raider
We tested the Shadow of the Tomb Raider on its Highest graphic preset and it is on Auto Mode. It ran pretty well and didn't experience any stuttering.
Red Dead Redemption 2
We also ran Red Dead Redemption 2 on its highest graphic setting and on Auto Mode. It can also easily run the game with an occasional minor stuttering which you can lower down to eliminate.
Storage Benchmark
The Legion Slim 5i we have is equipped with Samsung MZVL21T0HCLR-00BL2 which is a PCIe Gen 4.0 M.2 SSD. On our CrystalDiskMark it shows results that are nearby specs of a PCIe Gen 4.0.
Thermal Performance
Under the hood of the Legion Slim 5i, you will find its ColdFront 5.0 system to make it cool when it is under heavy loads. What we can say using it, it peaks at 99°C on its CPU package while we are doing benchmarking but on our usual gaming session, it hovers around 90°C to 95°C. As for the RTX 4070 that it has, it peaks at 94°C in benchmark sessions and under 90°C in gaming sessions.
The Battery
The Legion Slim 5i is equipped with an 80Wh battery and on our test it is similar to other gaming laptops in the market. In our YouTube playback test on a 50% brightness, it lasted only 2 hours and 23 minutes on Auto Mode, 2 hours and 49 minutes on Quiet Mode, and 3 hours 8 minutes on Quiet Mode + Battery Saver (On Windows OS). As for gaming, it lasts under 2 hours depending on the games you are playing.
The included 230W charger can rapidly charge your laptop. In under 50 minutes, you can expect your laptop at 0% battery life to charge up to 100%.
Lenovo Legion Slim 5i Gen 8 Verdict
The Lenovo Legion Slim 5i Gen 8 is a great choice if you're in the market for a laptop. With its minimalistic design, excellent performance, and display, it's not only a gaming option but also ideal for productivity tasks.
As of writing, the Lenovo Legion Slim 5i Gen 8 available in the market, as checked online, is equipped with the Nvidia GeForce RTX 4070 but features a 165Hz display. It is priced at Php 129,995. On the Lenovo official website, they only listed the Intel Core i5-13500H with Nvidia GeForce RTX 4050 6GB GDDR6 model which was originally priced at Php 102,995 it is on sale for 18% and is now priced at Php 83,992.43.
Lenovo Legion Slim 5i Gen 8 Review
The Lenovo Legion Slim 5i Gen 8 is a great choice if you're in the market for a laptop. With its minimalistic design, excellent performance, and display, it's not only a gaming option but also ideal for productivity tasks.
PROS
Minimalstic design
Decent keyboard
Reasonable priced
CONS
Screen brightness is not enough
Speaker is not that loud
Thermals could be better
Add your review
|
Read reviews and comments