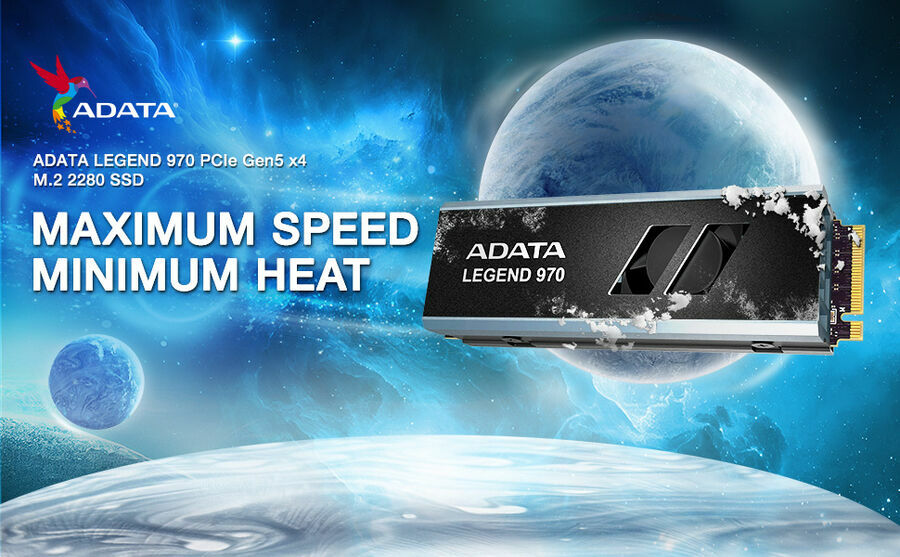 As processors and chipsets move into a new generation, many motherboard manufacturers have launched latest-generation motherboards that have allowed the consumer market to embrace a new generation of PCIe 5.0 Solid-State Drives (SSD). ADATA Technology Co., Ltd., the world's leading memory brand, today launched its LEGEND 970 SSD. The LEGEND 970 can reach maximum sequential read/write speeds of 10,000/10,000MB per second. Its most unique feature is a double-layer aluminum alloy heatsink with built-in micro-fan and surface crystallization that forms a patented active air-cooling system. The surface crystallization improves thermal conductivity, significantly reducing temperatures by 10% compared with fanless heatsinks to maintain stable performance during extended high-speed operation. The LEGEND 970's R&D, design, and superior cooling mechanism will be the benchmark of a new generation of storage products and it is expected to become the most influential PCIe Gen5 storage solution in the consumer market.
ADATA LEGEND 970 Patent SSD design for robust cooling
ADATA ushers in a new era with its patented heat dissipation solution! From market consensus, it has become commonly accepted that active cooling is required for effective heat dissipation during high-speed PCIe 5.0 data transmission to ensure high temperatures do not affect reading and writing leading to system slowdowns. The LEGEND 970 adopts a double-layer extruded aluminum heatsink design[1] which features dense air ducts to divert hot and cold air. When heat is conducted upward, the rotation of the built-in micro fan circulates the confluence of hot and cold air and quickly expels exhaust heat from both ends of the extruded aluminum fins. At the same time, the LEGEND 970 increases heat dissipation through the addition of "surface crystallization " on the aluminum heatsink surface, increasing overall air contact area and maximizing the heat dissipation efficiency of its air cooling system[2]. This unique "active heat dissipation" design significantly reduces temperatures by 10% compared to fan-less heatsinks[3]. More importantly, it can withstand high temperature stress tests and maintain stable performance even after long-term high-speed operation.
Sustained ultra-fast performance for LEGEND 970
The LEGEND 970 adopts a PCIe Gen5 x4 transmission interface, complying with the NVMe 2.0 standard, and has excellent read/write performance of 10,000/10,000MB per second, which is double the speed of standard PCIe Gen4 SSDs and 6 times faster than Gen3 SSDs. It is also backward compatible with PCIe 4.0 and 3.0 platforms. The LEGEND 970 is equipped with a SLC cache algorithm and DRAM Cache Buffer which have unique advantages in system loading and data caching. It also boasts random read/write speeds of 1,400K/1,400K IOPS, improving the efficiency of multitasking processes. The LEGEND 970 is compatible with the latest Intel and AMD platforms and its patented heatsink design ensures stable high performance long-term operation regardless of the complexity of output, whether 3D animation, game development, or virtual visualization.
Only the best components
Strictly selected 232-layer 3D flash memory allows the LEGEND 970 to be offered in large capacities of up to 2000GB and a variety of data protection and correction technologies are utilized to greatly increase Total Bytes Written (TBW) and durability to meet various high load requirements. In addition, the LEGEND 970 features a Low-Density Parity Check Code (LDPC) error correction mechanism and AES 256-bit high-level encryption technology to ensure the accuracy and security of data transmission, ensuring the safety of intellectual property. Exclusive SSD Toolbox is free to download for real-time hard drive status. The LEGEND 970 comes with a 5-year global limited warranty. For more detailed product information, please visit ADATA's official website at: www.adata.com.
ADATA LEGEND 970 PCIe Gen 5 Specifications
| | |
| --- | --- |
| Capacity | 1000GB / 2000GB |
| Form factor | M.2 2280 |
| NAND Flash | 3D NAND |
| Controller | Phison PS5026 E26 |
| Dimensions (L x W x H) | 80.6 x 24.2 x 17.9mm / 3.17 x 0.95 x 0.7inch |
| Weight | 57.1g / 2.01oz |
| Interface | PCIe Gen5 x4 |
| Sequential Read (Max) | Up to 10,000MB/s* |
| Sequential Write (Max) | Up to 10,000MB/s* |
| 4KB Random Read IOPS(Max) | Up to 1,400K* |
| 4KB Random Write IOPS(Max) | Up to 1,400K* |
| Operating temperature | 0°C – 70°C |
| Storage temperature | -40°C-85°C |
| Shock resistance | 1,500G/0.5ms |
| MTBF | 1,600,000 hours |
| Terabytes Written (TBW) | 1,400** |
| Warranty | 5-year limited warranty*** |
---
[1] This product's heatsink comes factory pre-installed. Please consider installation space before utilizing this product and confirm whether your motherboard is equipped with a M.2 heatsink (refer to manual provided by board manufacturer). If the motherboard manufacturer provides a heatsink, please remove it before installing this product together with its pre-installed heatsink.
[2] This product's fan comes with a SATA cable and an additional power supply is required to activate its active cooling effect.
[3] Heat dissipation data is based on test conditions of ADATA's internal laboratory and actual results will vary depending to personal hardware and software equipment and test environments.