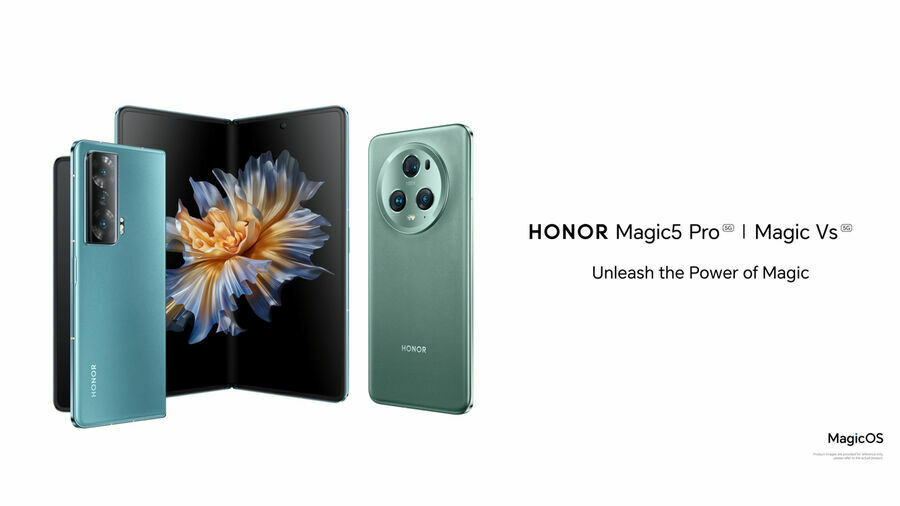 HONOR today unveiled its new human-centric approach to technology, "Tech to Inspire", at Mobile World Congress 2023. During the event, HONOR brought its dual-flagship strategy to life in global market, and also announced the global availability of the HONOR Magic5 Series and the HONOR Magic Vs, which are the latest iterations to the successful HONOR Magic Series line-up, all set to deliver a true flagship smartphone experience for users around the world.
"Committed to addressing the real needs of customers, HONOR adopts a human-centric approach to product innovation, offering intuitive technology solutions to improve the daily lives of everyone," said George Zhao, CEO of HONOR Device Co, Ltd. "The HONOR Magic5 Pro, our latest flagship all-rounder, and the HONOR Magic Vs, our first foldable flagship to be launched in the global market, push industry benchmarks in every aspect of smartphone user experience, in line with our vision to enable a smarter life for everyone."
Introducing the All-New HONOR Magic5 Pro
Packed with a whole host of significant upgrades, the all-round flagship HONOR Magic5 Pro boasts impressive breakthroughs in design, display, photography and performance, beating several industry benchmarks to deliver a best-in-class user experience.
The Brand-new Star Wheel Aesthetics with Gaudi Curve
Adhering to the 'Eye of Muse' iconic design, the HONOR Magic5 Pro evolves the concept, redesigning and introducing the Star Wheel Triple Camera system. Paying tribute to Antoni Gaudi, the HONOR Magic5 Pro features symmetry dual-curved ultra-narrow bezels on both sides and a Star Wheel Triple Camera Design sitting as the centerpiece on the back cover, blending the beautiful curves found in natural landscapes and modern architecture into the design of the cutting-edge device, demonstrating the harmonious combination of art and technology.
A Premium Display Debuts at Top of DXOMARK Rankings
Featuring a 6.81-inch LTPO Display with a unique Quad-Curved Floating Screen, the HONOR Magic5 Pro guarantees an immersive viewing experience whether users are browsing, gaming or reading. Equipped with a Novel Display Luminance Enhancement Technology, the HONOR Magic5 Series delivers peak HDR brightness of 1800 nits, ensuring clear visuals even under bright sunlight. With the Dual-Luminance Calibration for typical 120nits indoor brightness and 800nits outdoor brightness, the HONOR Magic5 Pro provides the industry-leading display color accuracy.
The HONOR Magic5 Pro also features a Discrete Display Chipset to improve the visual quality of moving images. While offering an always-on high dynamic range (HDR) effect to enhance video clarity, the chipset delivers a higher frame rate with lower power consumption for a smoother, longer gaming experience. Certified with HDR10+ and IMAX Enhanced, the HONOR Magic5 Pro enables users to enjoy videos and movies with optimized picture quality.
Relieving users' eye strain, the HONOR Magic5 Pro boasts low blue light emission, as certified by TÜV Rheinland, and Dynamic Dimming that simulates natural light to alleviate eye fatigue. Other innovative eye comfort features include Circadian Night Display for improved sleep quality and an industry-first LTPO display with 2160Hz Pulse Width Modulation (PWM) Dimming technology to minimize screen flickering, perfect for those who spend long hours in front of their smartphone.
The HONOR Magic5 Pro turned in an excellent overall display performance, reaching 1st place of DXOMARK smartphone display ranking with a top score of 151.
An Unrivaled Camera System Crowned 1st Place in DXOMARK
The HONOR Magic5 Pro has also taken first place in DXOMARK global camera ranking with a score of 152, making it the highest camera-scoring smartphone tested to date. The HONOR Magic5 Pro features a powerful Triple Main Camera combination comprising a 50MP Wide Camera, a 50MP Ultra Wide Camera, and a 50MP Telephoto Camera. With an increased sensor size for superior light-sensing performance, the camera system produces photos in refined detail every time, no matter the lighting conditions. Ultra Fusion Computational Optics, a computational optical algorithm complementing the camera system, drastically improves image clarity at 3.5x-100x zoom, setting the device apart from other smartphones on the market.
Equipped with the all-new HONOR Image Engine, the HONOR Magic5 Pro debuts an all-new Millisecond Falcon Capture algorithm, enabling users to capture complex scenes with remarkable ease and clarity. Users can also shoot low-light scenes clearly with high-speed thanks to Super Night Capture capabilities. In addition, the HONOR Magic5 Pro boasts AI Motion Sensing Capture, which is capable of automatically detecting the highest point of a jump and capturing the frame in ultra-high definition. To put the technology to the test, HONOR has partnered with GUINNESS WORLD RECORDS TM, using the HONOR Magic5 Pro automatically to capture the amazing moment of an official world record attempt for the World's Highest Between The Legs Slam Dunk.