Today's professionals are always on the go and when you have a full schedule, you need a smartphone that will enable you to stay productive anytime, anywhere.
That's why the new Galaxy S23 Ultra was designed to deliver epic productivity with its powerful processor, magnificent display, long-lasting battery, and the upgraded S Pen – so you can stay at the peak of productivity from day to night.
See more, do more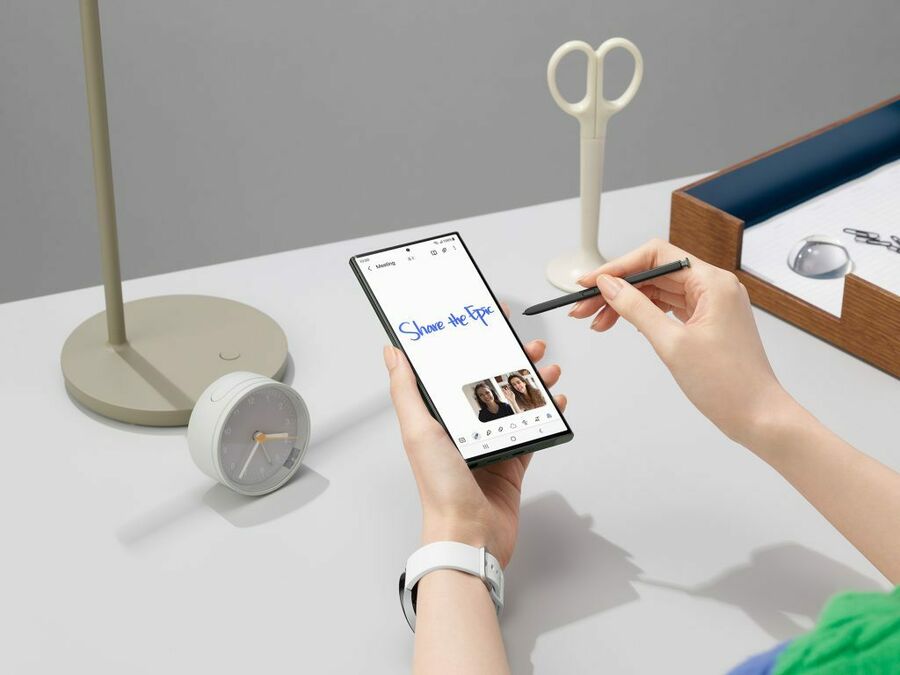 Got a packed day? The Samsung Galaxy S23 Ultra allows for a clear reference on your agenda with its Dynamic AMOLED 2X screen that can deliver a maximum brightness of up to 1750 nits, delivering clear, colorful details on the 6.8-inch QHD+ display. It also includes Vision Booster to adjust to three levels of brightness instead of two, so you can catch every detail even in broad daylight.
An epic processor
Packed with the Snapdragon 8 Gen 2, the Galaxy S23 Ultra's powerful processor allows you to navigate through apps swiftly with a new designed CPU micro-architecture which boosts the processing abilities of the Galaxy S23 series by about 41 percent compared to the Galaxy S22 series.  The Galaxy S23 Ultra also comes with a Super Smooth 120Hz refresh rate to ensure there's little downtime between tasks.
The redefined S Pen
For a jam-packed day of meetings, events, working on the desk, and other engagements, the upgraded S Pen becomes a reliable assistant. The digital stylus is smooth like a writing pen which is also enabled with scribble sounds. You can also easily unlock your smartphone with the S Pen by pressing the stylus button, which connects to the smartphone via Bluetooth. You can also mark dates on your Calendar app, scribble notes that can be converted to digital texts, and do illustrations.
The S Pen also offers Smart Select and Screen Write for clearer screenshots. Smart Select allows you to create a custom screenshot by manually selecting the area to capture with the S Pen, while to use the Screen Write feature, you can annotate the screenshot with text or drawings.
Meanwhile, the One UI feature allows for the translation of texts without the assistance of Google Translate. When it comes to multi-tasking, the S Pen also allows minimizing an app as a thumbnail with the Quick Open feature. You can also get a clearer look at text or image with the Magnifyfeature that can Zoom on the portion of the screen by hovering it with the S Pen.
After everything is checked on your "To Do" list, storing the S Pen inside the phone allows it to charge wirelessly.
Take photos and game like a pro
Shooting cinematic photos and videos is easier with the Galaxy S23 Ultra's Nightography feature, which includes its most advanced camera sensor and fastest processor to accommodate low light and reduce noise so you can take clearer shots at night. Capturing stunning photos in low light requires trillions of calculations per second, so Samsung Galaxy's highly efficient NPU architecture has been optimized by 49 percent to balance performance and power while using an AI algorithm to help users take epic photos and videos.
The new Adaptive Pixel 200MP sensor which enables high resolution images allows you to take clear photos in any light while the camera also allows for the background to blur when exposed in low light to focus on the subject's face.
There's also no need to worry about the draining the battery with a marathon gaming session. The Samsung Galaxy S23 Ultra 5G is powered by a long-lasting battery (charges up to 50% in 30 minutes with the 40W charger) that is equipped with a rated capacity of 5000MAh. It also comes with Super-Fast Charging 2.0 and Fast Wireless Charging 2.0 so you can seamlessly go from day to night, work to play, with no downtime for your device.
Championing sustainability
The Galaxy S23 Ultra was not only designed for productivity but with the planet in mind. The front and back glass of the Samsung Galaxy S23 Ultra 5G contains an average of 22% recycled content while the back glass deco film contains a minimum of 80% recycled content which includes Glass PET film, recycled glass and ocean-bound plastic that received environmental claim validation (ECV). The S Pen inner cover located within the S Pen slot also contains a minimum of 20% ocean-bound polyamide (PA). Its paper packaging is made of 100% recycled paper, excluding the seal label and shrinkage vinyl, while its window protection paper is made of 100% recycled paper.
Get PHP 5,000 off on the Galaxy S23 Series
The Galaxy S23 Ultra is available in three storage options priced at PHP 81,990 (256GB), PHP 89,990 (512GB), and PHP 95,990 (1TB). It comes in four unique colors – Green, Phantom Black, Lavender, and Cream. From April 15 to April 30, customers can enjoy a PHP 5,000 cashback with every purchase of the Galaxy S23 Series via Samsung Experience Stores and Authorized Stores nationwide. For more information, click here.