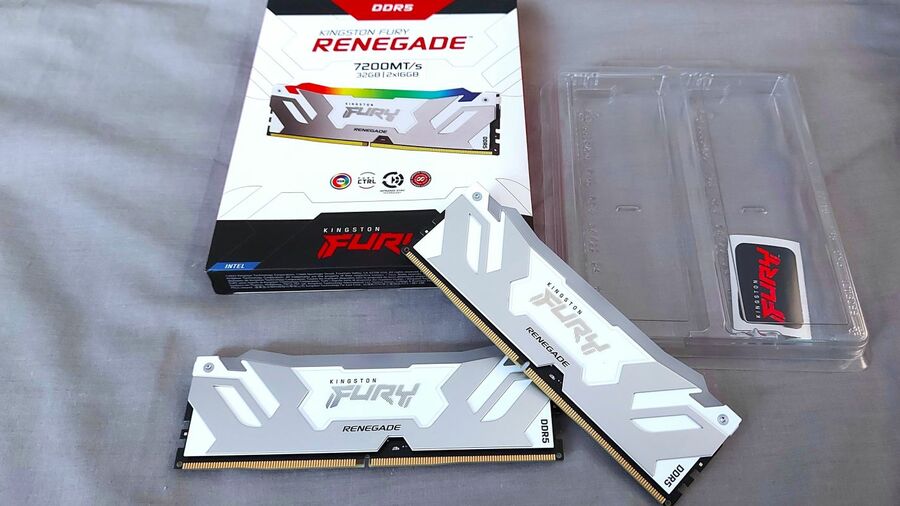 Kingston has sent us a kit of its new FURY Renegade DDR5 7200 for our review here in the site. Available locally at Kingston's official store and priced at around Php 15,800.00 for the 32GB RGB memory kit, and Php 14,740 for the non RGB kit. It may be worth a lot, but remember, it is the only DDR5 7200 MT/s memory kit available (so far via Lazada and Shopee) locally. Also, they come in two colors: White and Black.
FURY Renegade DDR5 7200 Package and Looks
The FURY Renegade DDR5 7200 comes in a cardboard box, compared to the FURY Beast memory kits that only come in plastic blister packs. This definitely gives a more premium vibe and feel to the product. The front of the box presents the memory module's color, which is the better looking (in my opinion) white and silver design with RGB lighting. A sticker of the specific model is posted in front. We're reviewing the 7200MT/s 32GB kit of 2x16GB modules. It has support with FURY CTRL lighting software to create customized lighting profiles for the memory modules. Note: we are only reviewing one kit, it is actually much better if all memory slots are used to take advantage of the lighting setup.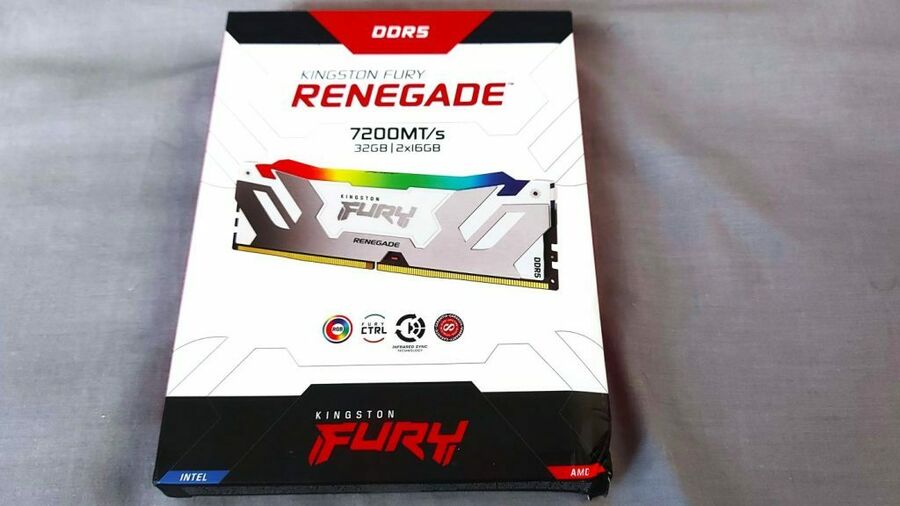 As for the box's rear, it has a product photo of all memory slots occupied with FURY Renegade modules to provide a glimpse of how a custom lighting setup looks utilizing FURY CTRL (see photos from COMPUTEX 2023 of how a full lighting setup is managed). Other stuff mentioned in the rear includes support for motherboard lighting systems from MSI, Gigabyte, ASUS and ASRock. Finally, the main focus is the product's sticker/label at the lower right portion which gives more information about the memory module. The FURY Renegade DDR5 7200 has a timing of CL38-44-44 at 1.45v XMP. Which means it has a CAS latency of 38 and voltage setting of 1.45v on an XMP profile. That being said, we will need to customize the motherboard's RAM setting to get the 7200MT/s experience using the XMP profile. Unfortunately, it doesn't seem to be EXPO certified, BUT it still should work with AMD motherboards regardless.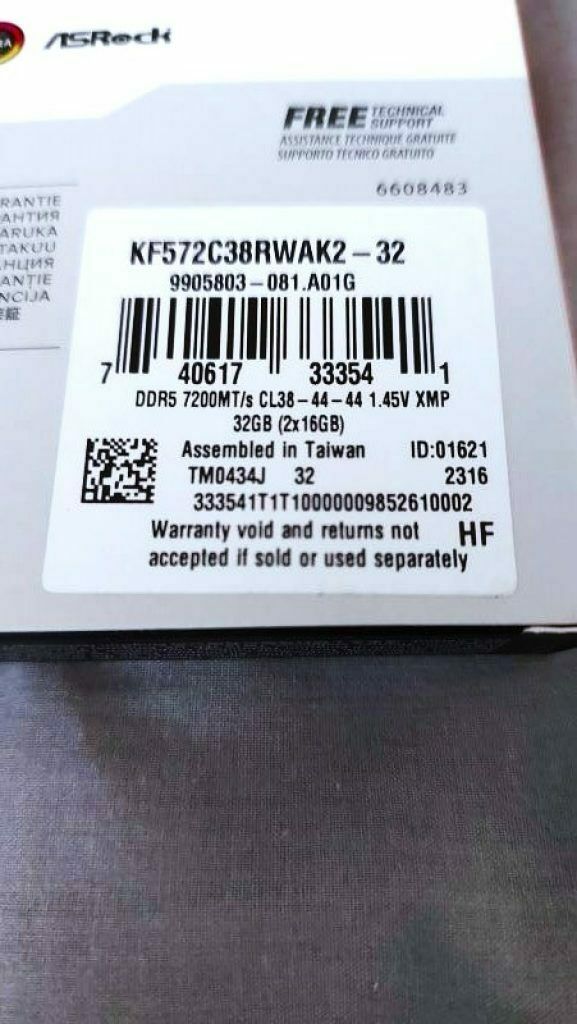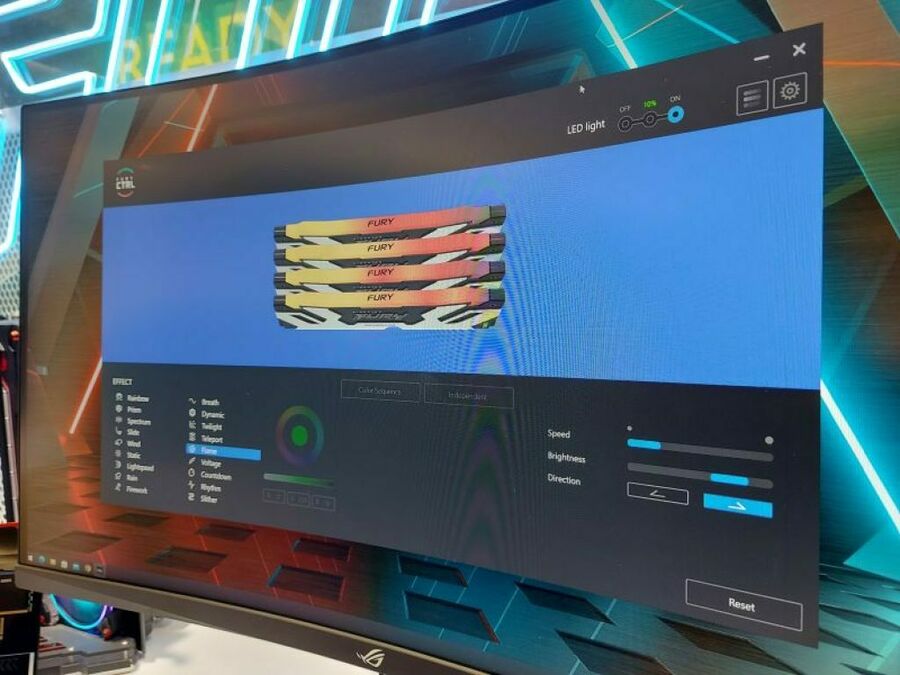 As for the memory module, as mentioned before has a white/silver colorway with the silver accent evoking an exoskeleton like cover. Like I mentioned, I prefer this colorway than the black and silver, as it makes the silver too prominent, but as for having a white base color, silver seems to blend better.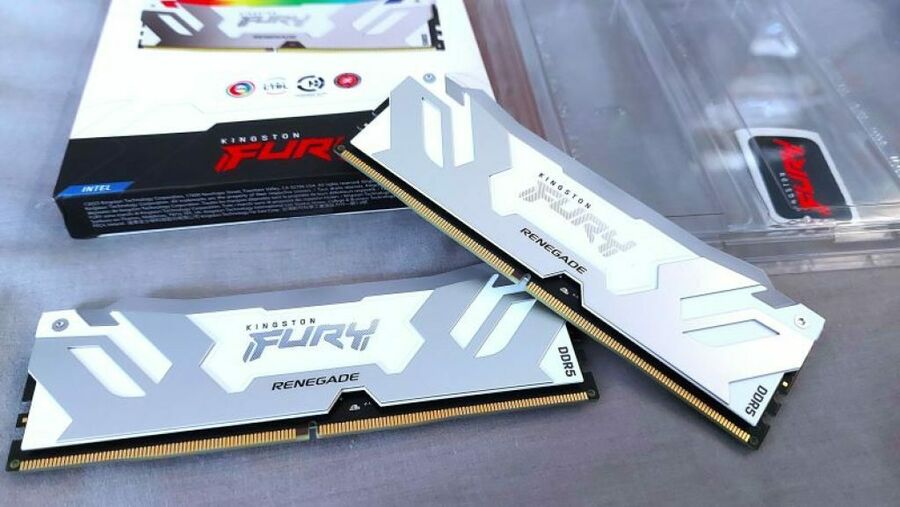 FURY Renegade DDR5 7200 Performance
In this performance review, I will be comparing the FURY Renegade's performance based on its own default speed versus the 7200 MT/s spec with XMP enabled. The purpose is to see a direct comparison between the default speed out of the box of the memory kit versus its performance once XMP has beein enabled. We should also see some differences in benchmarks from gaming and office productivity apps.
Test Bench Configuration
My test machine for this review is spec'ced with the following parts:
Motherboard: ASRock B650M Phantom Gaming RIPTIDE WiFi
CPU: AMD Ryzen 5 7600
Cooling: DeepCool LT520 AIO
Storage: ADATA Legend 850 Lite
Graphics: Intel ARC A750 8GB
Power Supply: Seasonic Prime GX850
Case: DIY MATX Open Frame Benchmarking Case
Configuration wise, the motherboard came with its original BIOS installed. It provided a challenge at the beginning when switching the FURY Renegade DDR 5 7200 to its XMP profile. The original BIOS did not properly apply the changes and persisted with the default JEDEC 4800 MT/s profile. Another important thing to note for first time ASRock board users is the board's behavior to train itself when installing a new memory module for the first time. The motherboard will have its status indicator LEDs light up during the training process and will turn off once it completes. Experience may vary depending on other motherboard brands.
Looking at CPU-Z here are the details of the build. FURY Renegade DDR5 have three XMP settings and one JEDEC setting as its default. Users can set improved CAS latency at the expense of a slower MT/s using either XMP-6800 or XMP-6400. DRAMs are from SK Hynix, so we're assured of some nice memory performance and stability.
FURY Renegade DDR5 7200 Memory Test
To test how well the memory kit performs, I've run a MemoryTest86 performance test to see how well the kit holds up and it did get a passing mark.
PCMark 10 Benchmark Test
For productivity suites, I've used PCMark 10 to perform desktop-based tests, this focuses more on CPU (and RAM performance). I ran two tests, one for DDR5 4800 and DDR5 7200. Performance increase is very noticeable with the FURY Renegade DDR5 7200 running at its XMP profile of 7200 MT/s.
3DMark Benchmark Test
For synthetic gaming tests, I ran Time Spy using both default and XMP-7200 speeds. It is also evident that the XMP-7200 setting does score a lot higher than the default JEDEC-4800 setting. Not minding the graphics score of the benchmark run, having a better performing RAM speed does help in boosting CPU performance in games, which we will see in application in the next section.
Gaming Benchmarks
As for gaming results, I've sampled the applied performance on two games, Forza Horizon 5 and Cyberpunk 2077. The objective is to see how much load the CPU has in conjunction with the speed of the memory installed. The end result should have better 1% frames for faster memory setting with lower CPU overhead (meaning lesser CPU bottleneck). To put more pressure to the CPU, I've dialed down the graphics settings a bit from Ultra down to High for both games and play on 1080p resolution. I used CapFrameX for recording the frames. Here are the results:
Cyberpunk 2077
Forza Horizon 5
The orange line represents the CPU Load while running the benchmarks on both games. The noticeable difference in CPU load is inherent in the JEDEC 4800 setting, while XMP 7200 have a steadier CPU load. Having a lower CPU load has an effect to the GPU load in the blue line, ensuring it runs at as much usage as possible, preventing a lower 1% low FPS. While in some cases the Average FPS can be a bit higher on the slower 4800MTs, I may attribute this to human error when triggering the start point of the benchmark run. However, I was looking at the CPU load behaves more in this case.
Conclusion
While the FURY Renegade DDR5 7200 MT/s memory kit may have a higher retail price locally, it certainly gives better gains on CPU performance especially on midrange CPU models like the AMD Ryzen 5 7600. It's certainly a pick if you have a generous starting budget for a PC build, or looking to upgrade and get the most out of the current CPU. For the price, DDR5 memory has certainly come a long way since it was initially sold early last year. For almost the same price of a 32GB DDR5 5600 MT/s Fury Beast (non RGB) then, the Fury Renegade 32GB DDR5 7200 MT/s certainly makes up for performance and style.
The Kingston FURY Renegade DDR5 7200 is an excellent Gaming and Productivity Memory Kit
The FURY Renegade DDR5 7200 offers increased productivity and gaming performance with its faster speed and general availability in the Philippine market.
PROS
There's a performance improvement in productive/office applications (tested in PCMark10)
Price is actually reasonable for its speed, and performance. If you've followed DDR5 price trends, it has gone down a lot.
RGB is bright, has support for a wide range of motherboard brands and also Kingston's own FURY CTRL software
CONS
The black/silver option can be subjective. The silver 'armor' is a bit too prominent to my liking, but again, it's subjective to other builders/users
Add your review
|
Read reviews and comments