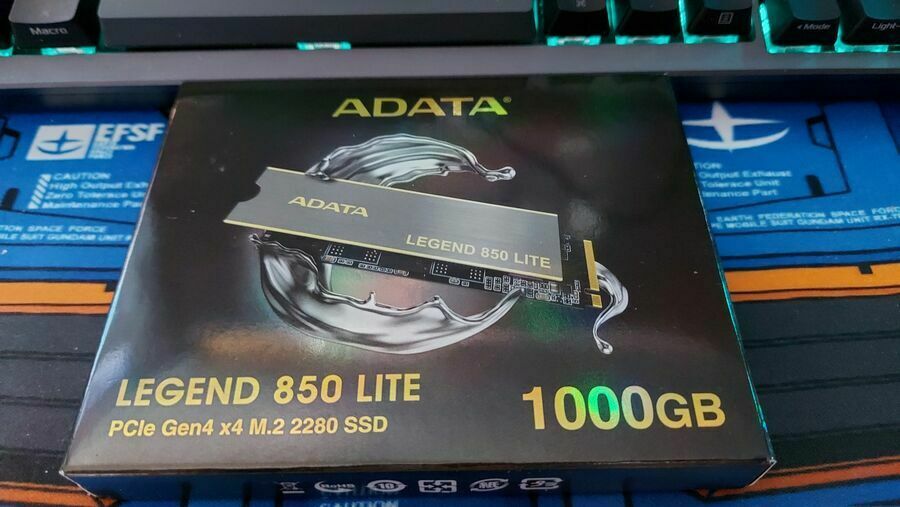 In this review, we're taking a look at ADATA LEGEND 850 Lite PCIE Gen4 SSD. PCIE Gen4 SSDs are becoming more common these days and are set to completely replace PCIE Gen3 SSDs as the mainstream storage standard. ADATA is one of the major manufacturers of memory, storage, and quite recently desktop chassis and power supplies. The ADATA LEGEND 850 LITE is an M.2 SSD storage product under their flagship line-up, however priced and spec'ced at a more budget friendly price compared to the top tiered Legend 960 MAX PCIE Gen4 drive.
ADATA LEGEND 850 Lite Package
The LEGEND 850 Lite comes in a black carton box that provides storage capacity information (1000GB for this review model) and PCIe Generation (PCIe Gen 4) and its size (M.2 2280). A QR code is provided at the back to go to ADATA's site for more information about the SSD.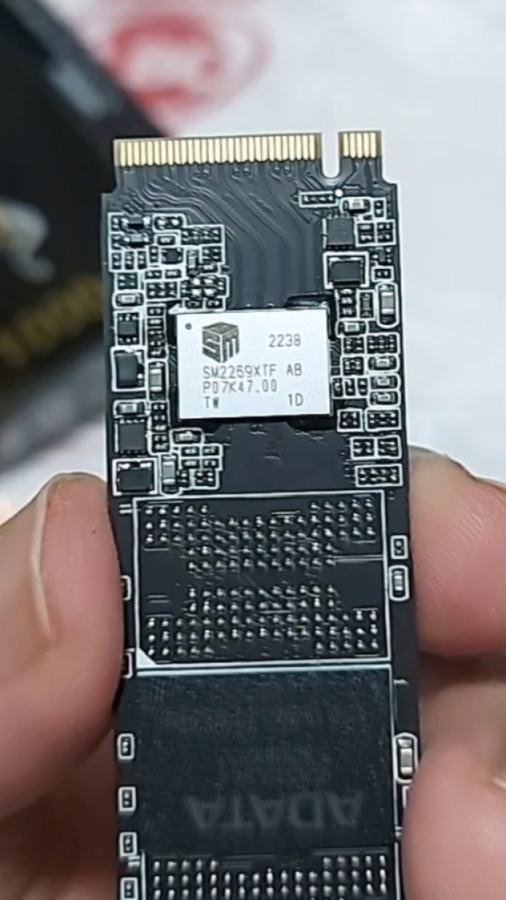 The LEGEND 850 Lite comes in a blister pack, and the heatsink is not pre-applied, it is separate from the drive. This gives the installer flexibility to apply it on the drive if the motherboard doesn't come with its own heatsink. It does not include any screws for M.2 slots, or other accessories, keeping costs closer to budget SSDs.
Unlike most brands, ADATA manufactures its own NAND FLASH memory, hence making it a majority ADATA branded product. There are two 512GB NAND Flash memory installed on the SSD, with extra two slots (probably for the 2000GB model). A memory controller from Silicon Motion SM2269XT provides the muscle in handling.
LEGEND 850 Lite Performance
The ADATA LEGEND 850 Lite spec sheet impresses upon its up to 5,000 MB/s Read speed and up to 4200 MBPs Write Speed. To read the full specifications of the SSD, click on the specification box on the next line to read the full spec sheet.
Specifications (click to expand)
Capacity
500GB / 1000GB / 2000GB
Form factor
M.2 2280
NAND Flash
3D NAND
Dimensions (L x W x H)
80 x 22 x 3.63mm / 3.15 x 0.87 x 0.14inch (with heat sink)
80 x 22 x 2.65mm / 3.15 x 0.87 x 0.1inch (without heat sink)
Weight
With heat sink:(500GB) 8.5g / 0.29oz ; (1000GB) 8.8g / 0.31oz;(2000GB) 9.5g / 0.33oz
Without heat sink:(500GB) 5.5g / 0.19oz ; (1000GB) 5.8g / 0.2oz ; (2000GB) 6.5g / 0.23oz
Interface
PCIe Gen 4×4
Sequential Read (Max)
Up to 5,000MB/s (PC/Laptop)*, Up to 4,600MB/s (PS5)
Sequential Write (Max)
Up to 4,200MB/s*
Operating temperature
0°C – 70°C
Storage temperature
-40°C-85°C
Shock resistance
1500G/0.5ms
MTBF
1,500,000 hours
Terabytes Written (TBW)
450TB**
Warranty
3-year limited warranty***
Remark
* This product is compatible with the latest Intel and AMD platforms and must be used with a motherboard that supports PCIe 4.0 to achieve optimal performance. Actual performance may vary depending on the hardware and software configurations.
* This product is backward compatible with PCIe 3.0. If a third-generation PCIe motherboard is used, this product will be able to achieve sequential read/write speeds of 3400/3000MB per second.
* Test system configuration : M/B: MSI X570 Gaming Plus Max , CPU: AMD Ryzen 7 3700X 8-Core Processor 3.6GHz, RAM: ADATA 8G DDR4-2666MHz
** The value is the minimum amount of terabyte written that could be reached.
*** The SSD is based on the TBW or Warranty period. Visit https://www.adata.com/us/support/warranty/ for more details.
As mentioned in the product specifications, the tested factory max read and write speeds for the LEGEND 850 Lite is 5000 MB/s / 4200 MB/s respectively. This was done on their bench machine running an AMD Ryzen 7 3700X, 8GB RAM DDR4 2666MHz. On my machine, an Intel Core i5 12600KF with 32GB of DDR4 3600MHz of memory nets a higher R/W speed of 5181.65 MB/s / 4679.44 MB/s. Another aspect to check of the performance is the SSD's temperature underload. It averages around 50degrees, around 8 degrees hotter than the other PCIe Gen 4 SSD that has the same motherboard heatsink installed. But this is still within parameters and shouldn't have any issues.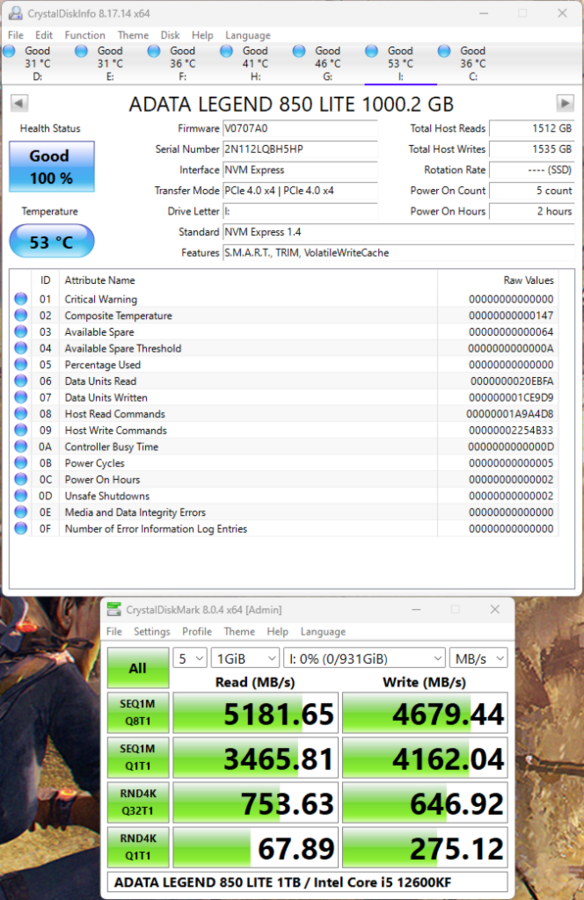 Performance Test: Game Loading Times
For testing loading times, the games Cyberpunk and Ghost Recon Wildlands were used to benchmark.
| | | |
| --- | --- | --- |
| | Kingston NV2 1TB | ADATA LEGEND 850 Lite |
| Loading Times for Ghost Recon Wildlands | 17.02s | 14.01s |
| Loading Times for Cyberpunk 2077 | 5.3s | 4.9s |
The ADATA LEGEND 850 Lite has a lead on loading time with a gap of 0.4s compared to the Kingston NV2 drive. While for Ghost Recon Wildlands there's roughly a 3.01s difference. Note that these games, while both are open world action-adventure games, they have different programming on how their environment are loaded, thus making a good use case for testing loading times.
Performance Test: Actual File/Folder Transfer Speed Comparison
Comparing the LEGEND 850 Lite to a control PCIe Gen4 SSD (a Kingston NV2 1TB PCIe Gen4) through several load tests: a large file transfer (from a long-term storage drive ie: SATA HDD), a large folder transfer (simulating moving around a game folder from one SSD to another). Of course, while CrystalDisk simulates the drive's read and write performance, we need to get a feel of how these storage drives work alongside other storage mediums, as in the real world, we don't normally have the same performance spec of storage drives.
For the large file transfer, a 9GB video file from a 4TB SATA HDD was used to measure the transfer time + speed to the LEGEND 850 Lite. The baseline for comparison is the Kingston NV2 1TB. While the overall throughput or transfer speed will be limited from the source (HDD), we should be able to see how well the burst transfer the SSDs perform.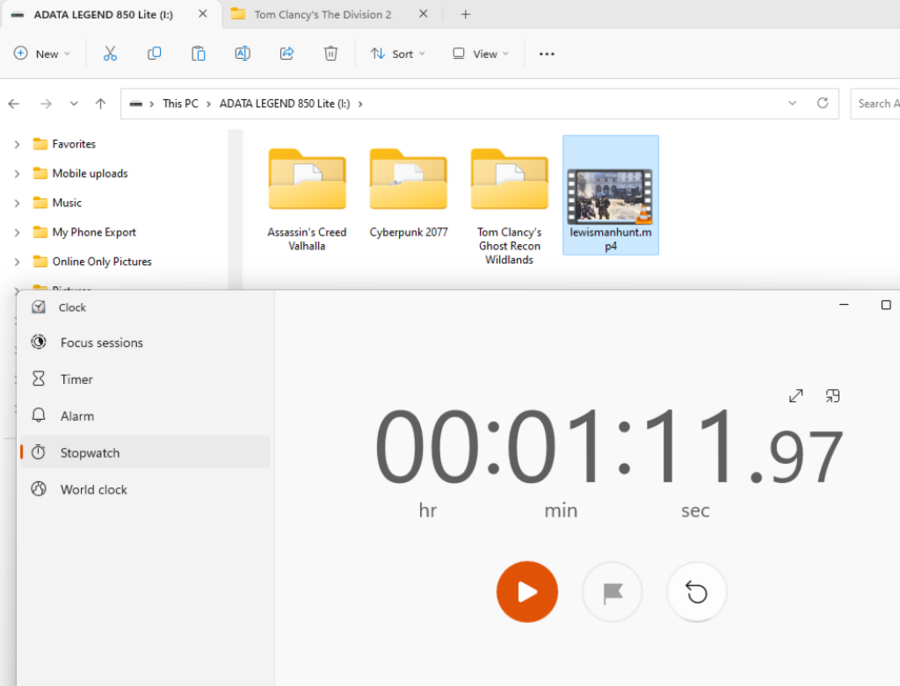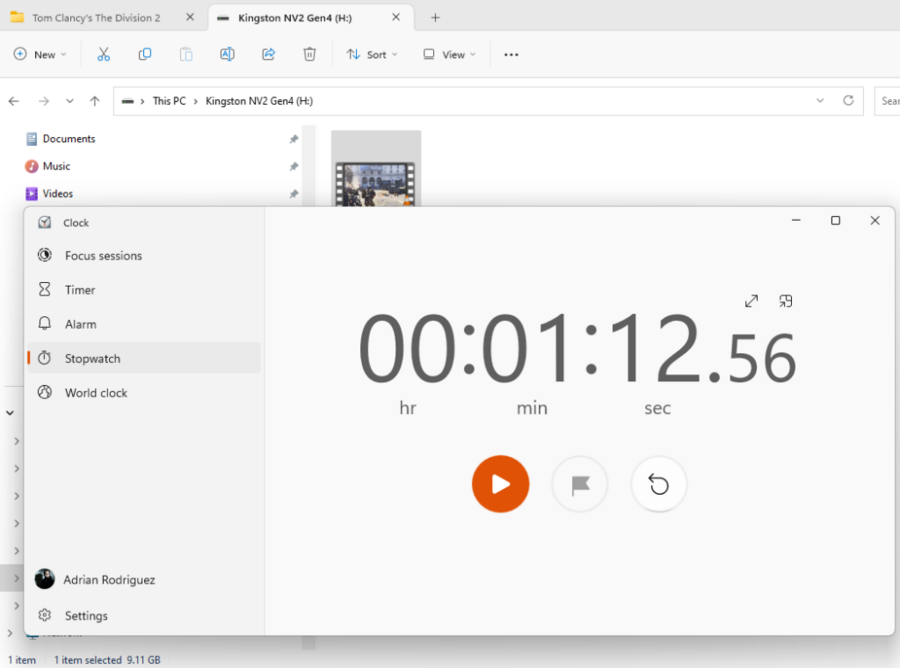 The important factor to check is how burst transfer speed is sustained, with the control SSD (Kingston NV2) having a slower start, hence ending up a few milliseconds slower than the LEGEND 850 Lite.
For folder transfers, the installation folder of Assassins' Creed Valhalla was used for its sheer folder size and varied file sizes. The source drive is a currently a PCIe Gen 3 SSD and should have a higher throughput than the file transfer. As usual, the transfer time and speed were recorded for comparison.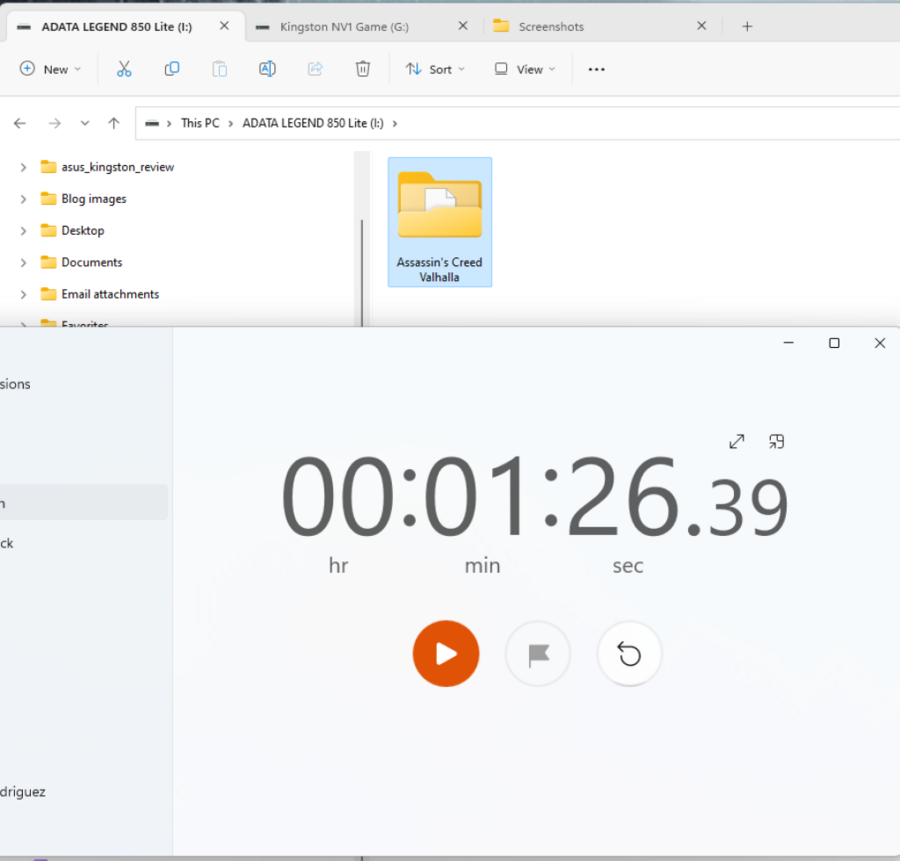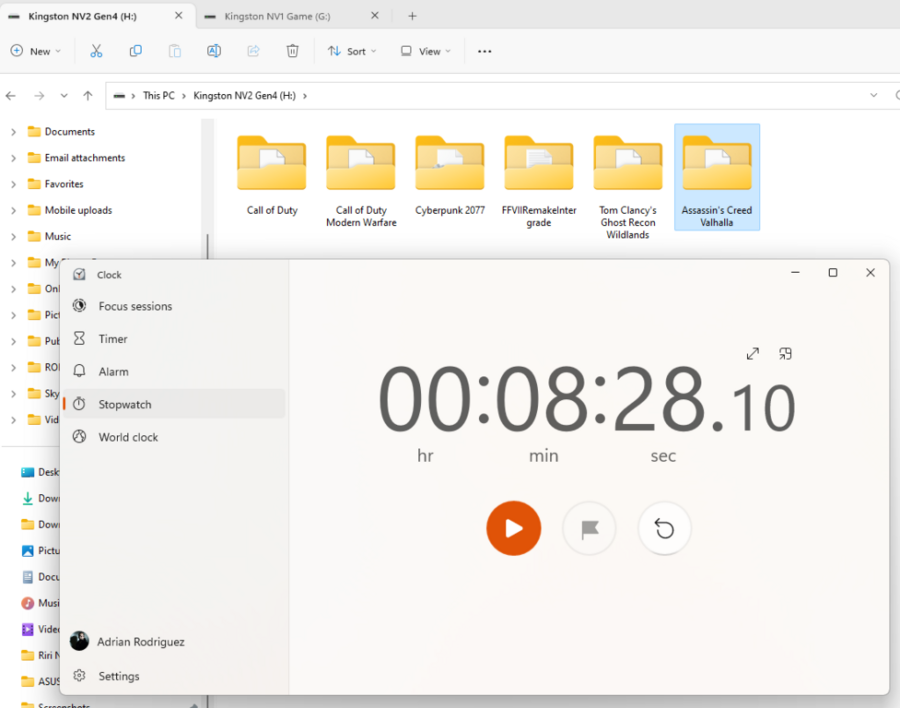 In this run, the NV2 SSD struggled maintaining a high transfer speed. While it did hit a transfer speed of around 1.86GB/s at the start, it faltered near the middle and end of the transfer run. While this 'control' drive does have some game folders existing, it should still have more than ample space and as flash memory, not limited by seeking additional space like HDDs. But, looking at the temperature readings it did hit at around 60 degrees Celsius, compared to the cooler 56 degrees reading of the LEGEND 850 Lite.
Review Conclusion
The ADATA LEGEND 850 Lite offers builders a more economical storage solution for budget gaming systems. Taking advantage of the faster PCIe Gen 4 speed, the LEGEND 850 Lite puts out an impressive 5000MB/s (higher in my case) read performance through benchmarks. Transfer speeds from different media sources (HDD or SSDs) show that every millisecond counts when transferring files. The same with game loading times. With a market price just around Php 3000++ right now in most stores. But if you go to EasyPC, it's on sale for only Php 2,715, a very, very, very good bargain. it is priced very competitively against the cheaper yet slower competition (a difference in read speed of 1,500MB/s). Add to that ADATA sources their own NAND Flash memory making it majority an in-house product.
For those thinking of building on a budget, a brand new gaming PC budgeted for around Php 24,000 is entirely possible with this SSD (1TB model). A parts list consisting of an AMD Ryzen 5 4650G (includes a stock cooler), 16GB of DDR4 3600Mhz RAM, a reliable, branded 550W Bronze rated PSU (with some allowance to upgrade to a GPU later like a RX 6500XT up to a RTX 4060), a least a B550M motherboard (it is important to make sure that it has PCIe Gen4 support for M.2 drives to take advantage of the speed), and an MATX case with Fans. That should get gamers to load their games quickly, perform transfers w/o hassle and have enough storage. Plus since the motherboard for this build doesn't have heatsinks for M.2 SSDs, the included heatsink for the LEGEND 850 Lite comes handy.
May it be an entry level or high-end gaming desktop/laptop the ADATA LEGEND 850 Lite should be able to meet the demand of having a reasonably sized storage, ample speed at a budget friendly price.
The ADATA LEGEND 850 Lite Competes Well Against Budget PCIE Gen4 SSDs
The price to performance of the ADATA Legend 850 Lite is something hard to beat by other brands
PROS
Includes an aluminum heatsink that is user installed
5000MB/s Read Speed is definitely high for its price of entry compared to other brands of same cost
CONS
While not as hot as the slower PCIE Gen4 M.2 SSDs, users will have to carefully install the heatsink, as it is not pre-applied unlike other drives with heatsinks
Availability of this model can be a bit of a challenge to procure. Other stores tend to charge this model a lot more.
Add your review
|
Read reviews and comments