ROG Harpe Ace Aim Lab Edition is a recent inclusion to ROG's line of gaming peripherals. It is a collaboration between folks from Aim Lab, and ROG to provide the lightest, fastest and most capable gaming mice for FPS and MOBA gamers. As with other recent ROG mice, it now carries its tri-mode connectivity feature allowing for three modes of connection: wired, Bluetooth, and ROG's own RF dongle. Now the question for this review is: But does this new optimized mouse can make you a "better" gamer?
ROG Harpe Ace – Package
ROG now packages their peripherals with a more eco-friendly box, the only plastic element being the biodegradable pouch that the ROG Harpe Ace is placed in. Inside the box has the Harpe Ace unit, with its RF USB dongle stashed under it, a cardboard sleeve containing the paracord USB A to C cable for charging the unit, manual, custom designed Grip Tape for the Harpe Ace, a wider replacement mouse feet, and a ROG x Aim Lab Sticker sheet.
Unlike other ROG gaming mice such as the ROG Pugio series, the ROG Harpe Ace lacks replaceable mouse switches. It also doesn't feature magnetized top covers for easy maintenance work, hence, to perform repair work, we'll need to remove the bottom pair of PTFE feet and unscrew. From there it's just a slight lift and pull of the bottom part from the top. The mouse's internals are a simple affair, all of the switches are soldered on, removing the Push-Fit sockets of some ROG models, hence making servicing a slightly difficult. Instead of an off the shelf Omron switch, it uses ROG's proprietary micro switch, albeit soldered to the board. The battery's a teeny tiny lithium-ion cell, which saves a ton of weight. The only wirings that can be unplugged are the power and mouse wheel ribbon cable.
ROG Harpe Ace – Look and Feel
It slots in under their ambidextrous wireless category on ROG's site, but I find having one pair of side buttons counter to it being friendly with ambidextrous/left-handed users. Build and size of the ROG Harpe Ace is comparable to most of the current ROG gaming mice, while dimensions are tangible numbers, the actual "feel" of each gaming mouse can make or break a purchase. The ROG Harpe Ace's design has a nice shape that gives a comfortable grip to the user (without applying the included grip tape). Speaking of grip, the areas not covered by the grip tape have a rough texture finish of the mouse's body making it grippy out of the box even without any sort of rubber treatment, which is a plus. Time will tell if this material (bio-based nylon from ROG's product site) smoothens out or not from wear. If it doesn't then it means the mouse's plastic material is made out of PBT a durable plastic that's resistant to shining like ABS plastic. Plus, an extra set of PTFE feet are also included.
There are only two side buttons, and its tuned for right-handed users. Button size is much bigger than Pugio and Pugio II's, but not obtrusive having the right space for gripping the sides of the mouse without accidentally clicking the side buttons. It avoids the problem of accidentally pinching either side buttons when tightening my grip on the mouse.
And at 54 grams, the ROG Harpe Ace is built for gamers seeking lightning-fast mouse flicks, especially on eSports titles. Currently, it's the lightest gaming mouse that I've held and using it is even easier compared to the light Pugio II or its predecessor, the Pugio I.
Software Package
The ROG Harpe Ace like ROG mice are customized through the Armoury Crate App. From Armoury Crate's interface, we can get information on the current DPI setting for the current selected profile, polling rate, acceleration and deceleration and angle tuning. We can calibrate the mouse based on a number of preset surfaces, which interestingly includes the limited ROG x Gundam Sheath mousepad. Lighting on the ROG Harpe Ace is limited to the mouse wheel (keeps overall weight light), but it can be controlled through Aura, there's a Battery Mode effect to save on battery. Power Management allows us to monitor battery life without opening Armoury Crate via a notification icon in Windows Taskbar. Battery life can be extended based on how often, or how quick the mouse switches to sleep mode. However, I noticed that when waking up the mouse from its sleep cycle, there's a slight lag and finding the mouse cursor may take some time.
ROG Harpe Ace – Performance
The ROG Harpe Ace provides a tight and accurate performance for games. The higher maximum DPI of the Harpe Ace offer a better selection of mouse sensitivity for users of varying screen resolutions (maximum of 36000DPI). Having a higher screen resolution would normally require a higher DPI setting that's comfortable for the player. In my case I've been gaming with a 1440p monitor (and a 1080p vertical monitor) recently hence upping the DPI to around 3800-8000 scales up my previous comfortable range of 1200-1600 on a 1080p monitor, with 8000DPI adding a much easier to swipe between my two monitors (but a bit more sensitive for shooter games). Aside from the high DPI range, the bespoke ROG Aimpoint sensor is snappy, letting me move from target to target with fewer misses. Tracking my targets in game got easier too, as the bigger PTFE feet slides on my mousepad easier.
As for wireless use, I prefer the 2.4GHz RF connection mode now than Bluetooth. Offering a quicker way to connect and having a faster connectivity between the mouse and computer. The only gripe is there is still some lag when waking up from its sleep state, around 2 second delay. And speaking of battery life, I've been using the ROG Harpe Ace for roughly three weeks on a daily basis, having 2hour sprints of PC gaming with it and so far I'm still around 57% charge.
Aim Lab Collaboration
Since this is in partnership with Aim Lab, I've tested the ROG Harpe Ace against my ROG Pugio to see how good (or bad) my performance is between the two. It's not a full scientific test, just a direct test with observations on usage and how fast and accurately hit targets.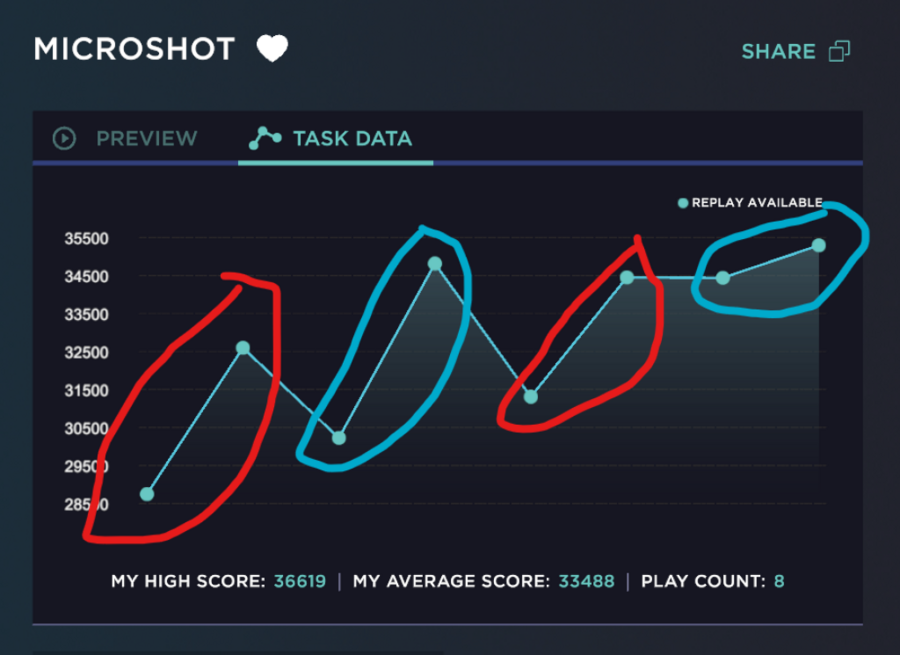 The Aim Lab Training Exercise involved is the Microshot Ultimate course. This particular training track focuses on quick mouse flicking and hitting small targets on screen to see how quick we can take down multiple targets from random locations at a set period of time. The exercise I performed 2 sets of test runs. The first set was run with my Pugio mouse with two runs, and the next 2 runs were with the ROG Harpe Ace. Both have a DPI setting of 5500 (a comfortable high DPI setting for quick mouse flicking for my use), 1000Hz Poling and Acceleration/Deceleration settings all on default.
Also, Aim Lab has a Settings Optimizer for the Harpe Ace under its Custom section. The Settings Optimizer allows us to optimize our mouse settings based on tests made by Aim Lab on our use. While I get the settings for the Sensitivity Test, the DPI Test's resulting suggested DPI settings seems off. It might be something with the test as it looks like I have been given an incredibly low recommended DPI setting than what I am comfortable with on the 1440p monitor. Another gripe is the online launcher for Aim Lab x ROG is broken and it keeps opening Aim Lab on my secondary vertical monitor and not on my primary; hence I just open Aim Lab normally through my shortcut and navigate from the main menu.
Summary
ROG Harpe Ace Aim Lab Edition is a further step up from their line of gaming mice. It further pushes performance to its peak thanks to ROG's Aimpoint Optical Sensor and ROG 70M Mechanical Switch. Running a comparative test between a more standard gaming mice like the ROG Pugio with Aim Lab's training exercise does show a marked improvement in getting more accurate and quicker hits. The lightweight mouse chassis helps in moving it quickly, especially for rapid flicking from target to target in training scenarios like Microshot Ultimate. The battery life is long, with normal use (short gaming and work) lasting for 2 weeks plus before charging.
But that is to say there are minor issues like the Settings Optimizer's DPI Tuning giving a lower than usual DPI setting. For the mouse itself, while it's designed for full comfort and with incredible performance in mind; it wasn't designed for DIY maintenance as the more mainstream mouse variant like ROG's Pugio II. The ROG switches are soldered onto the board. Lighting is simplified and focused only on the mouse wheel, so anyone looking for a flashy gaming mouse; the Harpe Ace is limited in RGB lighting. The design of the mice focuses on right-handed gamers, so far there are no hints of a left-handed version.
Now one deal breaker that prospective buyers might be weary off is the price. At an SRP of around Php 7080, the Harpe Ace is much more expensive mouse than the ROG Pugio II (Php 5000 +/-) , with its ambidextrous design and user repairable feature. But as performance goes, the only other mouse in ROG's stable that can probably match the Harpe Ace is the ROG Keris. However, it's smaller, and stocks of the wireless model in the Philippines seems to have gone out (the cheaper wired version is still mostly available however).
But as looking for an incredible performing mouse, the ROG Harpe Ace answers the question at the start. It does make and improve one's FPS game. If not for the high entry cost, it's a gaming mouse that will serve very well in a wide variety of shooter type games. And ROG's collaboration with Aim Lab, owners can fine tune the mice along with training for future online matches.
ROG Harpe Ace Aim Lab Edition Gaming Mouse Made for Agility
The ROG Harpe Ace Aim Lab Edition Gaming Mouse is a finely crafted gaming mouse that focuses mainly on performance with software support (and training) coming from Aim Lab
User Experience / Performance
9.5
PROS
- Really Comfortable w/o using the included Grip Tape
- Lightweight without requiring honeycomb style body/frame
- ROG Tri-Mode Support out of the box
- Aim Lab Support for customized game profiles (sensitivity) and Training
- Use of ROG designed Aimpoint Optical Sensor and ROG 70M switches
CONS
- Price
- Some software features are a bit wonky to understand/use (Aim Lab trained DPI setting, Armoury Crate sleep mode lags when waking up)
- Isn't designed for left-handed gamers
- Does not have DIY friendly Push-Fit Switch Socket for immediate repairs. Also requires unscrewing to open.
Add your review
|
Read reviews and comments