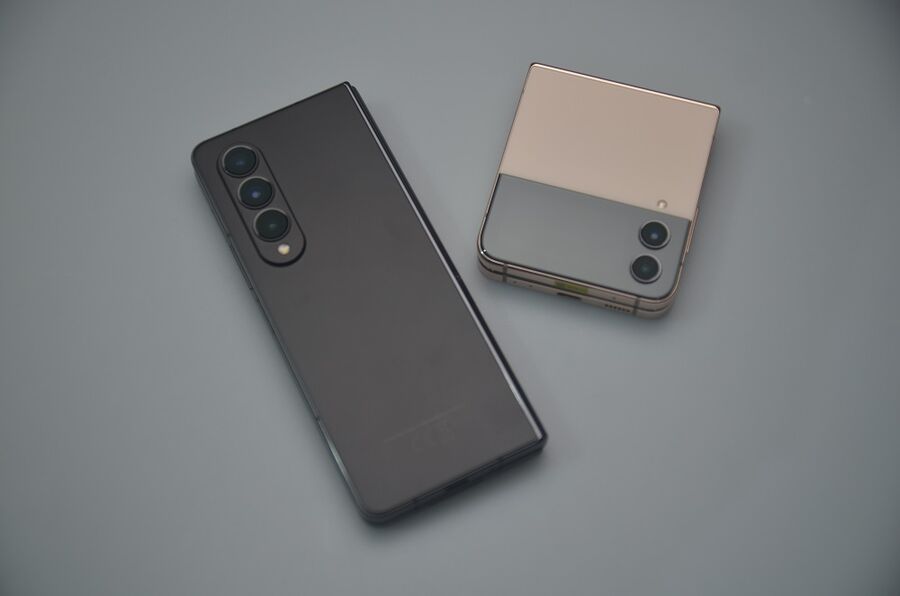 Smart Signature announced that pre-orders are already open for the new Samsung Galaxy Z Fold 4 and Flip 4. The pre-order started immediately after the announcement at the Samsung Unpacked event in New York last August 11. It will end on September 1.
These two new foldable phones are best paired with Smart Signature Device Plans. Let us give you 5 reasons why you should pre-order the Samsung Galaxy Z Fold 4 and Flip 4 from Smart Signature.
Reason 1: Samsung Galaxy Z Fold 4 and Flip 4 cost lower with Smart Signature Plans
As a Smart Postpaid subscriber for the past several years, I can attest that acquiring units through a Smart Signature plan is cheaper than buying from the retail stores.
In 2018, the Samsung Galaxy Note9 128GB/6GB variant had a retail price of P55,900. Through my Smart Postpaid plan, I was able to get the Note9 for P24,000. I opted to pay the cash-out by 24 months amortization so P1,000 was added on top of my bill for 24 months.
Two years ago when the Samsung Galaxy S20 series were announced prior to the 2-year lockdown, the retail price of the S20 Ultra was at P69,990. Again, through my Smart Postpaid plan I only shelled out P31,200 total and paid for it in 24 months on top of my bill.
For the Samsung Galaxy Z Fold 4 under Smart Signature Plan 1999, you can take home a 256GB/12GB variant for a one-time cashout of P52,000 with a lock-in for 24 months. Another option is to pay a downpayment of P17,510 then pay a monthly installment of P1,500 (on top of your monthly service plan of 1999) for 24 months. The total would be P53,510 — P1,510 more than the one=time cash out. Either way, these prices are way cheaper than buying its retail price of P98,990.
The same can be said for the Samsung Galaxy Z Flip 4 under Smart Signature Plan 1999. The 128/8GB can be purchased for P20,700 with a lock-in for 24 months, or pay a downpayment of P6,900 then pay a monthly installment of 600 over 24 months (on top of your monthly service plan 1999.) If you choose to pay for the second option, that would only set you back for a total of P21,300. The retail price of the 128.8GB variant is P58,990.
Reason 2: Smart Signature's Unbeatable Plan Inclusions
Smart Signature offers unlimited calls and texts to ALL networks (yes, including Globe and DITO) with additional minutes to call PLDT landline numbers. Under Plan 1999, 15GB of mobile data is allocated on a monthly basis.
And even the Samsung Galaxy Z Fold 4 and Flip 4 are on Android OS, you can still avail your free 6 months of Apple Music through the GigaLife app. Just download the Apple Music app from Google Play.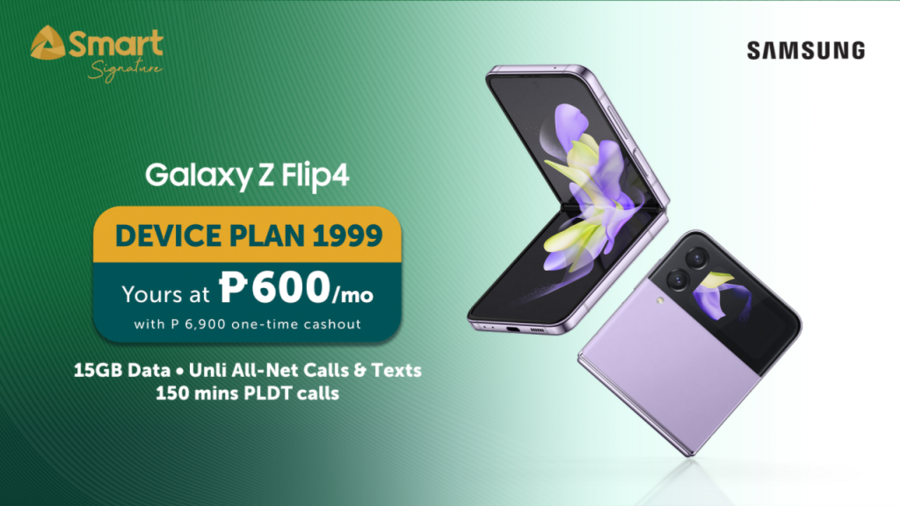 For subscribers who demand more mobile data allocation, they can go for the Smart Signature Plans+. Under Plan 1999, you'll get FREE 5G usage for the first 12 months. After that period, you will have a monthly allocation of 60GB. That's a lot of data!
Aside from the unlimited call and text to ALL networks and the FREE 6 months of Apple Music, you also get a mobile subscription of Netflix! That means you can Netflix and chill with your Fold 4 or Flip 4 wherever you are!
Reason 3: FREEBIES when you Pre-Order the Samsung Galaxy Z Fold 4 and Flip 4
Smart subscribers with approved pre-order applications can enjoy massive discounts and perks, including:
Huge savings with the pre-order prices of the Galaxy Z Fold4 and Galaxy Z Flip4 
Free Samsung Care+ Screen Protect subscription for 1 year worth up to P7,800 
50% off the Galaxy Buds2 Pro and 30% off the Galaxy Watch5 when purchased via the Samsung Online Store 
Free Samsung 10,000 mAh dual-port battery pack worth P 2,499 for subscribers who will claim their pre-ordered units by Sept. 10, 2022 
Through the Trade-in, Trade Up (TITU) program, subscribers can also get an additional cashout discount of P 9,600 for the Galaxy Z Fold4 and P 7,200 for the Galaxy Z Flip4. To qualify, interested customers must successfully trade-in any mobile device via the third-party app InstaCash before pre-ordering with Smart. TITU is supported across NCR and selected nearby areas 
Subscribers who have also pre-registered through Samsung's Handraiser Program can redeem an e-voucher worth P 5,000 when they pre-order the Galaxy Z Fold4 and Galaxy Z Flip4 with Smart. The e-voucher may be used to purchase from the Samsung Online Store.   
Reason 4: Smart's Ultra-fast and Reliable 5G Network
As I've said earlier, I'm a Smart Postpaid subscriber since 2003 and I have experienced all the improvements they've made to provide better calls, text and data services for the past 20 years. My freelancing life became a lot better when Smart upgraded their network to LTE in 2013.
I was able to work anywhere from the cool highlands in Baguio to the scenic beaches in Boracay thanks to its reliable mobile data. Calls were crystal clear and text messages always arrive on time, unlike the other networks.
Now that the rollout of Smart 5G is in effect, you can enjoy the full potential of your new Samsung Galaxy Z Fold 4 and Flip 4's 5G connectivity. Make video conference calls through your preferred apps without any stuttering. Watch Netflix, YouTube or any video streaming apps without buffering. Download and play mobile games without any lags, no matter how heavy their graphics are.
Reason 5: SMART is PH's Fastest 5G Network in 2021 – Ookla
Don't just take my word for it! Ookla, the global leader in mobile and broadband network intelligence, has declared  SMART as the winner of its Speedtest Awards for 3rd and 4th Quarters in 2021. The Speedtest results show that Smart has the fastest 5G Network in the Philippines, beating the other network by a large margin.
Ookla also cited Smart as the "Most Reliable 5G Mobile Operator' in its report last year.  For this recognition, SMART obtained the highest scores in 5G Consistency and 5G Availability based on Ookla's Speedtest Intelligence data in Q2 2021.
Following its back-to-back awards as the Philippines' fastest 5G mobile network, Smart was also awarded by Ookla as the winner of the Best Mobile Video Experience award.
Head over to the Smart Stores and pre-order the Samsung Galaxy Z Fold 4 or Flip 4 with a Smart Signature Plan. You can also pre-order by by signing up online at www.smart.com.ph/Postpaid/GalaxyZSeries.
By the way, you can read our First Impressions of the Samsung Galaxy Z Fold 4 here: https://digitalreg.net/samsung-galaxy-z-fold-4-first-impression/
Our First Impressions of the Samsung Galaxy Z Flip 4 is found here: https://digitalreg.net/samsung-galaxy-z-flip-4-first-impressions/