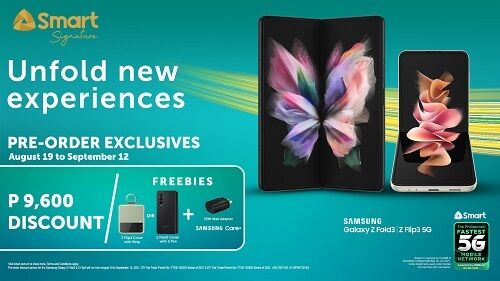 SMART is bringing the next chapter in mobile innovation powered by the country's fastest 5G network as it kicks off pre-orders for the new Samsung Galaxy Z Fold3 5G and Z Flip3 5G until Sept. 12, 2021.
The Samsung Galaxy Z Fold3 5G and Z Flip3 5G are the latest additions to Samsung's foldables line. These are promoted by none other than BTS, the world's leading pop icon who also headlines SMART's "Live Your Passion with Purpose" campaign. Now you can continue to pursue your passion while experiencing and rocking the same devices the BTS members are unfolding and flipping!
Best paired with SMART Signature 5G Plans, the Samsung Galaxy Z Fold3 5G and Z Flip3 5G are also sleek, fashionable, and powerful with their improved cutting-edge foldable technology that delivers unique new ways to watch, work, and play.
SMART offers as much as P9,600 savings for those who will pre-order the Samsung Galaxy Z Flip3 5G (128 GB) for a special price of P2,699 per month with P7,100 one-time cash-out, or get the or the Samsung Galaxy Z Fold3 5G (256 GB) for only P3,599 per month with P15,110 one-time cash-out.
ALSO READ: First Look: Samsung Galaxy Z Fold3 5G First Impressions
This is inclusive of SMART Signature 5G Plan L, which comes with a 30 GB monthly data allocation, Unli AllNet Calls and Texts, and 150 mins of calls to PLDT, so subscribers have all they need to make the most of Samsung's latest breakthrough devices.
Discounted prices are also available for renewing Smart Postpaid subscribers.
On top of this limited-time-only discount, customers who pre-order will also get bonus exclusives worth over P14,000, which include a 25W wall charger worth P949, a Samsung Care+ subscription worth P9,499, and a free cover with S Pen (for the Z Fold3 5G) worth P3,999 or a free cover with ring (for the Z Flip3 5G) worth P1,999.
Recontracting subscribers who will avail of the plan via participating SMART Stores within the National Capital Region may also get an additional P9,600 Trade In Trade Up discount for the Z Fold3 5G, or P7,200 for the Z Flip3 5G. Interested customers must successfully complete trading in an old or used device via a third-party app, Instacash within the pre-order period to qualify. For the full mechanics, visit smrt.ph/zflip3fold3.
To pre-order the Samsung Galaxy Z Fold3 5G and the Z Flip3 5G, customers can book an appointment online to schedule a visit to the nearest Smart Store via https://smart.com.ph/Pages/stay-smart/?#reopen or call *888 for Telesales. On the other hand, new subscribers may visit and apply via the Smart Online Store at
https://smrt.ph/ZFlip3Fold3.