It's time once again for the monthly Macross news! My apologies first and foremost that the August 2020 Macross News is a bit late. Also, there are a lot fewer releases, so I will be squeezing in more news items in this article. But without further ado, let's get right to it!
Macross Arcadia Releases
Arcadia's brand new offering is the 1/60 VF-4A Hikaru Ichijo custom in both Regular and Premium versions! This is the very unit that Hikaru Ichijo piloted in the Macross OVA, "Flashback 2012".
Not to be confused with the previously released Arcadia 1/60 VF-4G Lightning III. That one came out in the Playstation game, "Macross Digital Mission VF-X".
At first glance there doesn't seem to be much difference between the 2 versions. However, a closer look shows that the Premium version has panel lines painted and the markings are tampo printed.
Both versions are transformable in all 3 modes. They will also come with a pilot figure and the GU-11 gunpod, also usable in all modes.
Here are more pics of the regular version, with pricing info and pre-order link:
…as well as the Premium version, also with pricing info and link:
Arcadia also re-issued the 1/60 VF-1J Armored Valkyrie Hikaru Ichijo custom.
This should have been included in the June 2020 or July 2020 news articles, but somehow flew under the radar, so again, my apologies.
Though it only appeared briefly in the anime, the Armored Valkyrie is one of the most sought after VF toy/figure due to its distinctive bulky form. And just like in the anime, the armor parts are removable, leaving a bare VF-1J that can be transformed in all 3 modes.
Below are more pics of the figure, with release info and link:
Hasegawa Macross Releases
Hasegawa has no new releases, but there are 4 reissues from their offerings, all in 1/72 scale.
VF-1 Battroid Valkyrie – This kit includes parts and markings to allow building the Battroid as either VF-1A, VF-1J or VF-1S.
VF-1S/A Strike/Super Gerwalk Valkyrie – A relatively new reissue, this kit comes with the signature Skull Squadron markings, and has parts to build it as either Roy Focker's Strike VF-1S or a Super VF-1A in Gerwalk mode as they appeared in Macross: DYRL. Or you can build your own custom unit!
VF-22S "Macross 7" – The VF-22S was piloted by Max and Millia during the final stages of the Protodevlin War. The kit comes molded in predominantly blue plastic, but customizers should have no problem painting this in Millia's signature fiery red scheme.
VF-31F Siegfried "Kaname Buccaneer Color" – This is the VF-31F in one of the custom colors and markings designed by celebrated mecha designer Hidetaka Tenjin for the opening background video in the Walküre 3rd Live Concert "ワルキューレは裏切らない (Walküre does not betray)", way back in February 2018.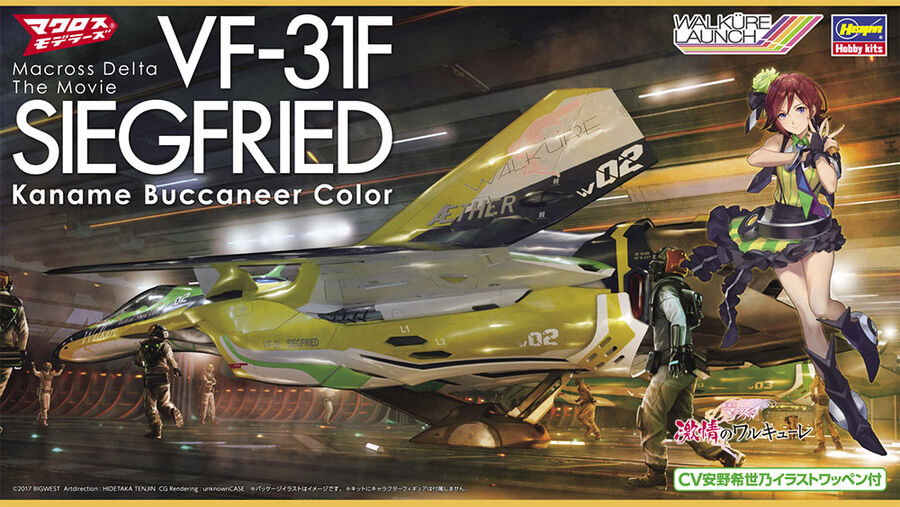 As a bonus, the kit also comes with a custom Kaname Buccaneer fabric patch. Other than that and the custom markings, this is the exact same kit as the standard 1/72 VF-31F from Hasegawa.
Macross Concerts
Speaking of Walküre, the group will hold its previously scheduled tour, entitled "「ワルキューレ LIVE TOUR 2020 ~ワルキューレはあきらめない~」" (Walküre Live Tour 2020 ~Walküre does not give up~) as an online pre-recorded concert instead!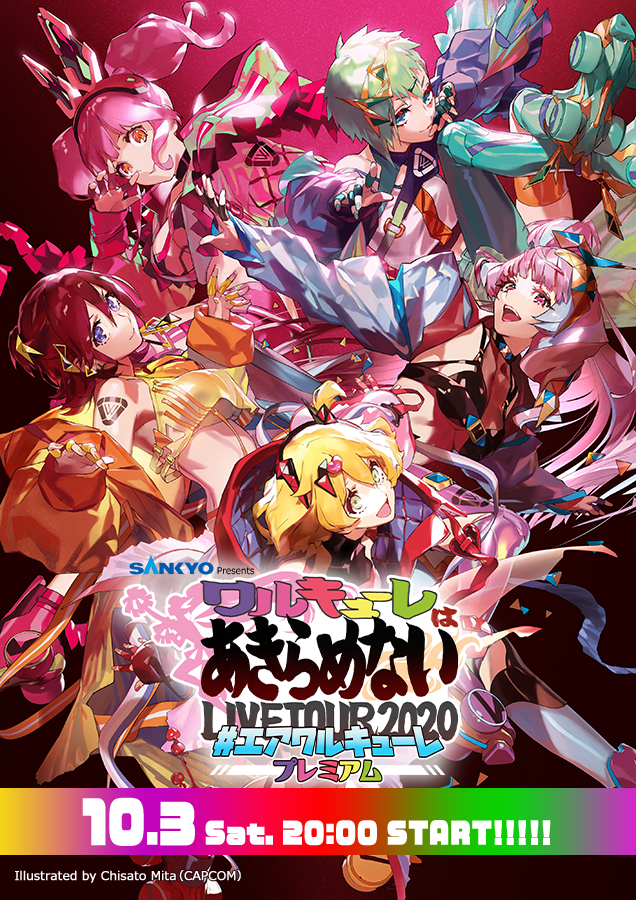 It can be viewed from AirWalküre's premium paid viewing portal on 10/03, starting at 20:00 JPN time. Booking runs from 08/25 – 10/03 19:59 JPN time. Check out the Official Macross portal or the AirWalkure portal for more details.
Walküre (ワルキューレ Warukyūre, German for Valkyrie), is a tactical sound unit featured in Macross Δ. In real life, they are (image below, from L-R) Kiyono Yasuno (Kaname Buccaneer), JUNNA (Mikumo Guynemer), Minori Suzuki (Frejya Wion), Nozomi Nishida (Makina Nakajima) and Nao Touyama (Reina Prowler).
Another Macross idol is making an online appearance. Mari Iijima, who played Lynn Minmay in the original Macross series, will be doing an online panel on 10/3, as part of IdolCon 2020!
According to their Twitter account, "#IdolCon is a free virtual Discord Convention, dedicated to idols of all types! We are taking place October 1-4 2020. Visit our website for more info."
Check out their website at https://www.theidolcon.com/ and register to their Discord channel at discord.gg/Bhaftea.
And that wraps up this article! Thank you for tuning in to the August 2020 Macross News. Till next dekarucha!!
SOURCES
Arcadia website: https://arcadia.ac/index.php
Hasegawa website: http://www.hasegawa-model.co.jp/
Official Macross portal: https://macross.jp/
Mari Iijima on Instagram: https://www.instagram.com/mari_iijima_official/