The problem I always encounter with my iPhone and iPad is I am not able to quickly transfer my videos like what I normally do on any of my Android devices. Unless my iDevices are able to support the video formats, I am required to convert those videos before transferring them. That takes more time and it is very inconvenient especially if you're moving more than 1 video.

VLC was known to be a very reliable open-source video player for the past few years. I discovered it when I had an .MKV file in my hands and VLC with the supported codec was able to play it. There was the app for the iPhone and iPad, but unfortunately it was removed last 2011. Yesterday, the good news reached iPhone and iPad users as the return of the VLC for iOS app was scheduled to be today in the App Store.
Just like the VLC apps for other platforms, VLC for iOS is free to download.
Several minutes after 12mn PST time, I searched for the app and found it. I didn't waste time and downloaded it on my iPad.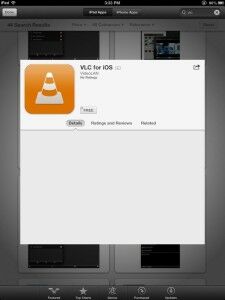 After downloading, the next step is to upload a video file to my iPad. I thought I'm supposed to transfer the video on the Movies section of the iPad, but I was wrong. So I googled for it and found this article by Kioskea.net. The instructions are for the iPhone but it can also be applied to the iPad. And here I am, about to watch Season 2 of The Newsroom:
The video file played well but I wanted to try something heavier. I transferred a 2.2GB .MKV file with a separate subtitle file and it worked very well! Audio and video synced properly according to my test. I still have several video files that I need to test and see if they would work. So far, a friend of mine reported that there were no sounds coming out from his video. Not sure though if he's still using an old version of VLC or a new one.
Anyway, I'm very glad VLC for iOS is back and I can now start watching my favorite movies and TV series on my iPad without the hassles of converting them.