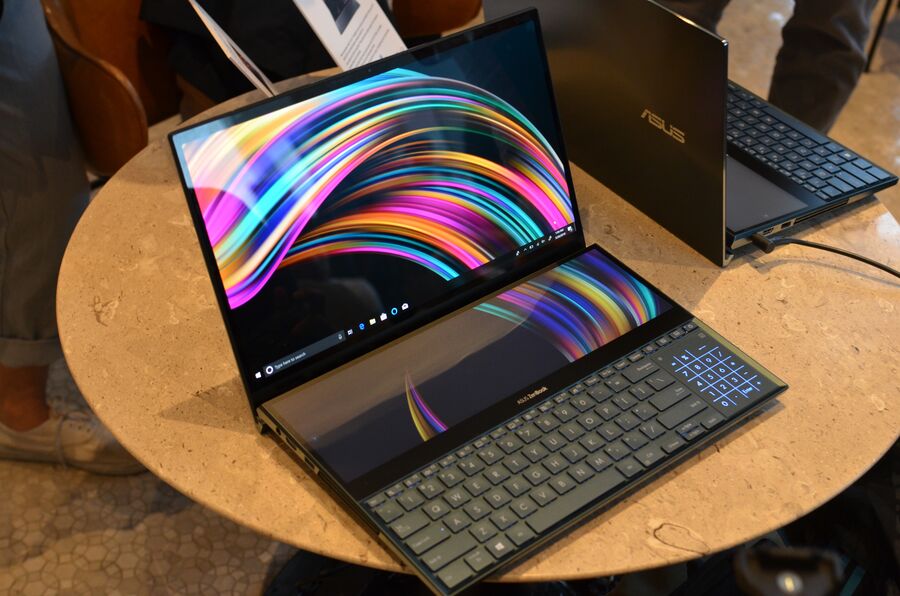 Amplify your strengths and rise above the customary with the ZenBook Pro Duo and ZenBook Duo. Set to provide you a novel creative experience, anticipate smoother workflow, seamless viewing experience, and an ultra modern design. And better reception with Intel® Wi-Fi 6 (802.11ax) with Gig+!
These lightweight, portability- strong laptops hosts a high performance 9th Gen Intel Core i9 processor and NVIDIA GeForce RTX 2060 ray-tracing graphics. Just that is impressive on its own as it guarantees a high- speed system and graphics. However, there is a different spotlight stealer for this unit.
These ZenBooks the forefront units that introduces the ingenious ScreenPad™ Plus which can single-handedly elevate the Zenbooks' functionality geared for professionals.
The ScreenPad™ Plus is the world's first intelligent touchpad that provides a much larger display, a more detailed viewing experience, and advance multi- screen multi- tasking work flow. In short, the ScreenPad™ Plus aims to make your work easier and faster by cutting down the time you spend in switching between windows and apps.
The ZenBook Duo Pro offers a superior 15.6-inch 4K UHD (3840 x 2160) OLED HDR display with a 14-inch 4K(3840 x 1100) ScreenPad Plus. It also inc the fastest high- speed port available on a PC with up to 40 Gbps Thunderbolt™ 3, NumberPad 2.0, Amazon Alexa voice control, and a dedicated turbo-cooling button.
Similarly, the watered down ZenBook Duo offers just about the same specs. It still hosts an FHD display and an FHD ScreenPad Plus though much smaller at 14 and 12.6 inch respectively. Even so, it still has a 9th Gen Intel Core i7 processor, and NVIDIA GeForce MX250 discrete graphics.
Check out our video of the ASUS Zenbook Pro Duo here:
ASUS hasn't revealed much info about the retail prices for these goodies, but we'll come back to you as soon as it gets updated so hang on tight!
Visit the ASUS official website for more updates.