In this review, I'm covering the PowerColor RX 6500XT Fighter Graphics Card aimed for budget PCs. When looking to build a new capable gaming PC on a budget, we would normally resort to simply buy/build a PC with an IGPU namely those from AMD's Ryzen 5 5600G or Ryzen 7 5700g or the 4000 series Ryzen PRO CPU/IGPUs. We can try looking at FB Marketplace/Lazada/Shopee/OLX for deals on used GPUs, but then there's always running the risk of sketchy sellers peddling used AND worn graphics cards. Tthere are still sellers that will sell very good 2nd hand GPUs, but for beginners building a machine, I recommend getting new parts. We'll see if the PowerColor RX 6500XT Fighter Graphics Card is able to meet requirements for a entry level tier GPU.
The AMD Radeon 6500XT was released in early 2022 and was designed as a replacement for the Radeon RX 5500XT. Being an entry level GPU, the PowerColor RX 6500XT Fighter Graphics Card has the following specification:
Specifications
Graphics Engine:
AXRX 6500XT 4GBD6-DH/OC
Video Memory:
4GB DDR6
Stream Processor:
1024 Units
Engine Clock (OC)
up to 2650MHz(Game) / up to 2820MHz(Boost)
Memory Clock
18.0 Gbps
Memory Interface
64-bit
DirectX Support
12
Bus Standard
PCIE 4.0
Standard Display Connectors
1x HDMI 2.1, 1x Display Port 1.4
Product Notes:
'Game Clock' is the expected GPU clock when running typical gaming applications, set to typical TGP (Total Graphics Power). Actual individual game clock results may vary.
'Boost Clock' is the maximum frequency achievable on the GPU running a bursty workload. Boost clock achievability, frequency, and sustainability will vary based on several factors, including but not limited to: thermal conditions and variation in applications and workloads.
Power Spec + Board Dimensions
| | |
| --- | --- |
| Board Dimensions | 191mm x 126mm x 40mm |
| Minimum System Power requirement (PSU) | 400W |
| Extension Power Connector | 1x 6-pin PCIE Power Connector |
Feature wise, the RX 6500XT Fighter supports OpenGL, DirectX12/Vulkan Graphic APIs, AMD FidelityFX Super Resolution (FSR), AMD Infinity Cache, AMD Smart Access Memory, and PowerColor's Mute Fan Technology – fans turn off when below 60 degrees.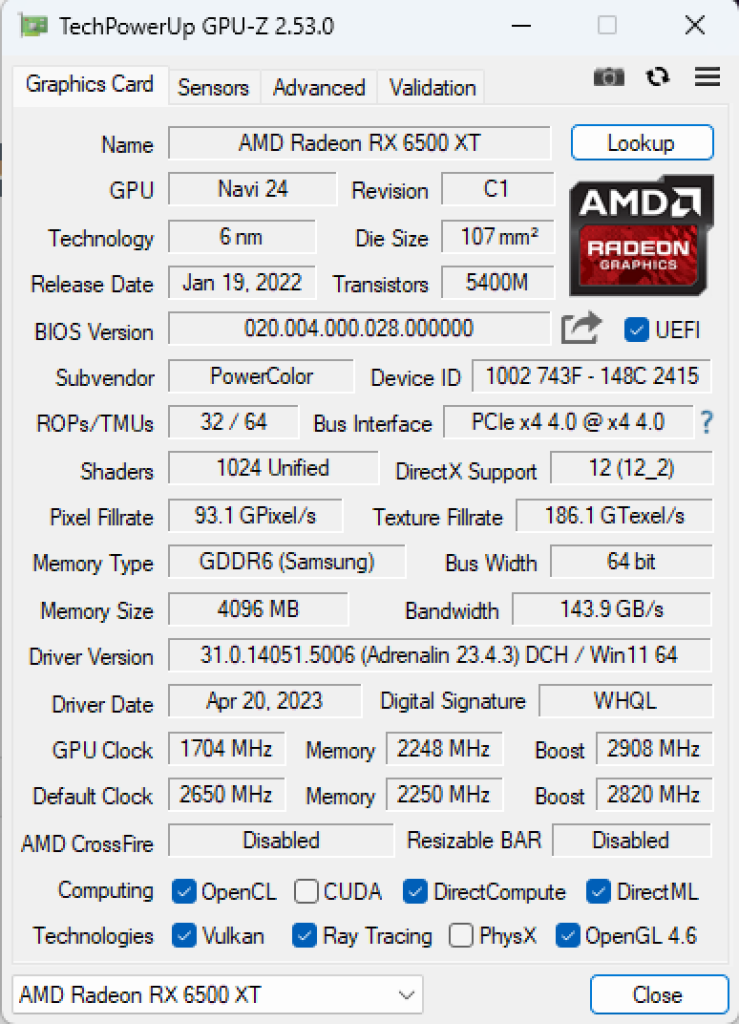 Not mentioned with the spec sheet is the utilization of only four PCIE lanes. Another concern to look out for is the onboard VRAM. 4GB of VRAM was a standard almost a decade ago and with modern games having higher texture sizes alone would stress the We'll look at the actual performance results in a later part of the review.
PowerColor RX 6500XT Fighter Package and Form Factor
The PowerColor RX 6500XT Fighter comes in a cardboard box, and the graphics card itself is in the usual plastic wrapper. That's it, just the box and the graphics card.
For the RX 6500XT Fighter itself, it is a 2-slot card sporting twin 80mm fans. This cooler configuration is slightly bigger than the PowerColor RX 6500XT ITX model, with a pseudo pass through fin design allowing air to pass through aiding additional cooling. The cooler has dual heat pipes, which for its class is a nice improvement in cooling. There are only two output sockets, one HDMI and one DisplayPort. It's expected, for a GPU that is built for eSports titles and lighter games. The compact size makes it a good fit for compact cases, and fits well with my AMD machine rebuild inside an ASUS AP201 mATX case.
Performance Benchmarks with PowerColor RX 6500XT Fighter
To test out the RX 6500XT Fighter, I rebuilt my old AMD machine into a mATX case. The specs are:
AMD Ryzen 5 3600
Gigabyte Aorus B550M Elite
TForce Night Hawk 16GB DDR4 3200
Kingston NV1 500GB PCIE Gen 3 NVMe SSD
FSP HSV Pro 650W 85+ Bronze PSU
ASUS AP201 mATX case
DeepCool Castle 360EX A-RGB Liquid AIO
To compare the RX 6500XT Fighter against, I have the closest NVIDIA model: a GTX 1630 – specifically an ASUS TUF Gaming 1630 OC GPU. This GPU was intended to replace the GTX 1050 and the GTX 1650 GPU (supplies of this particular model are running low, as it's been four years since it was released). All setup is at their default (ie PCIe Gen3 for GTX 1630 and PCIe Gen4 for RX 6500XT)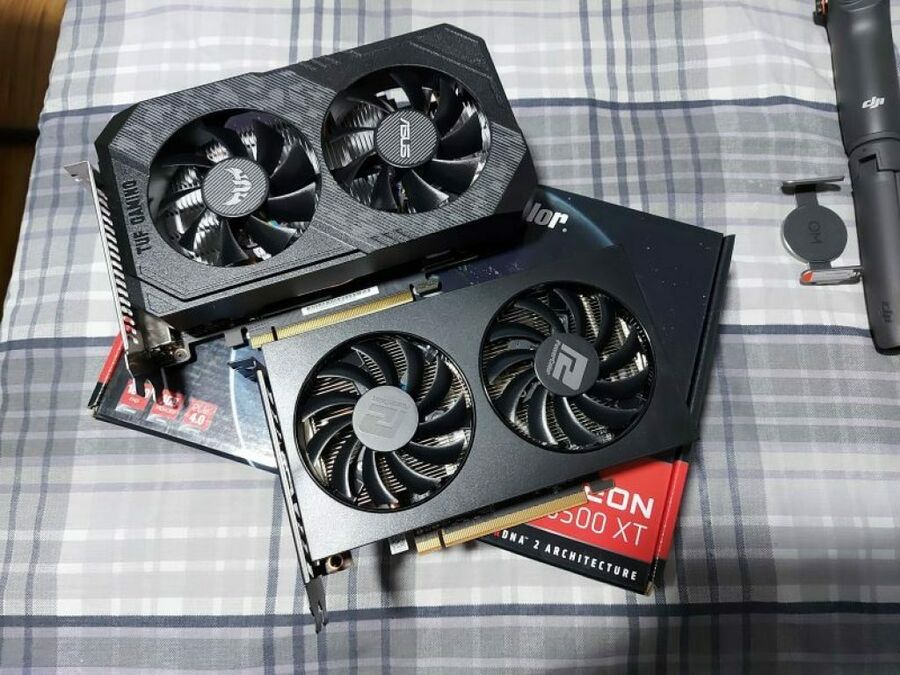 Test Proper
Tests conducted are generally at a resolution of 1080p with graphics set to medium, as these GPUs are entry level models. There are tests that will utilize AMD's FSR 2.1 as it's a much welcome feature that allows GPUs from both brands to have a little bit of bump in performance in games. But remember that FSR has the same trade-off with NVIDIA's Deep Learning Super Sampling (DLSS) wherein switching to a better performance setting leads to faster FPS leads to poorer image quality. I've ran tests on games such as Cyberpunk 2077, Forza Horizon 5, and Counter Strike as baselines for some light to intensive graphics. Other tests performed included 3DMark Time Spy and 3DMark Fire Strike for DX12 and DX11, while I ran the new FSR Test on both GPUs.
Cyberpunk 2077
Cyberpunk 2077 is used to see how far can the PowerColor RX 6500XT Fighter can perform. Given that the game has had significant optimizations since its 2020 launch, performance is much better with improved medium performance at 1080p resolution. Here are the results for both RX 6500XT and GTX 1630. Important to note is how smooth the game still runs even if the average FPS is less than 60. GTX 1630 performance is poor, netting only 22FPS average.
Running the game with medium settings plus FSR 2.2 set to Performance increases average FPS close to around 75, a big boost of 28.7 FPS or 59% increase from base medium. I do notice some graphic artifacting at some points of the benchmark but if want to have better looking display, sliding back the FSR setting to Balanced will improve the look at the expense of a slightly lower average FPS score. With FSR 2.2 set to performance for GTX 1630, there's an increase to 40.67 FPS average, still quite lower than the RX 6500XT's score with FSR 2.2 turned off.
Forza Horizon 5
Forza Horizon 5 balances CPU and GPU usage well and with the current setup, should provide ample performance at medium settings. Even if the game recommends reducing quality to Low, the RX 6500XT still throws out great average FPS of 79.1. Compared to the GTX 1630's flat average of 50 FPS.
Turning on FSR 2.2 (Performance), gains were actually negligible. I only got around 2.8 FPS increase for average FPS. Whereas for the TUF GTX 1630, there weren't any improvements at all.
Counter Strike: Global Offensive
Counter Strike: Global Offensive (CS:GO) represents esports titles, having low overhead on PC resources, making the RX 6500XT an excellent candidate to equip machines for eSports or Internet Cafe operations. Unfortunately the game is quite old, and therefore lacks FSR support. Results wise, it's a hands-down win by the Power Color RX 6500XT Fighter GPU over the TUF GTX 1630.
Other Games Tested (Console Ports / Mobile Game Ports)
I tried running ported console games and mobile games. Since these normally have a maximum frame limit of 60FPS, I just checked if there were any stuttering or random frame drops when using the RX 6500XT, and happy to say there were none. Tested the GPU on Genshin Impact, and Kingdom Hearts for the PC.
3DMark Time Spy Test
For Time Spy Test, the PowerColor RX 6500XT Fighter performed well at 5154 points. As a reference I pulled an older run of a Ryzen 5 3600 build with a stronger RTX 3060 from before which scored for 8227. The GTX 1630 meanwhile nets a score of 2382, but getting a bug that is registering the GPU as a generic one; however, it did get a Legendary score for its peers. Not sure to be happy about it. More Legendary stuff later. The PowerColor RX 6500XT Fighter more than doubles its score in this test.
3DMark Fire Strike Test
The 3DMark Fire Strike Test, tests the DX11 performance of the RX 6500XT GPU. It nets a score of 13423 against 5429 on the GTX 1630. It almost beats the score of the GTX 1630 by a factor of three.
3DMark FSR Test
The 3DMark FSR Test exclusively tests the GPUs using the FSR feature. Unlike the DLSS test which only accepts certain NVIDIA GPUs, the FSR test accepts all GPUs. There were six runs in total performed, divided by two sets that run FSR on or off on a modified Speedway Test. Each run per set conducted were on different resolutions: 1080p, 1440p and 4k with FSR setting at Performance. Here are their results:
| | | | |
| --- | --- | --- | --- |
| 3DMark FSR 1080p Performance | FSR2.0 OFF | FSR2.0 ON | Performance Difference |
| ASUS TUF GTX 1630 OC | 12.18 | 32.35 | 165.70% |
| PowerColor RX6500XT Fighter | 27.17 | 67.94 | 150.10% |
| | | | |
| --- | --- | --- | --- |
| 3DMark FSR 1440p Performance | FSR2.0 OFF | FSR2.0 ON | Performance Difference |
| ASUS TUF GTX 1630 OC | 5.69 | 20.43 | 259.40% |
| PowerColor RX6500XT Fighter | 15.69 | 42.91 | 173.50% |
| | | | |
| --- | --- | --- | --- |
| 3DMark FSR 4k Performance | FSR2.0 OFF | FSR2.0 ON | Performance Difference |
| ASUS TUF GTX 1630 OC | 1.38 | 10.21 | 639.90% |
| PowerColor RX6500XT Fighter | 6.39 | 22.37 | 250.20% |
While the performance difference of the GTX 1630 was bigger than the RX 6500XT's when comparing FSR on and off; it's the actual average frames that improved gameplay that made RX 6500XT edge out the GTX 1630. Running games at 1080p which the RX 6500XT was made for was aided by FSR hitting more than 60FPS average improvement. That would give insight that this GPU will allow games to run a comfortable 60FPS if FSR is turned on.
3DMark Speedway Test
This is something of an outlier, as Speedway's supposed to be used for high-end graphics cards. And since the PowerColor RX 6500XT supports Ray Tracing (to some degree), I ran it. And got another Legendary score, probably because there weren't any other 3DMark tester that tried it. But it is what it is.
Conclusion
The PowerColor RX 6500 XT Fighter is a good value, budget video card for those who are looking for a budget PC, with a preference of having a dedicated GPU that can work well for light console ported games, eSports titles, and even AAA titles at 1080p medium settings. It effectively is the replacement for the ageing RX 570/580 GPU.
While the limited number of PCIE lanes is concerning, it only affects performance if installed on a relatively older motherboard running PCIE 3.0 graphics. But with older model motherboards retiring and fewer brand-new stocks available, it's usually a better pick to go with a newer motherboard like B550 for AMD CPUs or an 11th Gen Intel Motherboard (Z590, B560, H570, H510), which costs should have gone down
The PowerColor RX 6500XT Fighter is priced at around PHp 9950
The PowerColor RX 6500XT Fighter is a good budget GPU for entry level Gaming PCs
A worthy budget oriented GPU for entry level gaming PCs and for those looking to equip internet cafe gaming PCs
PROS
Simple, yet solid design that enables adequate cooling
Performance is great for its class
CONS
The 4 PCIE lane can be of a concern to some users
Add your review
|
Read reviews and comments