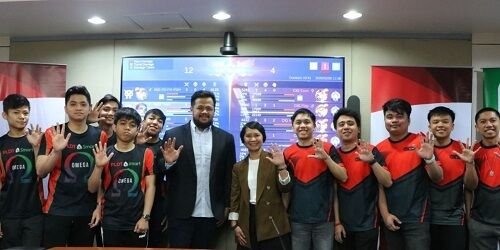 Two Esports teams were the first to experience the benefits of having a super high-speed mobile connection. Athletes from The Nationals, the Philippines' first and only franchise-based esports league joined the country's first SMART 5G-powered esports exhibition match held at the PLDT Headquarters in Makati City.
Armed with the latest 5G handsets, athletes from PLDT-Smart Omega and Cignal Ultra Warriors battled it out on Mobile Legends using SMART 5G network. Showcased during the event were the Huawei Mate 5G, the OPPO Reno 5G and the ZTE Axion 5G handsets. Smart is also set to deploy indoor 5G coverage to support the training grounds of various esports teams under The Nationals. This comes at the heels of the country's successful esports debut at the 30 th  Southeast Asian Games, during which the country bagged several gold medals in various esports events, including DoTA 2,
Mobile Legends and StarCraft 2.
Lower latency delivered by Smart's current 5G network is ideal for real-time AR/VR and game applications. In the future, with the deployment of 5G standalone (5G SA), this performance will further be enhanced with ultra-reliable low-latency communication (URLLC), another key feature of 5G.
5G SA has been described as 'pure 5G' as it relies solely on 5G for data transmission and allows the full benefit of 5G capabilities to be tested and demonstrated. In contrast, 5G NSA (non-standalone) combines the use of 5G and existing 4G/LTE resources to transmit data.
Apart from gaming, 5G also opens up possibilities for applications in other sectors such as retail, transport, manufacturing, logistics and warehousing, for example. In November 2018, Clark was the first city to be powered by PLDT SMART 5G. The Clark pilot deployment will allow SMART to explore industry partnership engagements, collaborate with schools and universities, and further develop competence in 5G.
We can expect more SMART 5G news in the months to come. With 5G handsets starting to become available, we might be able to experience SMART 5G sooner than we think.