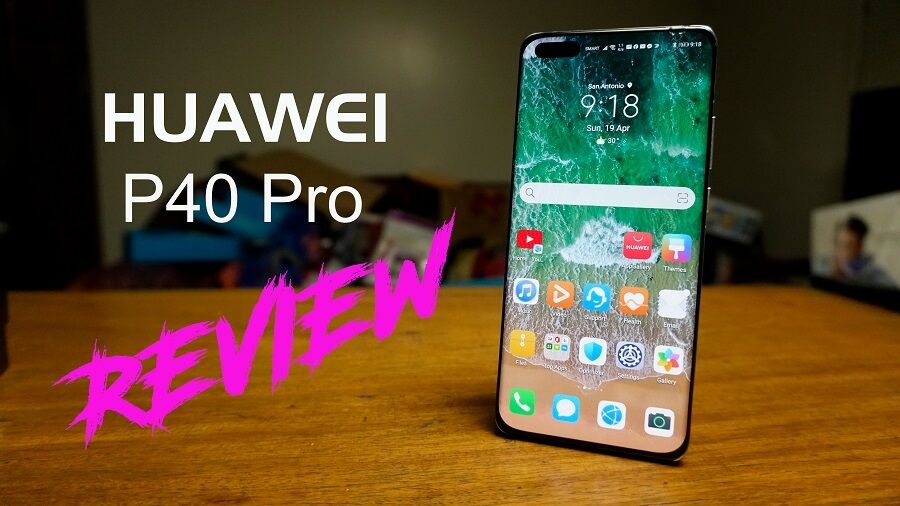 I spent the past two weeks using the P40 Pro as my daily driver. I've honestly felt at home with the phone and I'm considering to get one for myself, especially that I have pre-ordered the Huawei MatePad Pro. I am going to share my Huawei P40 Pro Review, which includes my experience with its software from the Huawei AppGallery. Before you read this review, you can check our Unboxing and First Impressions post.
HUAWEI P40 PRO SPECS:
| | Huawei P40 Pro |
| --- | --- |
| OS: | Android 10 with EMUI 10.1 |
| Processor: | Huawei Kirin 990 5G 2.86 GHz Octa-Core processor | MALI-G76 |
| Display: | 2640 x 1200 6.58" Full HD+ OLED |
| Wireless Connections: | 5G, Bluetooth 5.1, WiFi 802.11 a/b/g/n/ac/ax, NFC, A-GPS, GLONASS |
| Memory: | 128GB/256GB/512GB Internal Storage expandable with a Nano Memory Card up to 256GB, 8GB RAM |
| Connectors: | Type-C USB 3.1 |
| Cameras: | 50 Megapixel Ultra-Vision Camera f/1.9 wide with OIS, 40 Megapixels SuperSensing Cine Camera f/1.8 ultra-wide, 12 Megapixels SuperSensing f/3.4 with OIS telephoto, 3D Depth Sensing Camera (Main) 32 Megapixels f/2.2, Depth Camera (Front) |
| SIM Card Slots: | 2x Nano SIM Card |
| Battery: | 4,200 mAh |
| SRP: | P50,990 |
THE LOOKS AND FEEL: HUAWEI P40 PRO REVIEW
Huawei's Quad-Curved screen makes the phone even sexier and more sophisticated than other new flagship phones in the market. I definitely adore the design and I'd like to be seen in the crowd using this phone.
Holding the phone together is an aluminum frame in the middle. Found on the right side are the volume controls and power button.
On top of the phone is an IR blaster, which I find useful for my devices and appliances at home that has a remote control. More on this later.
At the bottom are the SIM Card slots which houses two Nano SIM Cards or a Nano Memory Card, USB Type-C port and a speaker grille. As usual the 3.5mm headphone jack is not present but that's okay now that I have the Huawei Freebuds 3.
Huawei did away with the gradient design at the back and instead offered five colors: three with glossy finish and two with matte-glass finish. In my opinion, having a matte-glass finish is more premium looking than the glossy-type, and I was so happy when I received the phone with a Silver Frost finish. It gives the P40 Pro a stunning professional look and it looks miles better than my Samsung Galaxy S20 Ultra's Cosmic Gray color. It's also resistant to fingerprint marks, however, it's still slippery to hold so it's best to use a case for protection. Remember, the phone is made of glass, and it will easily break when it falls on the ground.
I loved how the cameras were arranged with the Leica branding in it and it isn't oversized unlike Samsung's. However, like with any phones with protruding cameras I've reviewed in the past it can be prone to scratches.
THE DISPLAY: HUAWEI P40 PRO REVIEW
The P40 Pro has a 6.58″ OLED display with an unusual 2640×1200 Full HD+ resolution. Instead of the 120Hz refresh rate found in other flagships, Huawei opted for 90Hz which strikes the right balance for smooth animations and battery life. Personally, I don't see the difference between 90Hz and 120Hz so I'm fine with it.
In previous years we've seen the notches on the P20 Pro and the P30 Pro. The P40 Pro said goodbye to the notch and embraced the capsule-like dual cameras consisting of a 32 Megapixel camera and a ToF sensor. I find this a bit bigger than the OPPO Reno3 Pro and it can be a hindrance if you intend to use the full screen to watch videos.
The fingerprint scanner on the display is the best I've used so far. It's accurate and unlocks very fast.
THE PERFORMANCE: HUAWEI P40 PRO REVIEW
Powering the P40 Pro is the Kirin 990 5G processor and I was floored by its superb performance. Here are the benchmark scores I got with this phone:
These are some of the highest scores I've seen in a flagship and using the phone is buttery smooth. All the apps I've used ran smoothly and games like Ashpalt 9 Legends and Call of Duty Mobile were played at their highest video settings without any hiccups. 256GB of Internal Storage and 8GB of memory are enough to handle and juggle all the apps. It's a bummer that they opted for a Nano Memory Card instead of a more common Micro SD Card for extra storage.
EMUI 10.1 based on Android 10 runs the show on the P40 Pro. This latest iteration lets me try out Huawei Share MultiScreen Collaboration which can connect the P40 Pro wirelessly with the Huawei MateBook D15 I am also currently reviewing. Tapping the P40 Pro on the MateBook got it connected and a window popped out on the laptop showing the interface of the phone. I was able to transfer pictures and files easily and I could even access the apps of the phone while on the laptop. This is an effective example of multi-tasking in Huawei's Ecosystem that lets the user use two devices in one device.
Sliding from the edges on either sides of the screen would open a floating window where you can assign apps to use and float above another app. I found it useful whenever I needed to take a peek on my Facebook or Twitter feed. It lets me go to split-screen mode so I can use two apps at the same time. EMUI also has other gimmicks like knocking twice on the screen for a screenshot or using gestures to scroll. I tried them out and I only found knocking on the screen realistically useful.
Now let's talk about the apps. As most of you know by now, Google Mobile Services are already absent since the Huawei Mate 30 series, meaning apps from Google such as Gmail and YouTube are not available. And since Google Play is also part of GMS, all the popular apps downloaded from the Play Store like Facebook and Instagram are also not available. In its place, Huawei introduced the AppGallery which they are working hard to produce more apps for its users.
I know this is a deal-breaker for some and I thought it would be a deal-breaker for me too, but I kept an open-mind. Several of the apps I use are available at the AppGallery. Since one of my banks is BDO, I downloaded and installed the BDO app. I also downloaded PayMaya, Click The City, Microsoft Office, iflix, Viu, and Asphalt 9. I rely on Google Maps but I found a very decent alternative called Kartha GPS which is so far accurate.
There are workarounds like sideloading, Play Store alternatives like Amazon and even steps to install GMS. I didn't bother doing the latter as I'm already fine with sideloading some of my other apps from APKPure. Also, Huawei's Phone Clone which is already pre-installed in the phone is a very easy and effective way to copy contents of your old phone to the P40 Pro. I copied my Contacts, Messages, Calendar and other apps with a total size of 5.8GB and it was done in a few minutes!
Admittedly, the AppGallery still lacks most of the essential apps, but like with any platform starting fresh, we have to give them time to come up with a comprehensive library. It didn't take Apple's App Store and the Play Store overnight to come up with such. When I first used an Android phone in 2009, the apps were quite limited compared to my main Windows Mobile Phone, but look at Google's Play Store now!
Also Read: Having an Open Mind helped me Enjoy the Huawei P40 Pro with its Huawei Mobile Services, AppGallery, and a Little Help from Sideloading
The phone is 5G ready and I was able to get a 5G signal in my area. Telco networks like SMART are upgrading their cellsites to 5G. Thing is, it's not yet widely available and it might take a couple of years for it to be widely available at least in Metro Manila.
THE CAMERAS: HUAWEI P40 PRO REVIEW
The main feature of the P40 Pro is of course the cameras. The P-Series after all is focused on mobile photography. It is composed of four cameras: a 50 Megapixels Ultra Vision wide, 40 Megapixels SuperSensing Cine Camera ultra-wide, 12 Megapixels SuperSensing telephoto, and a 3D Depth Sensing Camera.
The 50 Megapixel Ultra Vision camera uses RYYB filter which can let the phone take better photos in low-light conditions. Like the P30 Pro, the P40 Pro also has a 5x Optical Zoom which produces usable photos.
Pictures I took were very impressive and colors were vibrant and accurate. It doesn't have 100x Space Zoom like the S20 Ultra but 50x is just enough and it can produce clear and usable images. Auto mode can be used on night photos but using the Night Mode can help clear the noise even further. Auto-focus is consistent and didn't have much problems with all the subjects I've focused on.
Take a look at our sample photos below:
Selfies taken with the P40 Pro's 32 Megapixel front camera got my skin tone accurate even with the AI mode off. Better to keep it that way if you want natural-looking selfies.
THE BATTERY LIFE: HUAWEI P40 PRO REVIEW
Battery capacity is rated at 4,200 mAh which is the average nowadays. In the past two weeks, I averaged 14 hours of usage – 5 hours of 4G/5G using Facebook, Web browsing, Spotify, Netflix and YouTube, and 9 hours on WiFi. On days where I only stay at home, I usually consume 40% of power. In case you run out of juice, simply use the 40W SuperCharger or purchase a 27W wireless fast charger.
DR'S CONCLUSION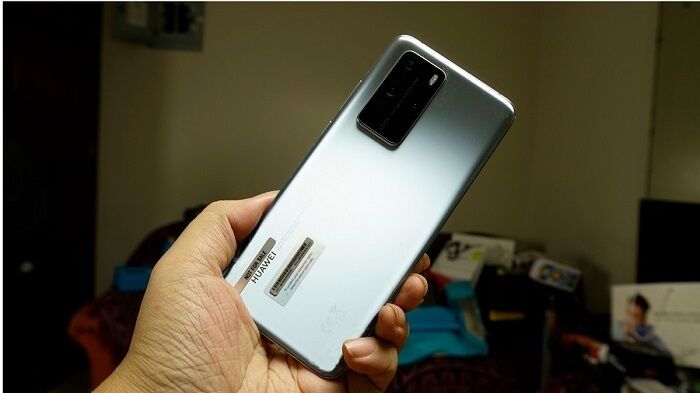 The Huawei P40 Pro is ABSOLUTELY FANTASTIC! Huawei has gone a long way improving their cameras since the introduction of the P-series years ago. I consider it to be the best among all the flagship smartphones I've used so far. The Kirin 990 5G processor is a beast and it got me to taste 5G in my area. I kept an open mind for the past two weeks dsepite the negative news about the software and HONESTLY SPEAKING I got used to the P40 Pro without Google Mobile Services. I did workarounds on my own by using the existing apps of Huawei and a few sideloading of apps. Because of this, I pre-ordered the Huawei MatePad Pro and I might get my own P40 Pro and go deeper into the Huawei Ecosystem.
If you are also convinced, you can pre-order the Huawei P40 Pro until April 24, 2020 from Lazada, Shopee and MemoXpress. You can find more info about the pre-order details below:
PROS:
The BEST Set of Cameras in a Smartphone as of today
Quad-Curve display makes the phone look Sexy
Silver Frost Matte-finish design looks Stunning and Professional
5G Ready
CONS:
Front cameras look noticeably big
Protruding Camera module at the back can be prone to scratches when placed on top of a surface
Uses Nano Memory Card which is scarce and expensive
Battery Capacity could've been bigger