In case you missed it, we shared our Unboxing and First Impressions of the ASUS ROG Strix G531GW SCAR III a couple of weeks back. The SCAR III is one of the newest gaming laptops the Republic of Gamers has released last summer, and I was so excited to try it out. Having reviewed the Hero II, the SCAR's antithesis, I wanted to know the improvements the SCAR III has to offer, and if it would make me interested in acquiring one in the near future. Here it is, the ASUS ROG Strix G531GW SCAR III Review.
ASUS ROG STRIX G531GB SCAR III REVIEW SPECS:
Processor
Intel Core i9-9880H
Graphics
NVIDIA GeForce RTX 2070 GDDR6 8GB
RAM
16GB DDR4 2666MHz (up to 32GB)
SSD
PCIE 512GB SSD
Display
15.6-inch Non-glare FullHD (1920x1080) vIPS-level TN panel, 144Hz, 3ms, 100% sRGB
Keyboard
Backlit Chiclet 4-Zone RGB with marked WASD keys, N-Key Rollover

Audio
2x 3.5W with Smart AMP Technology
Ports
3x USB 3.1 Gen 1 Type-A. 1x HDMI 2.0"
Wi-Fi/Bluetooth
INTEL 9560 Gigabit WIFI 2x2 802.11ac Wave 2, Bluetooth 5.0
Weight & Dimensions
W: 36 cm
D: 27.5 cm
H: 2.6 cm
Weight: 2.395kg
Price
P169,995
THE UNBOXING: ASUS ROG STRIX G531GW SCAR III REVIEW SPECS
You can view our unboxing of the ROG Strix SCAR III in the video above. The packaging is a big box that houses the ROG Ranger Backpack, the SCAR III gaming laptop, ROG Gladius 2 gaming mouse, ROG Keystone, ROG Eye webcam, charger and user guides.
THE LOOKS AND FEEL: ASUS ROG STRIX G531GB SCAR III REVIEW SPECS
The ROG Strix SCAR III still maintains the same lid design seen in most ROG laptops released in 2017. There were a few changes though, like the gunmetal gray color instead of the usual black which I now find too common and boring. The width is slightly longer than any of the previous laptops they've produced. The reason for this is their new cooling-focused structural design that shifts its hinges forward to make space for more ventilation.
The silver logo turns into RGB whenever the laptop is in use, as well as the lightbar which now surrounds the front and sides of the laptop.
The bottom of the display features a unique asymmetrical cut instead of the previous trapezoid outline to allow more airflow to pass through.
Ethernet, HDMI, and USB Type-C ports as well as the power jack are placed at the back.
Three USB 3.1 ports and a 3.5mm headphone jack are found on the left side of the SCAR III.
The keyboard doesn't have the camouflage look of the SCAR II. Instead, it has a carbon-patterned interior which is a subtle way of saying that it is still a gaming laptop. Typing articles and controls for gaming using the keys were alright.
The number pad was removed from the keyboard and was applied on the trackpad instead, which the ROG Zephyrus popularized.
Overall, I liked the visual changes of the SCAR III. I just wish it weighs lighter than 2.4kg which nowadays I find heavy for a gaming laptop.
THE DISPLAY: ASUS ROG STRIX G531GW SCAR III REVIEW SPECS
ASUS prides itself in coming up with better screen displays for every new laptop release. The SCAR III's 15.6-inch display has been upgraded to a 240Hz refresh rate with 3ms response time. It's an impressive feat, though honestly it's hard to tell with my own bare eyes if I am indeed on 240Hz while playing various FPS games. Nevertheless, it's a feature that is nice to have and some games like Battlefield V have video settings that support it so make sure to make those adjustments to take advantage of the fast refresh rate. Of course, the IPS level display makes the SCAR III a nice alternative to stream Netflix instead of your TV at the living room.
The bezels remain sexy thin, giving us users more screen real estate to enjoy. The webcam has been removed and now comes as a separate accessory called the ROG Eye. It can be clipped on top of the display or placed in a dock beside your laptop.
THE PERFORMANCE: ASUS ROG STRIX G531GW SCAR III REVIEW SPECS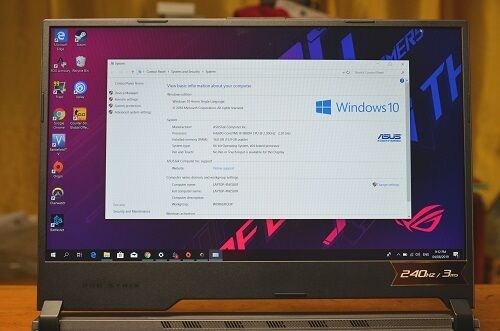 The SCAR III has five variants to suit your gaming preferences. The evaluation unit we got is the top-of-the-line with Intel Core i9 9th Gen with NVIDIA RTX 2070 GPU. This is the most powerful laptop I've ever reviewed and it's mind-blowing! It's hard to imagine that I'm lugging around a 2.4kg powerhouse just to play games with it.
Let me share our benchmark scores:
I played my usual games like Overwatch, CS: GO PUBG and Witcher 3 as well as Battlefield V. With its ultra-fast refresh rate, playing fast-paced FPS games like Overwatch made me feel like I'm in an Esports tournament. All gameplays were silky smooth with this variant of the SCAR III. I'm able to reach an average of 129fps on Ultra Settings on Overwatch, 150fps on CS:GO, and 116fps on Battlefield V.
Temperature levels were monitored closely especially whenever I play games. I averaged 79 to 86 degrees Celsius based on the ROG Armoury Crate. For a laptop with Core i9 with these temps., I'd like to think it would be even lower with a Core i7. This probably means the cooling system of the SCAR III is working. I would really love to find out once I get a chance to play with its i7 variant.
The ROG Keystone is a new way to automatically load your preferred gaming profile just by attaching the accessory to the slot. It will also enable the Shadow Drive which stores your personal files. The SCAR III is the only laptop so far with the ROG Keystone so this would only work for this model at the moment.
THE BATTERY LIFE: ASUS ROG STRIX G531GW SCAR III REVIEW SPECS
Battery life on the SCAR III left me only with an hour and 10 minutes before I got a warning that my laptop would shut off automatically. If you need to work on something for a longer period, look for a power outlet.
DR'S CONCLUSION
With its powerful CPU and GPU combined with its ultra-fast refresh rate, the ROG Strix G531GW SCAR III lives up to its name for players who love to shoot-to-kill in gaming. Now the i9 variant might be too powerful (and pricey) for some users so if I may suggest, go for the i7 variant which is P20,000 cheaper. Personally, I always go for the best, and the SCAR III with Intel Core i9 and RTX 2070 is the one I'll be choosing.
PROS:
240Hz Refresh Rate with 3ms Response Time
Intel Core i9 + RTX 2070 = Powerhouse Combo!
Gunmetal Color
CONS:
The ROG Strix G531GW SCAR III is available in ROG Mall of Asia and ROG Concept Stores nationwide.