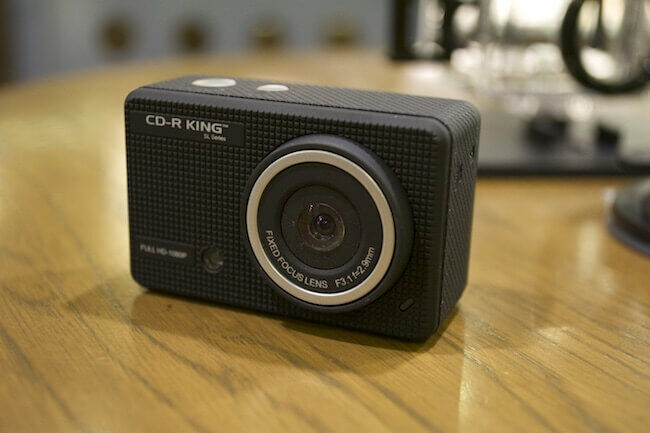 I would like to think that most of us have gone to at least one CD-R King branch ever since it opened a decade ago. Before they started selling everything that a person can think of (they even have oven toasters!), they've been selling cheap CD-Rs than the branded IT retail shops. I was a regular customer back then, buying CD-Rs on a weekly basis to back-up my pron files at a time when external drives were expensive and flash drives were not yet en vogue.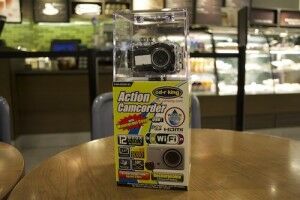 Nowadays, CD-R King sells pretty much everything. Heck, they even sell their own version of the Segway as well as foldable bicycles. One of their products that caught my interest is the CD-R King Action Camera which I discussed in one of my guest appearances in the GMA-7 Morning Show "Unang Hirit" (you can watch it below.)
I was lucky to meet with their outgoing Mar-Comm Manager MigZ (that's Migz with a Z whom I used to listen to when he was still a DJ at 99.5 RT, and recently found out that he was the one who bought my iPhone 4s before!) and requested for their Action Camera. A week later, the CD-R King Action Camera was delivered to me. Read on to find out what I think about this little gadget from CD-R King.
SPECIFICATIONS:
Camera: 12 Megapixels with 120 degree angled lens, video recording capable up to 1080 Full HD at 30fps
Display: 1.5″ TFT Display
Wireless Connections: 802.11 b/g/n
Memory: MicroSD Card (required) up to 32GB
Battery: 1,000 mAh
SRP: Php 3,380.00
THE UNBOXING
Judging by the size and weight of the package, it looked like I was getting more than the CD-R King Action Camera itself. I was right. Aside from the Action Camera, it also came with a Waterproof Case, a bike mount, a helmet mount, and a car mount. So sulit for its price!
THE LOOKS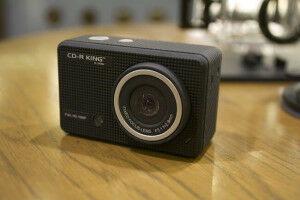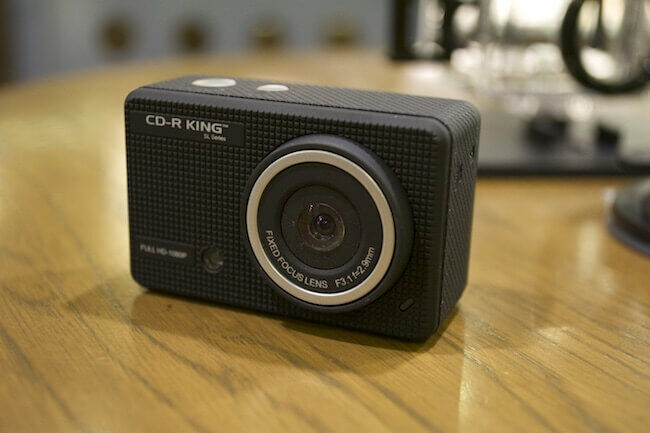 Removing the CD-R King Action Camera from its waterproof case reveals a smaller and cute digital camera that could be mistaken for a toy.
On the right side of the Action Camera are the HDMI and Micro USB ports. This is also where the MicroSD card can be inserted, and from what I read in the box, it can only store files up to 32GB. Take note that without a memory card, you won't be able to take any photos and videos as it doesn't have any internal storage.
Threaded hole for monopods and tripods.
The smaller button on the left is the power button while the other one is the shutter button.
Even with its small size, the CD-R King Action Camera has a 1.5″ display with menus that are quite easy to read and access. Controls are found on the right side of the display.
With the looks of this Action Camera, I don't think I will be embarrassed using this in public. It doesn't look cheap, and the black and silver color variants suggests that it can be a serious alternative to its expensive counterparts.
FEATURES
The CD-R King Action Camera has 3 modes to help you capture moments while you're in the middle of the action: Photos, Videos and Car. Taking pictures with the Action Camera is pretty straightforward: all you need to do is simply press the shutter button and that's it! No need to focus, no need to check the aperture or play with the settings. Its lens angle is fixed at 120 degrees which means it is capable of taking "groufie" photos. The Action Camera offers four image resolutions for still images: 5 MP, 8MP, 10 MP and 12Megapixels. For more advanced users, there are a few other settings you can adjust like image quality, metering, white balance and ISO.
On to videos, the Action Camera can let you choose among 720P (30fps), 720P (60fps) and 1080P (30fps) to suit your preference in recording your sports activities. Car mode is quite similar to Videos, only more suitable for cars when used a dashboard recorder.
The accessories included in the package which I've mentioned earlier makes it a great value for those buying this Action Camera as they are pretty much the basic stuff we're gonna need especially for first-time users like me. So far I've used the car mount and waterproof case during my review (I do wish the latter will stay waterproof for as long as it takes.) It doesn't come with a selfie-stick but you can get one from CD-R King (where else?) and use it for selfies and groufies.
The Action Camera has built-in WiFi to let the user take shots remotely with their mobile devices. CD-R King has an Android and iOS app to control the camera from your tablet or smartphone whether for taking snaps or record videos.
PERFORMANCE
I'm aware that the 12 Megapixel camera is interpolated, which means it was tweaked by software to increase the megapixel count but not clear enough to see the details when the photo is blown up. Maybe that's one of the major differences between the GoPro which costs 6 times more than the retail price of the CD-R King counterpart. But hey, as long as I am able to take selfies or videos while in the waters of Palawan, I'm good!
Now let's check out the photos I've captured with the Action Camera. I've resized them so that they could be easily viewed:
Viewing the photo at first glance is fine, but if you look closely at its details, some parts kinda looked washed out.
This was taken inside one of my favorite coffee shops. I took this photo to demonstrate how much can fit taken with the Action Camera's 120 degree angle fixed lens. If I used a smartphone to take this photo, only the MacBook and myself will fit inside its viewfinder and not my other laptop, tablet, and food on the table. The Action Camera doesn't have a built-in Flash or even an HDR mode so do not expect bright photos in low-light conditions.
Here's another photo inside a convenience store with brighter lights. The photo looked pretty decent so those who plan to take selfies inside this kind of light condition should be happy with the outcome.
Here are some samples videos I've taken with the CD-R King Action Camera attached to the Car Mount. The first video was taken during daytime while the other at night:
Not bad! I'm not saying it should replace a dashboard video recorder but it's possible just in case you need one. I could use this for my road travels so I would be able to view my route just in case I get lost going back.
BATTERY
The battery supplied with the CD-R King Action Camera is 1,000 mAh. Based on my actual usage, the Action camera can last around 1-1.5 hours. Battery is not replaceable, but you can charge it with a Micro USB cable connected to a power outlet, cigarette lighter charger as well as a powerbank.
DR'S CONCLUSION
Sure it's not as great as the GoPro or the Sony Action Camera, but given its really low price of Php 3,380.00, IT'S NOT BAD AT ALL! In fact, the CD-R King Action Camera is now part of my everyday gear just in case I need to use it for situations my smartphone can't. I'll be bringing this along to my 1 week vacation in Palawan in the next couple of months so I can take clear underwater photos in paradise.
So if you want to take better images and videos as well as take advantage a wide array of accessories, go for the GoPro, but if you want a cheaper alternative to use it for fun selfies and underwater, I don't think you'll go wrong with the CD-R King Action Camera.