ASUS teams up with Designworks, a BMW Group Company, in materializing a re- imagined gaming future, the ROG Face Off. This collaboration fuses innovative aesthetic appeal and a hyper-boosted gaming experience.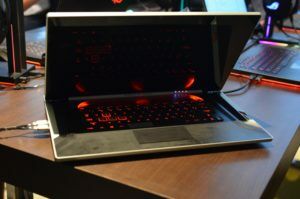 The ROG Face Off concept focuses on minute attention to detail as it tweaks little by little the conventional build of a standard gaming laptop today. It pushes through the boundaries as it wanders an unknown gray area in inventing new possibilities.
Face Off's design is intricately integrated with latest technology as both ASUS and Designworks begin their reach towards tomorrow. Specifically, its innovative model takes on a sleek and aggressive theme as inspired by the BMW Motorrad VISION NEXT 100 motorcycle.
The surface of the laptop caters for the ultimate convenience of gamers especially in the keyboard. It's intuitive tactile design makes it incredibly easier for users to interact using the keys. To be more spot on, a smooth metal skin covers WASD cluster and left side of the space bar and a rubberized cover is present within the WASD for better grip.
Futuristic and forward- thinking, the concept features sets of progressive gills that ventilates and at the same time enhances the laptop's demeanor. ASUS and Designworks also made a point in highlighting every single component present in the Face Off with additional lightings across the interior.
This concept Gaming notebook will not be made available, but who knows? Maybe ROG and BMW will push through with the project in the near future!