I've been using the Huawei Y6p for over a week now and I'm already enjoying it. I love its youthful, trendy colors and its premium quality fooled a lot of my friends thinking it's a high-end smartphone. While I am known for pushing smartphones to their limits by making it do all sorts of stuff from managing my work correspondence and appointments to personal entertainment. Since I already have the Huawei MateBook D15 to do the bulk of my workload, I relied on the Y6p for my personal entertainment ang mobile gaming needs. This convinced me that the Huawei Y6p is capable to be a pure entertainment device for the youth.
The primary source of the phone's entertainment come from the Huawei AppGallery. In case you are still living under the rock, the AppGallery is the world's third largest App Store and it keeps on growing with more popular apps being added. There's no need to worry about security issues because the AppGallery has a four-layer threat detection to protect its users. It conducts inspections for apps that call, collects or upload sensitive data from users without permission, and scans apps for loopholes or vulnerabilities.
The Huawei AppGallery has some special features too! If the app you need is not yet in the AppGallery, you can enter the app's name in the Wish List section and they'll do their best to bring it over. Users have an option to automatically install the app once it becomes available. Unlike other app stores, the AppGallery rewards its users by giving them special points, app vouchers, gift packs VIP privileges and other incentives.
Now that I've shared what the Huawei AppGallery is all about, let me share with you the apps I downloaded to keep me entertained.
I love watching TV series and movies, so I need apps that would let me watch for hours. I jumped into the Korean TV shows bandwagon so I downloaded Viu. I was already a Viu subscriber two years ago so I am familiar with what the app is offering. My favorite shows as of the moment are "A World of Married Couple" and "Dr. Romantic." Do you know the Korean movie "Parasite" which won several Oscar awards including Best Picture? It's also available on Viu! Aside from Korean shows and movies, the app also offers my favorite Cooking and Food shows in Cable TV. Shows like Cake Boss, Iron Chef Gauntlet, Cheap Eats as well as Asian produced shows like Food Paradise, Cooking for Love and the long-running Jason Tastes Asia are there as well!
I also installed another VOD service on the Y6p. I'm an iflix subscriber since it was introduced here in the Philippines 5 years ago and they also offer both local and international TV shows and movies. Another app I use is already pre-installed in the Y6p. Huawei Video offers Asian content, but what draws me to it is their Hong Kong TV shows. I love watching Hong Kong produced movies and TV series so watching the TVB content of Huawei Video makes me feel at home. My favorites are the comedy "Watch Out, Boss" and the action-packed Infernal Affairs based on the popular movie series.
Now, you guys might be wondering, why didn't I include Netflix and YouTube in my list of video apps?
As of the moment, these apps are not available in the Huawei AppGallery, but I have some good news. An older version of Netflix can be installed on the Y6p. To do this, just go to APKPure or APKMirror and download the apk file of Netflix version 4.6.0 Build 7816. Once downloaded, install the apk file and sign in to your Netflix account. Since it's an older version of Netflix, there are some features that are not present like offline viewing. But hey, as long as I have Netflix, I am already chill with this version.
Also Read: Huawei Y6p Review: A Viable Choice among Entry-Level Smartphones
YouTube, on the other hand is not downloadable, but there is a workaround! All I did was open the Y6p's browser and type YouTube.com. I can even change the video's resolution like in the app. Since I access YouTube a lot, I made a shortcut of the browser on my homescreen so I can access it quickly. The same can be done to other Google apps like Google Search and Google Drive.
For my music needs, I downloaded Spotify from the AppGo app. I'm able to appreciate my playlist while working in the office thanks to the Y6p's loud and clear speakers. If I want to listen to music and podcasts privately, I can plug in my favorite headphones' through the 3.5mm headphone jack or listen to it wirelessly with my Huawei Freebuds 3. I also have lots of music files that aren't on Spotify, so I uploaded several of my mp3 files to the Y6p. I'm not worried about running out of storage because I can add a MicroSD card to store more music.
Young people are into TikTok nowadays and if any of you are wondering if this popular app is available in the Huawei AppGallery, the answer is an absolute YES! Stream your favorite dance moves or participate in the latest challenges and maybe you'll become a trending sensation in the platform. Kumu is another alternative to stream your talents. The good thing about it is not only you get to stream, you get paid for it too! Kumu is also available in the AppGallery. I'll be trying out Kumu so I can share my short unboxing videos in this fastest growing platform.
Let's move to the more exciting part of the phone – mobile games! The AppGallery offers several action packed games that would make your heart race. The first game I downloaded was Free Fire, a battle royale game where you have to outlive each other by picking up weapons, health packs, and loots of the enemies you've defeated. Last man standing wins!
If you're into RTS (Real Time Strategy) games, check out Rise of Kingdoms and get the chance to change your civilization's history. Online Role-playing games are also available from the AppGallery. Lords Mobile is a good choice for this type of game.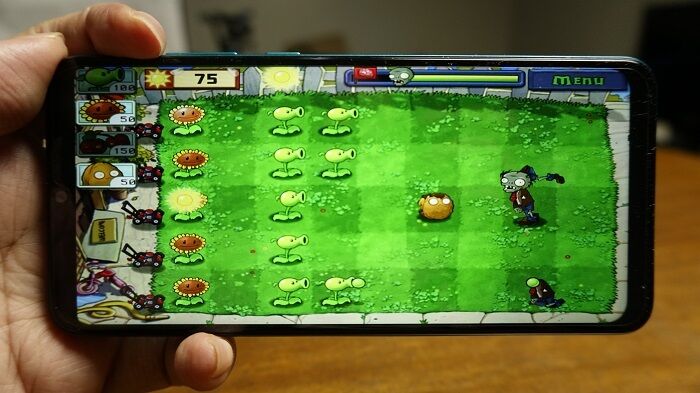 Now, if you're not into these types of games, I gotchu fam! The AppGallery also offers classic casual games. The popular Plants Vs Zombies was a favorite game I had on my PC 11 years ago and it's now installed on the Y6p if I want to take a break from my other action games. I could spend hours just playing this cute and fun game. Cut The Rope 2 is another favorite in the early days of Android and I'm glad that it's also available now in the AppGallery. Other classic games similar to Text Twist and word puzzles are also fun to play and at the same time helps update my vocabulary.
Whether playing action or casual games, having a big storage and memory are essentials in a smartphone. Apps and games of today take more storage and occupy more memory, so having anything less than 64GB of storage and 4GB of memory might result to crashing your phone. Years ago, I am able to enjoy having these configurations in high-end phones, but thanks to Huawei users of the Y6p will be able to enjoy 64GB of Internal Storage and 4GB of memory for a price of an entry-level.
Also important to smartphone users is the battery life. I personally hate having to run out of power while in the middle of playing games. Thanks to its 5,000 mAh battery, I do not have to worry about looking for a power outlet to charge the Y6p. Chances are, the phone can even last at least another day.
Of course, I also needed my other social media apps not only for entertainment but to be updated about my friends' activities. I was able to download Facebook, Facebook Messenger, Instagram and Snapchat thanks to AppGo. You can use the app if in case what you're looking for is not in the AppGallery.
So you see, I'm able to have a lot of stuff in the Y6p that can keep me entertained all day. What's really great about it is it doesn't cost a fortune to pay for an excellent phone like the Huawei Y6p. With a price tag of P5,990, it's not only a very affordable trendy-looking phone, it's a pure entertainment device for the young and the young at heart.
If you need more information about the specs and features of the Huawei Y6p, visit this link: https://consumer.huawei.com/ph/phones/y6p/.
I highly suggest purchasing the Huawei Y6p. Clink on this link to purchase one now! https://tinyurl.com/ya2vgk2f