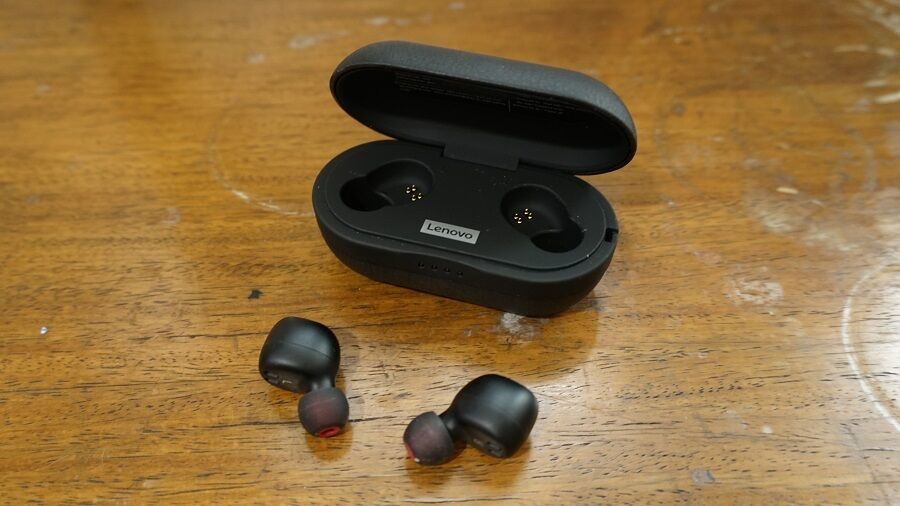 When I was offered to review the Lenovo Trackpods TWS Buds, I was like "really? they're going to make other products than laptops and smartphones?" Apparently, Lenovo wants to make its own ecosystem and that seems to be the trend today. Xiaomi lead the way, followed by Huawei, so I guess Lenovo, with all its resources would come up with their own ecosystem too. Let's see what the Trackpods TWS can offer.
LENOVO TRACKPODS TWS BUDS SPECS:
| Weight (earphones only) | 9.07g |
| --- | --- |
| Bluetooth Version | 5.0 |
| Wireless range | 10 m |
| Charging port | USB Type-C |
| Battery capacity | 50 mAh (headphones), 800 mAh (charging case) |
| Price | P3,995 |
THE UNBOXING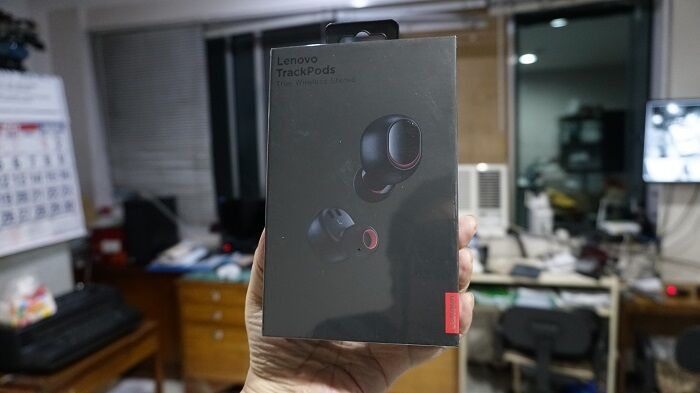 The Trackpods TWS Buds came in a black packaging which gave me an impression that Lenovo is taking its audio game seriously.
Unboxing reveals the Trackpods TWS Buds, its charging case, Type-C USB Cable, extra ear buds, wrist strap, and a pouch. It's nice to see extras like the wrist strap for the charging case and the pouch to house the whole thing.
THE LOOKS AND FEEL
The Trackpods have a thick shell made of plastic with a touch of matte to make it look and feel like a premium pair of earphones. The outer part of the buds have physical buttons that can perform multiple functions to control calls and audio. The buds have some sort of coating so it's kinda hard to clean after every use. In case the buds do not fit well in your ears, you can change it with the extra buds that came in with the package.
The charging case charges the Trackpods when docked. When placed inside the case, the Trackpods are securely locked in its place thanks to its magnetic mechanism inside. The charging case is the biggest I've seen among all wireless earbuds I've reviewed. Despite of its size, it can still easily fit inside a pants pocket and even its exterior has a sense of style thanks to its faux leather material.
Also Read: Lenovo K5 Pro Review
THE PERFORMANCE
Pairing is easy with the Trackpods TWS Buds. All I needed to do is remove them from its charging case and it would be detected immediately by my phone. When pairing with other devices, I just had to press both of the buds' buttons for 6 seconds and it will be on pairing mode. What I noticed after pairing the Trackpods is the lack of its battery meter in my phone's notification window. I had to go to my phone's Bluetooth settings to check the buds' battery meter. I wish Lenovo had included this feature.
The buttons can perform multiple functions so you don't have to pull out your phone from your pocket or bag. Press once to play/pause the music or answer/hang-up a voice call. Pressing the button twice will let you skip a track while pressing it thrice will go to the previous song. I tested all of these functions and they all work well. I initially prefer having touch panels instead of physical buttons, but after using the Trackpods for a few weeks, I realized that it has some advantages over the other earphones with touch controls. Physical buttons are less prone to accidental taps which happens a lot whenever I touch my ears. Having said these, what I like about having sensors is the ability to control the volume wirelessly. This is what the Trackpods lack and I had to bring out my phone to adjust its volume.
The Trackpods fit really well with my ears. It rarely wiggled while I did some walking outside. I've never tried it yet, but I think it will still stay intact on my ears while jogging. Since I mentioned about jogging, the Trackpods have IPx7 WaterProof design, meaning sweat will not affect the buds at all.
I listened to different types of music tracks with the Trackpods and it sounded really good. Bass and treble are well-balanced and the sounds it produced were immersive, even it doesn't have Active Noise Cancellation (ANC.) I'm glad that the Trackpods support the aptX codec, which to put it simply, makes the sound a lot better. However, this would only apply if the phone you paired it with also supports the aptX codec. Normally, phones powered by Qualcomm has this. I also tried using it for making voice calls and video call apps like Zoom and my voice sounded clear to the other parties.
THE BATTERY LIFE
The Trackpods have a battery capacity of 50 mAh and I'm averaging 8.5 hours on a single charge. This is very impressive because the longest usage I had was for 5 hours with the OPPO Enco Free. The charging case has a capacity of 800 mAh andcan charge the Trackpods up to 4 times. No wonder it's so big compared to other wireless buds' charging cases! The charging case can be charged with a Type-C cable supplied in the package.
DR'S CONCLUSION
The Lenovo Trackpods TWS Buds is surprisingly good, but what really surprised me is its retail price of P3,995. Its premium looks, sound quality and long battery life with useful extra accessories like the wrist strap and pouch makes it a really good buy.
Purchase the Lenovo Trackpods TWS Buds can be purchased from the Lenovo Mobile Flagship Store.
PROS:
Design with matte finish looks premium
Sound quality is good overall
IPx7 rating
Long battery life
Reasonably priced
CONS:
Earbuds are hard to clean
No Trackpods' battery meter in the phone's notification window
No volume control on the Trackpods