We've dropped by the MSI Booth for COMPUTEX 2023 and checked out their displayed hardware.
MSI Booth: Laptops
One major exhibit in the MSI Booth is their partnership with Mercedes-AMG Motorsport division. A custom MSI Stealth 16 laptop with Mercedes-AMG Motorsport branding, packaging and some unique features on the laptop. More info on the Stealth 16 Mercedes-AMG Motorsport here.
There are several other laptops on display alongside the MSI Stealth 16 Mercedes-AMG Motorsport. Models such as the GT77 HX 13V Titan, Katana 17 B13V, Cyborg 15 A13V, Pulse 15 B13V, and Alpha 17 C7V focus on gaming and allow visitors to play.
For creatives, the Creator Z16 HX Studio is an award-winning laptop that offers performance with a thin form factor, and if looking for a bigger screen, there's the CreatorPro X17. And for businesses, the Commercial 14, Prestige 13 Evo are choices for enabling secure work experience with NFC proximity key for Commercial 14, while Tobii Aware is available for Prestige 13 Evo for screen privacy protection.
MSI Booth: All-in-Ones and Mini PCs
Aside from laptops, MSI markets All-in-Ones and mini-PCs. Here are some models exhibited in their booth.
Portable monitors are also exhibited: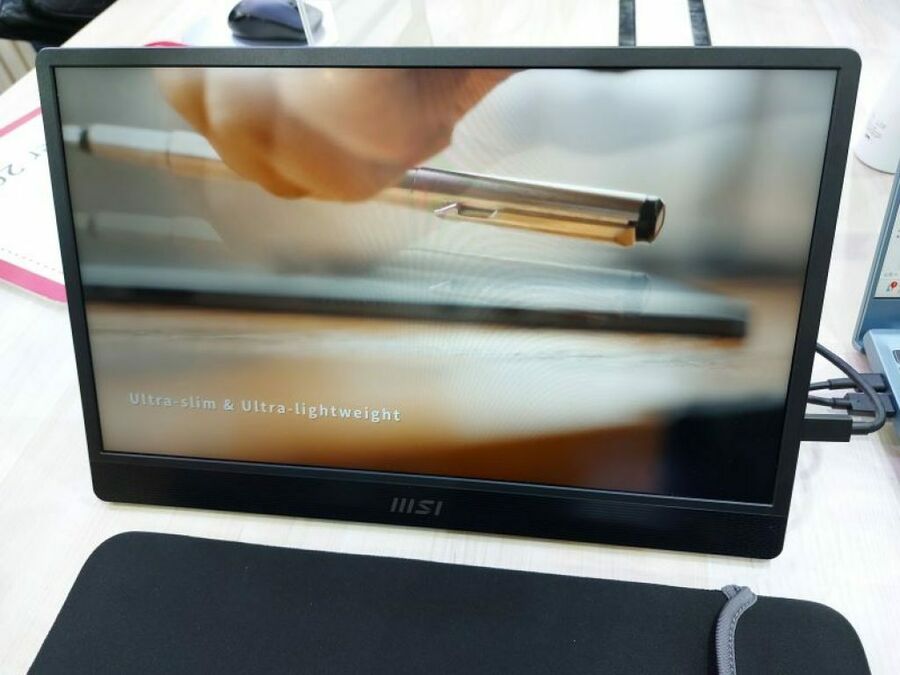 MSI Booth: PC Components
MSI produces a wide range of PC Hardware, from motherboards, graphics cards and power supplies to even desktop cases and M.2 SSD Drives. The booth showcased their MEG, MPG and MAG product lines each with their own PC builds using each lines' board, power supply, case and cooling solution. Also, all of the featured Z790 motherboards from MEG, MPG and MAG now sport WiFi 7 as part of a refresh this year.
The MEG Prospect 700R PC Build makes its presence felt in the display, with its large size permitting the MSI MEG Z790 Godlike to be installed snuggly inside as well as a 4090 Gaming X Trio GPU.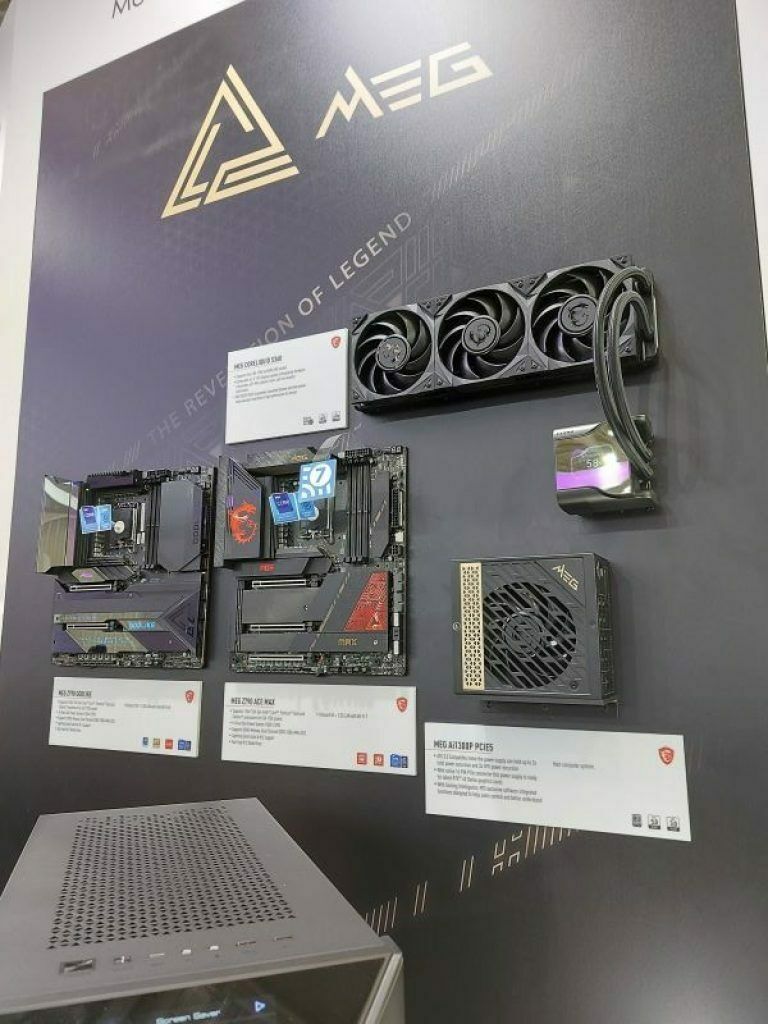 The MPG 110R Gungir PC Build features a streamer' setup with MSI's Immerse GV60 Streaming Mic, Vigor GK71 mechanical keyboard, Clutch GM51 lightweight gaming mouse, and an MPG Artymis 27″ monitor to round out peripherals. The PC is however equipped with MPG Z790 Carbon MAX WiFi, and what looks like a new MPG Coreliquid 360 model with the same LED block as the MEG Coreliquid S360 with ARGB fans, and what appears to be an RTX 4080 Gaming X Trio GPU.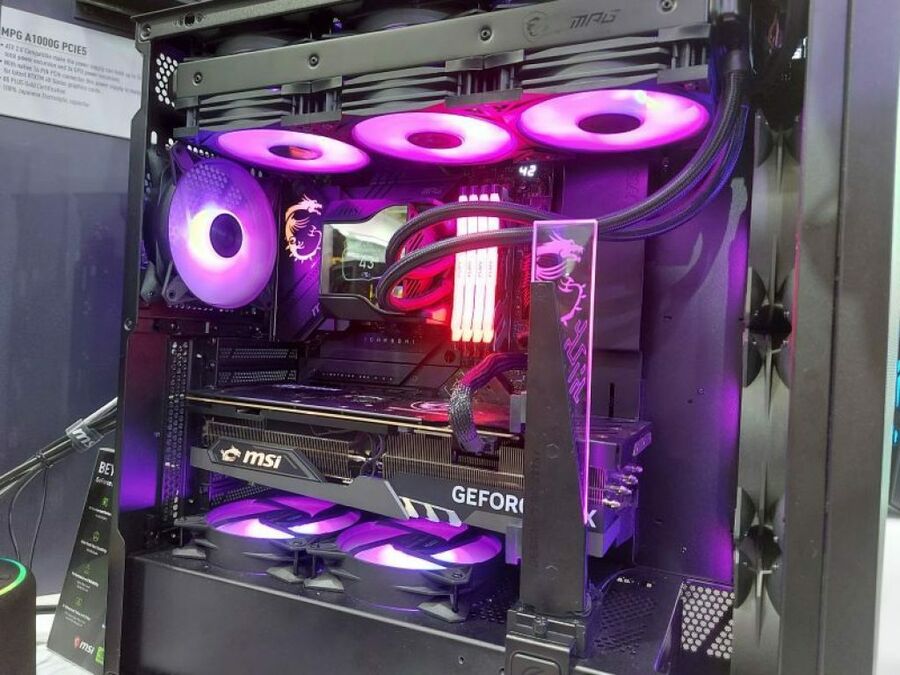 The MAG PC Build has a more modest setup with a MAG B760M Mortar, MAG CoreLiquid E240, RTX 4070 Ventus 3X 12G Graphics Card.
MSI also featured an all-white PC build with a mix of MPG and MAG parts.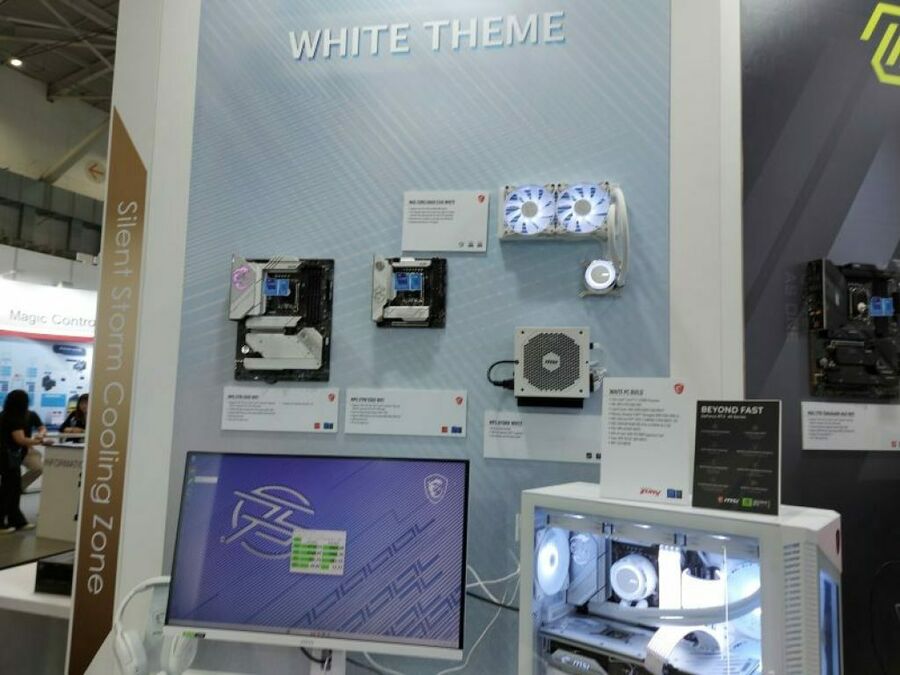 Another thing to note of their booth is the collection of SPATIUM drives MSI has on offer. They did show off the new PCIE Gen 5 SSD drives, with each PCIE 5 SSD having a thicker heatsink than the last one.
Last but not the least is MSI's display of its various graphics cards. They have the usual Ventus, Gaming X and top-of-the-line Suprim Graphics cards, but amongst the RTX 4090s, RTX 4080s, RTX 4070 Tis and RTX 4070s are the newly release RTX 4060 Ti and RTX 4060 in their different product variations.
And this wraps upon our MSI Booth Tour this COMPUTEX 2023!