It is so nice to be back at COMPUTEX 2023, especially at the ASUS Republic of Gamers booth. We were so excited to see what they have on display which always draws a big crowd every year. Though most of the new products were already announced earlier this year, it's a treat to see them all up close
ROG ALLY
What started out as an April Fool's Day joke turned out to be real. The ROG Ally is a true Windows 11 gaming handheld capable of playing all your favorite PC games wherever you go. It has a 7-inch Full HD 120Hz display with high-refresh rate and an ergonomic design that makes it comfortable to play with. Inside the ROG Ally is a brand new AMD Ryzen Z1 Series processor, powerful enough to play the latest graphic-intensive games. It comes with a storage of 512GB and 16GB memory.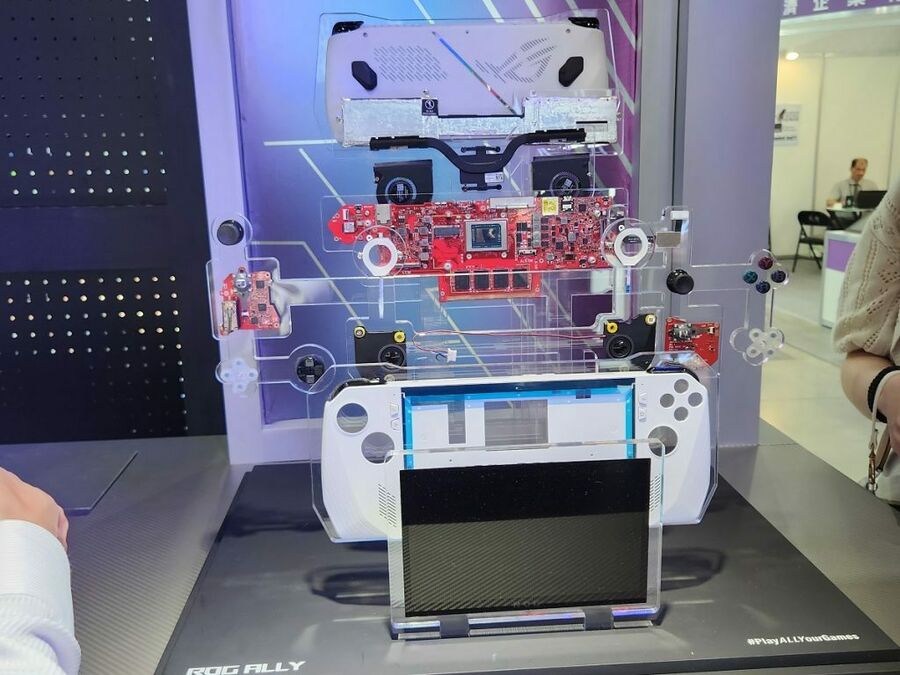 Also on display are the internals of the ROG Ally.
We already have sample units being reviewed in the Philippines. We are still waiting for the official launch date.
ROG Gaming Laptops
Of course, the ROG laptops were also on display at COMPUTEX 2023.
We found the 2023 editions of the ROG SCAR 17 and 18, ROG Zephyrus M16 and the popular G14. They were already announced earlier this year.
On the other side of the display are the ROG Flow X13 and Z13. The Flow X13 was introduced in 2021 as an ultra-thin gaming laptop that can be used as a tablet. It has a 13-inch QHD Nebula Display with 165Hz refresh rate, powered by an AMD Ryzen 9 processor and up to an NVIDIA GeForce RTX 4050 Laptop GPU.
The ROG Flow Z13, which originally came in a year after the Flow X13, returns with upgraded components. It also has a 13-inch QHD Nebula Display with 165Hz refresh rate, and is powered by up to an Intel Core i9-13900H and NVIDIA GeForce RTX 4060 Laptop GPU. The Flow Z13 is not just for gamers. It can also be a fantastic partner for artists with its native stylus support and tools like NVIDIA Canvas. All of these packed in an incredibly thin and light device, measuring in at just 12 mm thick and 1.1 kg in weight.
ROG Matrix RTX 4090
The ROG Matrix RTX 4090 boasts the industry's first liquid metal thermal solution directly on the graphics card's GPU die, allowing for even lower temperatures for superior sustained performances, and lower noise. Plus, a 360 mm radiator with innovative magnetic daisy-chainable fans, and a more powerful pump and larger full-covered cold plate come together to keep the graphics card cool at all times. This allows for unrivalled performance with the highest GPU boost clock. What's more, this card features an incredibly bold and modern design, perfect for the most advanced gaming build setups.
The ROG Matrix RTX 4090 will be available in Q3, 2023.
ROG Swift OLED PG49WCD and Swift 360 Hz PG27AQN
Other novel products on display at the ROG Booth this year include the ROG Swift OLED PG49WCD monitor, a 49-inch super-ultrawide (5120 x 1440) gaming monitor, featuring an 1800R QD-OLED panel with 144 Hz refresh rate and 0.03 ms response time for immersive gaming experiences. To ensure QD-OLED longevity and better performance, it includes a custom heatsink and graphene film, the thinnest yet strongest nanomaterial in the world, behind the whole QD-OLED panel, for better heat dissipation to reduce the risk of burn-in and boost the peak brightness up to 1000 nits 5 . The monitor offers a range of connectivity including a USB-C with 90 W power delivery, DisplayPort 1.4, and HDMI 2.1.
Another monitor worth mentioning is the ROG Swift 360 Hz PG27AQN now with G-SYNC Ultra Low Motion Blur (ULMB) 2. With its over 1000 Hz of effective motion clarity, ULMB 2 offers the best motion blur reduction for competitive gamers available today. To do this, ULMB 2 ensures that each pixel shows the right color at the right time to help get rid of the blurry look gamers sometimes face when objects are moving fast on their screen. ULMB 2 turns the screen's backlight on and off at a high frequency to handle these scenarios. Furthermore, in instances where the backlight turns on when pixels are still changing colors, this sometimes doubles images and creates unwanted visuals in other monitors. To avoid this, ULMB 2 uses a special technique called Vertical Dependent Overdrive to ensure that the backlight only turns on when all the pixels are showing the right color. This results in clearer pictures and visuals even when scenes and objects are moving fast. It also delivers full refresh rate backlight strobing, nearly 2X-higher brightness than the original ULMB, and zero crosstalk/double images.
ROG Swift 360 Hz PG27AQN users can enjoy ULMB 2 now by installing the new firmware.
ROG Strix Scope II 96 Wireless
Another standout product at COMPUTEX 2023 is the ROG Strix Scope II 96 Wireless, ROG's first 96% wireless gaming keyboard, with hot-swappable switches, featuring the all-new ROG NX Snow mechanical switches, unique dampening foam with integrated switch-dampening pads, tri-mode connection with ROG SpeedNova wireless technology, and ROG Omni Receiver. ROG Omni Receiver allows users to connect their compatible mouse and keyboard via a single dongle receiver – without compromising performance.
Also new in the Scope II series are the ROG Strix Scope II 100% keyboard, also featuring the new ROG NX Snow switches, and ROG Strix Scope II RX, featuring IP57 and ROG RX optical switches.
ROG Ace Esports Collection
ASUS also showcased other new products for the ROG Ace esports collection, a peripheral lineup dedicated to delivering the best performance for esports gaming. A Moonlight White version of the ROG Harpe Ace Aim Lab Edition is added to the midst, and now also supports the ROG Omni Receiver. Additionally, ROG introduced two new mouse pads to the line up-the ROG Moonstone Ace L, a large sized mouse pad featuring a tempered glass surface for ultra-fast glides, and the ROG Hone Ace XXL, which is an extended, table-sized version of the ROG Hone Ace Aim Lab Edition launched earlier this year, with an extra-soft, anti-slip polyurethane base.
ROG Rapture GT-BE98
Gamers will also be excited to hear about the latest ROG WiFi 7 router, the ROG Rapture GT-BE98 — the world's first quad-band WiFi 7 gaming router, awarded during the COMPUTEX 2023 Best Choice Awards ceremony — with lightning-fast speeds and low latency for seamless online gaming experiences. The ROG Rapture GT-BE98 enjoys the benefits of WiFi 7 with 6 GHz band, featuring a new 320 MHz bandwidth, 4096-QAM, and Multi-Link Operation (MLO).
ROG Motherboards
Lastly, ROG showcased its motherboards, including the COMPUTEX 2023 Best Choice Award winner, the ROG Maximus Z790 Extreme, built for extreme performance and overclocking, as well as the ROG Strix Z790-A, which balances exceptional gaming performance with striking looks for style-conscious gamers.
This special coverage of #COMPUTEX2023 is powered by PLDT Home.