Dads are a beacon of light whose love leads the way rather than an anchor to keep us back or a sail to get us there. He took on the role of a parent in order to provide his child with something mythological and inestimably valuable: a protector. As Father's Day approaches, the perfect time to brag and express our affection is right now. Whether you take your dad to the movies or pleasantly surprise him with one of the best Father's Day gifts ever, CHERRY has compiled the best 5 gifts, making your hunt for the ideal present a breeze:
Dad Kept Us Safe and Sound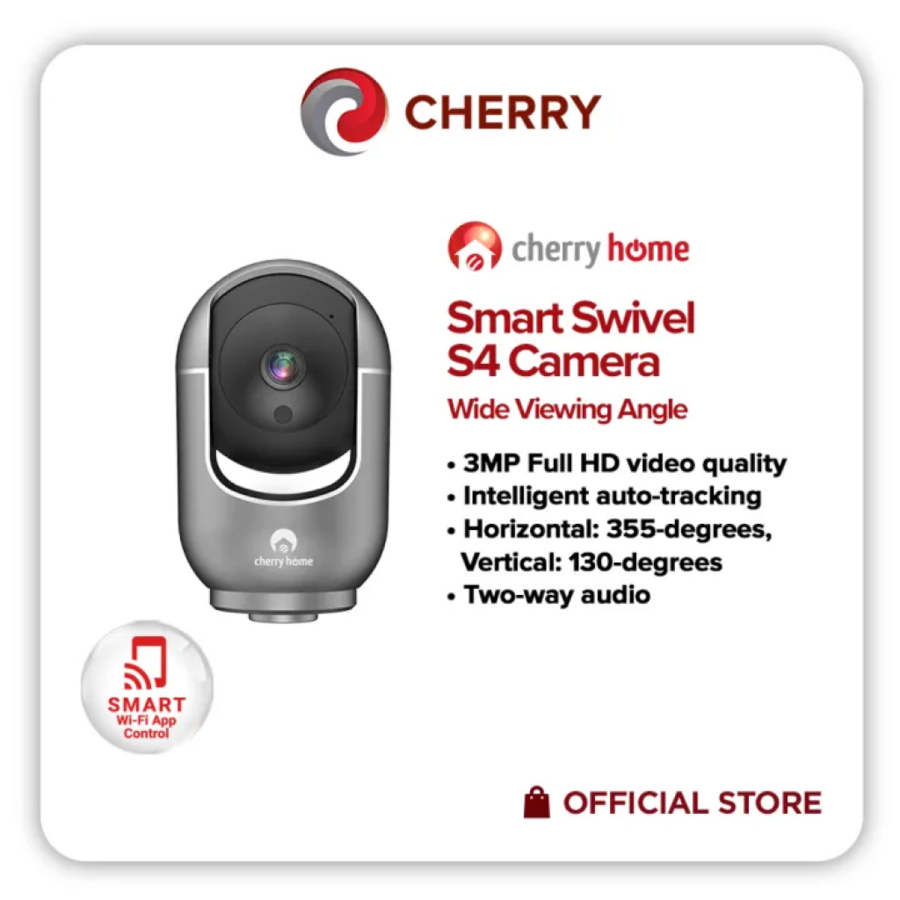 Convenience and security are at the tip of dad's finger. With CHERRY Smart Swivel S4 Camera 3MP full HD video quality, he can watch over your house while he's away. Due to the security camera's broad view angle and intelligent auto-tracking (horizontal 355°, vertical 85°), he can monitor 24/7 live security camera feeds and receive alerts for any suspicious behavior. He can also communicate with your family members while observing them from a distance utilizing this two-way audio between your smartphone and camera. In relation to smartphones, the CHERRY Flare S8 Deluxe highlights a 6.26″ HD+ TrueView Teardrop Display with 4GB RAM and 64GB ROM. Secure and smarten up your home with CHERRY Smart Swivel S4 Camera for ₱1,649 and CHERRY Flare S8 Deluxe for ₱3,999.
Home Is Wherever You Are
Most Filipino households regularly have a TV as a source of entertainment at home. Enjoy an engaging kind of entertainment with CHERRY Aqua Smart TV. Dad can stream his favorite movies and TV series anytime he wants, so there's no need to wait for the program queue. With three sizes and an attractive price, CHERRY Aqua Smart TV is a smart choice for your home entertainment. Choose from a 55-inch model with a 4K UHD resolution and a more recent version of the Google TV operating system. You can have all these features for ₱29,999. On the other hand, a 43-inch model with Full HD resolution and 74W power output is also available and costs ₱19,999. If you want to save some space, you can purchase an Android TV OS-powered 32-inch model that has HD resolution and a 60 Hz refresh rate for ₱11,999.
I Know Dad Will Fix It
Nowadays, practically every family member makes use of gadgets and electronics. However, as we utilize our devices to brighten up our daily lives, we need a built-in safety feature to keep them safe. Help dad to keep tabs on your energy consumption with CHERRY Smart Universal Extension Cord. Appliances and devices can be configured with timers and schedules that can be used to help conserve energy. It has universal sockets that work with 16A high-power plugs and 5V USB ports. Additionally, it contains flame retardants to either slow down or stop the spread of fire. Using internet connection and the CHERRY IoT Solutions App, dad can direct the device to operate on its own even when he is at work or running errands. Moreover, he can use Siri shortcuts, Google Assistant, and Amazon Alexa providing more comfort and control. Bring home your Cherry Smart Universal Extension Cord for ₱1,619.
Little Scraps of His Wisdom
Dad believes that a healthy you is the finest present you can give to your loved ones and the rest of the world. It is vital to exercise caution both inside and outside of our home. The CHERRY Car Ionizer with Air Purifier helps clean the air in your car. It has a 4-stage filtration system with HEPA and carbon filters, 360-degree coverage for purification, and variable fan settings. It can emit 20 million negative ions. Additionally, it is portable and can be stored in a cup holder in a vehicle. Cap this for ₱2,500.
With these CHERRY gift ideas fit for the bravest man, you can brighten the memory of your Father's Day celebration. To purchase, visit:
Cherry Shop PH: www.cherryshop.com.ph