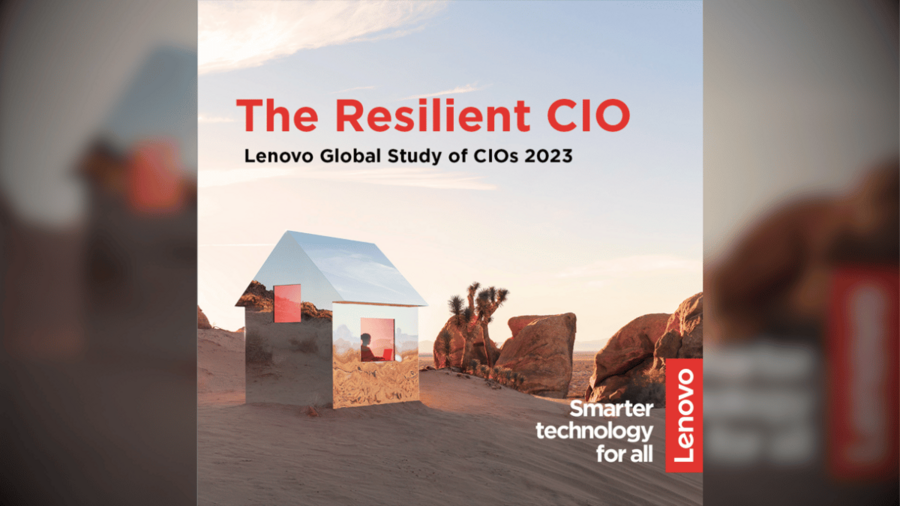 A global annual survey of Chief Information Officers (CIOs) by Lenovo reveals that despite economic headwinds and IT budget challenges, the world's CIOs are optimistic about the capacity of technology to deliver value to their organizations. Despite their confidence, the risks are real: 83% are concerned about insufficient finances to adequately invest in innovation and digital transformation, and nearly half (48%) are "extremely" or "very" concerned.
The Annual Lenovo Global Study
The second edition of the annual Lenovo Global Study of CIOs found that CIOs (48%) are also more likely to prioritize innovation in new technologies over optimizing their current tech stack. The stakes are high, with 60% of CIOs reporting that a freeze in investment to innovation would impact their business at once or within weeks across business automation, business model transformation, data analytics and environment, social, and governance initiatives. Adding to this, 33% of CIOs do not feel their organization is sufficiently resilient.
According to Michael Ngan, Country General Manager of Lenovo Philippines, the role of the CIO has become extremely demanding. "As the technology landscape becomes more complex, it becomes increasingly challenging for CIOs to implement digital transformation across the organization and prioritize initiatives and investments that yield positive business results," he shared.
It comes as no surprise that CIOs are turning towards "as a Service" (aaS) offerings for their tech stacks. Deploying aaS solutions simplifies and optimizes everything, enabling IT leaders to focus on innovation and be more agile in responding to their organizations' changing needs. A pay-as-you-go consumption model – from procurement to deployment and management of infrastructure to hardware and licensing – empowers CIOs and IT teams to focus on innovation or more strategic imperatives, a benefit that most CIOs are aware of.
The vast majority (92%) of CIOs are considering adding new aaS solutions to their tech stacks over the next two years. This is on the back of 71% of CIOs who said between 11% and 50% of their IT is currently delivered on an aaS basis. Software aaS, infrastructure aaS and device aaS are cited by more than half of CIOs as being much or somewhat more used than in the previous year.
Organic and AI opportunities for IT leaders
The analysis revealed two important priorities. The first is the rise of artificial intelligence and machine learning (AI/ML) as mainstream IT goals, which is boosting innovation ambitions. The second category is people-related opportunities, which are important for a company's success because attracting and maintaining talent is crucial.
AI/ML has quickly become an urgent priority for CIOs as they strive to stay up to date with the rapid pace of technological progress. No less than 43% feel "urgent pressure" to address AI/ML as a priority, only slightly behind cybersecurity (51%). As many as three in five IT leaders also have experienced pressure to further optimize their companies' operations.
Talent-related responsibilities including recruitment and retention (59%), managing a remote workforce (59%), managing global teams (58%), and diversity, equity, and inclusion (55%) remain significant challenges for CIOs as they expand their role to digitize operations across departments.
The full study is available at TechToday.