MONTECH announces the launch of its newest addition to the AIR PC Case series – AIR 903. Manufactured with premium-grade materials and innovative design; the AIR 903 offers users a wide range of build options along with enhanced cooling performance. The AIR 903 is available in AIR 903 MAX and AIR 903 BASE, available in both black and white.
​
High-Performance Airflow
​In order to provide users with maximum airflow for high-performance use, the AIR 903 series features an ultra-cooling front panel offering 51% porosity ventilation rate. Dust filters are also equipped at the top and bottom of the case for all-around dust protection.
​
Pre-Installed 4x140mm PWM Fans
​AIR 903 BASE is equipped with 3 pre-installed HP140 high-performance cooling fans with PWM functions. On the other hand, AIR 903 MAX, is equipped with 4 pre-installed HP140, 3 of which are mounted at the front and features ARGB, and a single HP140 PWM at the rear. The pre-installed fans are connected to MONTECH's LED/PWM controller – allowing users to easily switch between 21 RGB modes with the LED button. (Please note: controller only available for AIR 903 MAX)
Both cases can support up to a total of up to 9 x 120mm fans, or 6 x 140mm and 2 x 120mm cooling fans offering users the ultimate cooling experience. The fan RPM for both cases can be manually adjusted through BIOS.
​
Hardware Compatibility
​AIR 903 is designed and engineered for maximum capacity, compatible for both air cooling and water cooling support. Able to support 360mm AIO coolers at the front and top, or a maximum height of 180mm for CPU tower coolers. Furthermore, supporting graphic cards of up to 400mm length and 190mm width, with a 240mm clearance for PSU. It is also compatible with any flagship 4090 GPUs.
In addition, the AIR 903 not only supports True E-ATX form factors, but also SSI-EEB motherboards. Featuring 5 SSD and 2 HDD drive bays, as well as an USB TYPE-C port and USB 3.0 ports.
​
Easy Cable Management
​In order to provide users with a user-friendly cable management system and easy access, the AIR 903 series features a spacious 27mm cable route with rubber grommets and velcro straps.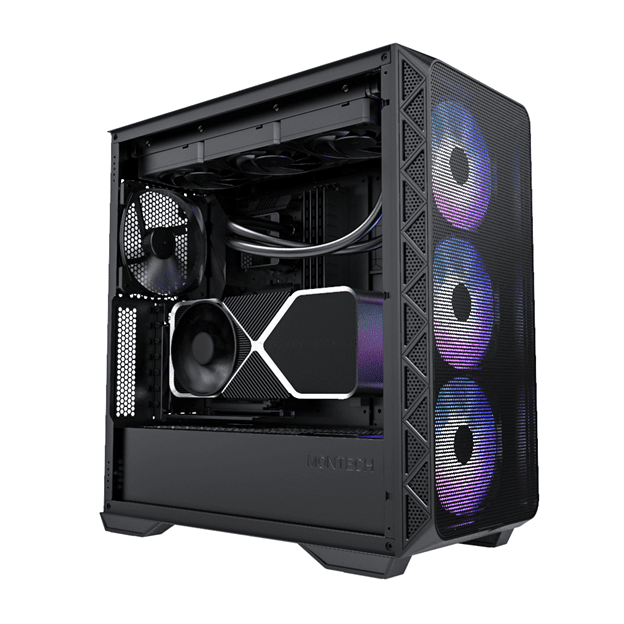 ​
Vertical GPU Mounting
​MONTECH AIR 903 features a GPU clearance of 400mm in length and 190mm in width for maximum capacity. All PCIe slot covers can be removed to install MONTECH's vertical GPU mounting kit sold separately.
​https://www.montechpc.com/en/products_detail.php?nid=305&s_ok2=​
MSRP
AIR 903 BASE
Black
$65
White
$69
AIR 903 MAX
Black
$75
White
$79
AIR 903 BASE
Specifications
Pre-installed Fan
3 x 140mm PWM Fans
Motherboard Support
E-ATX(SSI-EEB, SSI-CEB)/ATX/Micro ATX/ Mini ITX
Radiator Support
Top: 360/280/240/120; Front: 360/280/240/120; Rear: 120
Clearance
GPU:400; CPU:180; PSU:240
Expansion Slots
7
Drive Bays
SSD:5 ; HDD:2
Fan Support
Total 9 Fans
AIR 903 MAX
Specifications
Pre-installed Fan
140mm ARGB PWM x 3 + 140mm PWM x 1
Motherboard Support
E-ATX(SSI-EEB, SSI-CEB)/ ATX/ Micro ATX/ Mini ITX
Radiator Support
Top: 360/280/240/120; Front: 360/280/240/120; Rear: 120
Clearance
GPU:400; CPU:180; PSU:240
Expansion Slots
7
Drive Bays
SSD:5 ; HDD:2
Fan Support
Total 9 Fans
Available on Amazon: