With the release of SQUARE ENIX's highly anticipated "Outriders", there have been millions of gamers who have purchased the latest looter/shooter RPG title. To reward gamers with their immeasurable community support of AORUS, and Gigabyte products have partnered with SQUARE ENIX. From now on until supplies last, customers who purchase select AORUS gaming monitor or motherboard can redeem a free copy of "Outriders". Redemption for a free copy is relatively easy and quick upon registration of the product. AORUS empowers gamers to play today's popular game for free while upgrading their gaming rigs.
Gigabyte has been providing gamers with the most high-end hardware for years. Through the AORUS motherboards' best power design and thermal management; AORUS is able to unlock the full potential of the new-gen processors. This enables gamers to reach super high frame rates at the highest settings possible. With PCIe 4.0 support, gamers can enjoy gaming even more with higher bandwidth and improved CPU performance. And with the new AORUS 4K Pro gaming monitors, the brightest and stunning panels of a 4K ultra-high display have entered gaming. Featuring one of the fastest refresh rates and response times available, gamers can truly witness every second and aim with confidence.
Participating Gigabyte/AORUS Monitors
Here are the participating monitor models for the promo. Click on their links to know more.
Participating Gigabyte/AORUS Motherboards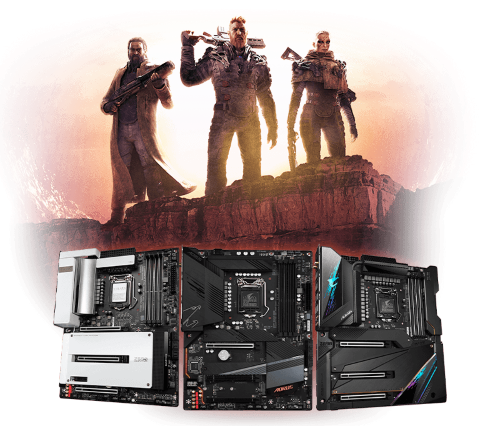 The list provides a general view of the participating model range. Clicking on the links will show a filtered view of all participating models.
Gigabyte and SQUARE ENIX Outriders Mechanics
While gearing up in Outriders, let AORUS take care of the hardware. For more details and to redeem your free game, please visit the event page: www.aorus.com/redeem/outriders/