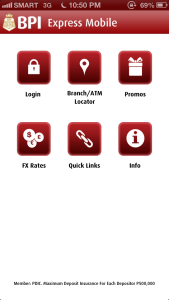 Good news for those who are using the BPI Express Mobile app on their smartphones! BPI released a major update for their Express Mobile App for both iOS and Android platforms. It's been quite a while since they launched the app in late 2011, but based on our  impressions it seems it is well worth the wait.
The main reason why I switched back to BPI last year was their mobile app. I hate lining up at banks (unless the lady tellers are pretty) just to deposit cash to another person's account which usually takes at least 30 minutes to an hour (no, I am not exaggerating). The old version of the Express Mobile app works but I encountered several issues with it. So will the new BPI Express Mobile app fix these issues? Read on.
New Design and Layout
The layout of the new BPI Express Mobile app now supports the screen resolution of the iPhone 5. I've waited for this update for months after I have moved to an iPhone 5 from an iPhone 4S last December. Upon opening the new Express Mobile app, I found new options that can be immediately accessed even if I haven't logged in yet. We'll get to those options later.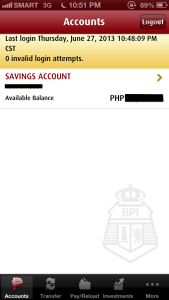 The app showed me the balance of my account after I logged in. If you happen to have more than 1 account, then all of them will be shown on the accounts page. At the bottom of the app are quick links to my desired transactions. In the previous version, I had to click on the Main Menu link before I can access these transactions. Definitely easier for me to use this time.
Quick and Easy Transactions
I needed to transfer some cash and pay my Smart bill so this is the right time to use the new BPI Express Mobile app. I selected the Transfer tab found at the bottom of the app and selected a 3rd party account.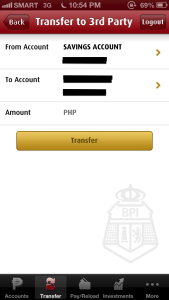 After entering the amount, I pressed the Transfer button. It asked me if I am sure about the transfer I was going to make. I pressed "Yes" and I got the confirmation message.
After the transfer, I received an email from BPI Express Mobile about my transaction.
Next is paying my Smart bill with the Express Mobile app. I selected the "Pay/Reload" tab and I was given other options like payment from savings account or credit card, or reloading wallet or phone.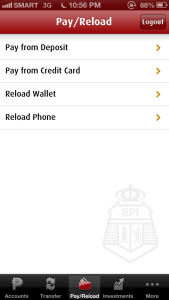 I selected "Pay from Deposit" and I saw my Savings Account with my enrolled merchant accounts. I've chosen my main Smart postpaid account for this payment.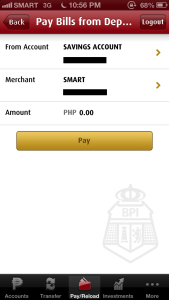 All I did was follow the similar remaining steps in transferring funds which I have shown earlier. Like my first transaction, my payment for my Smart bill went very smoothly.
Investments and More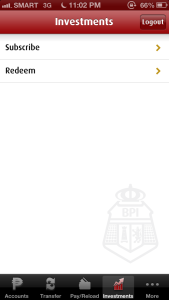 The Investments tab is a new feature in the BPI Express Mobile app. BPI customers can now view details of their investments, as well as subscribe or redeem existing funds with the app.
Selecting the "More" tab will let you go through other options such as change password, enable/disable funds transfer, enroll additional or 3rd party account, etc.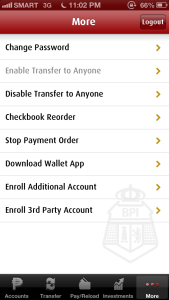 Other New Features
I mentioned earlier that there are other new options found in the main screen. The Branch/ATM locator is a very handy tool for those of us who need to visit the nearest branch or ATM. Tapping a BPI logo on the locator will reveal their contact information if you need to contact them by phone. It even shows their business hours. The ATMs found in the locator also covers those that are located inside the shopping malls.
Another useful feature now included in the app is the Foreign Exchange rates. The Exchange rates are updated daily, however I am not certain on what time of the day they do the updates. They are not shown in the app. Instead, it will be opened in your phone's browser.
Promos and Quick Links give BPI customers a heads-up on the latest promotions on BPI products while Quick Links can let users access to their social media accounts and their hotline.
Same app for the iPad and Android
There were 2 complaints that I've had when I was still using the old version of the app. First, if I use the app on a different phone, I had to go through a complicated and confusing process of re-registering my mobile phone number before I can log in. Second, the BPI app for Android didn't show properly on other phone models. I have installed it before on my Samsung Galaxy S3 and Cherry Mobile Titan and the login interface wasn't user friendly at all. These were addressed by the developers of BPI and I was able to install the app on my 3 devices and logged on to all of them without any trouble. And the new BPI Express Mobile app for Android was able to scale properly on different Android phones I have installed, from the Samsung Galaxy Y with a 3.1″ screen to a Cherry Mobile Titan with a 5″ screen.
The old version of the app can be installed on an iPad but it wasn't optimized for its large screen. Not this time, and boy it looks pretty on my iPad 4th Gen!
So yeah, there's no version for the iPad that you need to download. There's only one BPI Express Mobile app for both iPhone, iPod Touch and iPad.
Update Done Right!
I am very, very happy with this great update of the BPI Express Mobile app. It looks really great on the iPhone, iPad and Android devices. Response is definitely faster compared to the old version, and has other new and helpful functionalities that a mobile banker would always need. Kudos to BPI for listening to their customers' feedback on improving the Express Mobile app!