Last January, our good friends from Asus Philippines invited select Tech and Lifestyle bloggers to attend the launch of the Asus Zenfone Zoom in Cebu. There was a good reason why they held it in Cebu and it's because the Sinulog Festival was also happening during that weekend. Prior to our trip, I was sent an Asus Zenfone Max with a note attached that I am supposed to bring it with me to Sinulog. There's a good reason for that too, and here I will narrate on how my Asus Zenfone Max was used for 1 weekend.
ASUS ZENFONE MAX SPECS
| OS: | Android 6.0 Marshmallow |
| --- | --- |
| Processor: | 1.14 GHz MTK MT6753 Octa-Core processor | MALI T720 |
| Display: | 720 x 1280 5.3" HD In-Cell Touch Display |
| Wireless Connections: | LTE, Bluetooth 4.1, WiFi a/b/g/n/ac, A-GPS, GLONASS |
| Memory: | 16 GB Internal Storage expandable with a Micro SD card up to 32GB, 2GB RAM |
| Connectors: | Micro USB |
| Cameras: | 13 Megapixels (Main Camera), 5 Megapixels (Front) |
| SIM Card Slots: | 2x Nano SIM Cards required |
| Battery: | 2,300 mAh |
| SRP: | P8,990 |
DAY 1
7:00 AM at Ninoy Aquino International Airport Terminal 2
My fellow Tech bloggers and I were just killing time while waiting for our flight. I inserted my SMART SIM Card to the Asus Zenfone Max and turned it on. Battery is fully charged and ready to be used. I have already installed my usual apps so I was good to go.
The Zenfone Max is the heaviest I've ever carried but it's surprisingly doesn't look and feel like a brick. I used to review the Cloudfone Thrill 530qx with a battery capacity of 4,500 mAh but it would always pull my shorts down. Asus' counterpart has 500 mAh more (yup, it has 5,000 mAh) and yet it looked classy with its faux leather finish and yes, my short pants' good friend.
SMART's LTE is already turned on and Bluetooth is paired with the Samsung Galaxy Gear S2 I was reviewing that time. Our boarding time is an hour and a half away so I used my Zenfone Max as a wireless hotspot for my O+ Duo Convertible to do some work.
9:00 AM – inside the plane
Switched the Asus Zenfone Max to Airplane Mode. Battery meter showed 96%. I was supposed to take a nap but chatted with Techpatrl's Raffy Pedrajita for the whole duration of our flight.
10:00 AM – Mactan-Cebu International Airport
Finally arrived in Cebu! I was so excited because I haven't been to this beautiful city for the past 7 years. Checked-in with the Swarm App, took pictures of cultural dancers outside the airport and switched on Apple Music while Bryan of Technobaboy and myself were transported to the Marriot Hotel.
11:00 AM – Marriot Hotel Cebu
Arrived at the hotel and relaxed for a bit while we waited for the ballroom to open. I was glued on Facebook, Twitter and Instagram with Apple Music playing in the background on my Zenfone Max.
12:00 NOON – Marriot Hotel Cebu Ballroom
Asus Zenfone Zoom event has just started. I brought another smartphone that time to test and took photos of Asus Philippines Country Manager George Su during his speech. I was dismayed, so I brought out my Asus Zenfone Max and started taking photos. And then I paused for a while and asked myself "Wow! Does this thing have a Laser AutoFocus as well??!" Apparently, it does and I love Asus' Laser sensor which was why it was on my Top 10 Choices of Smartphones in 2015. It took photos really well despite the bad lighting of the hotel.
2:30 PM – Hotel Room
Checked-in with good buddy Jam of JAM Online and co-host of The CP Republic. I transferred photos from the Asus Zenfone Max to my O+ Duo Convertible. Battery meter was around 80%.
This phone may be the most underpowered of all Zenfones I have used, but so far it was doing great!
3:30 PM – Inside a Van
Our group is composed of Tech Bloggers include Bruce (Yugatech), Mark, (TechPinas), Gian (Gadget Pilipinas), Jam (JAM Online), Bon (Taragis), Alex (The Technoclast). Jamie and Eason, Asus Philippines Marketing Manager and Head of PR respectively joined us to visit Basilica del Santo Niño.
4:00 PM – Osmeña Boulevard
Our driver dropped us off at M.J. Cuenco Avenue and we walked along Osmeña. Unfortunately, we couldn't get close to the Basilica due to the great number of devotees. We took photos with both the Asus Zenfone Zoom and Zenfone Max of the area. However, one of the Zenfone Zoom's battery meter is about to conk out. Jamie left her ZenPower at the van and nobody among us brought our powerbanks. This is where Eason brought out his USB OTG Cable and USB Cable. He connected the OTG to one of our Zenfone Max and plugged the USB to it and its other end on the Zenfone Zoom. Lo and behold, the Zenfone Zoom was being charged by another Zenfone!
I later quipped "No wonder we were asked to use the Asus Zenfone Max. It's gonna be used as a powerbank for the Zenfone Zoom!"
4:30 PM – Magallanes Street
We walked to the other side of the Basilica where the Magallanes Cross is found. Too bad the gates to the Cross was also closed for the festival. Took more photos, uploaded several to my social network sites and went back to the hotel afterwards.
7:00 PM – Marriot Hotel Ballroom
Battery meter during dinner time was already less than 70% and I thought of turning in early for the day. Our friends at SMART invited us to join them for dessert. After a short announcement of the Asus Philippines team, I booked a taxi with the Über app and we all hopped in.
9:30 PM – Cafe Georg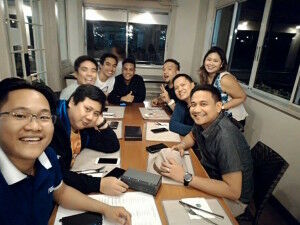 Met with our good friends of SMART as well as bloggers from Cebu Bloggers Society and chatted for the rest of the night. My Asus Zenfone Max still has a lot of battery juice. I didn't, so I fell asleep at the restaurant.
DAY 2
PAST 12 MIDNIGHT – Hotel Room
So tired and my Zenfone Max's battery life has 43% left. Should I switch to the hotel's WiFi? Turn off Bluetooth? Charge the Zenfone? I said no to all of those, so while I was asleep my LTE is still turned on and bluetooth connected to the Gear S2 receiving all sorts of notification.
7 AM – Hotel Room
Woke up and checked all my unread emails and notifications on the Zenfone Max. How much battery juice do I still have on my phone after 24 hours? 34 percent. Is it enough for me to use until I arrive in Manila that evening? Maybe, maybe not. I want to maximize the usage on the Zenfone as much as possible.
10:30 AM – Mango Avenue
We walked all the way from the hotel to Mango Avenue. Did not care about the long walk and the warm weather. I was very excited to see the parade of dancers and floats of the Sinulog Festival. I paired the Zenfone Max with my Momax Selfie Hero to take selfies in the area.
12 NOON – Lighthouse Restaurant
NOMNOMNOMNOM!!!!!
1:00 PM – Marriot Hotel
After 30 hours of heavy usage, my Asus Zenfone Max has gone down to 5%. I took the remaining time in the hotel to charge the Zenfone so I can still use it until my arrival in Manila.
DR'S CONCLUSION
I have pushed the Asus Zenfone Max to its limits during my busy Sinulog weekend and I was really impressed with it. If I used it moderately, I think its battery juice would let me reach up to 3 days with a single charge. I've heard some of the lifestyle bloggers who used the Zenfone Max have 5 days of battery life. I loved everything that this phone did to me and it made my Sinulog trip more memorable.
And because I highly recommend this smartphone, I am awarding the Asus Zenfone Max a DR's Choice Award for its overall performance especially its battery life. By the way, I recommend using a charger with a higher capacity so it can charge faster than the one provided in the package.
LIKES
Form-factor. In spite of its large battery, Asus managed to make the Zenfone Max as thin as possible. Faux leather adds some nice touch.
5,000 mAh battery.
Can be used as a powerbank.
Cameras are pretty good.
DISLIKES
Slow charging
Need to update 46 pre-installed apps mostly from Asus