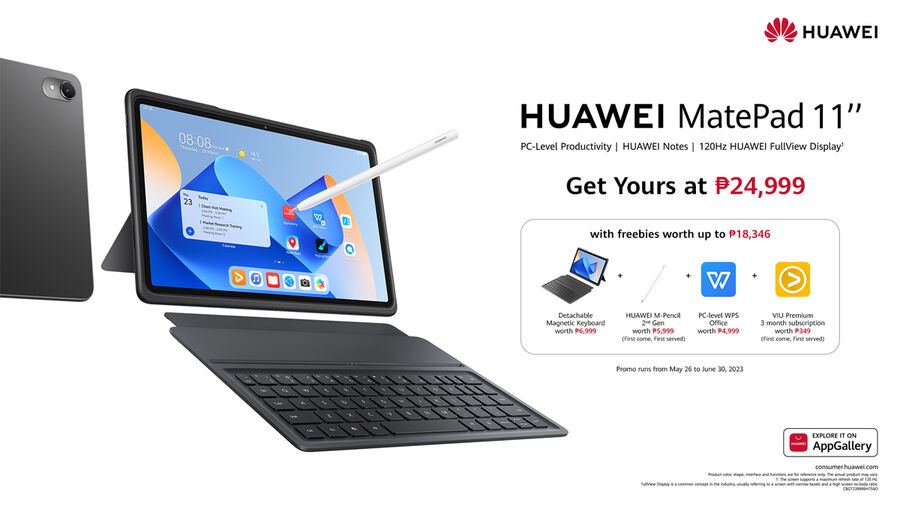 Huawei recently unveiled its HUAWEI MatePad 11-inch 2023 tablet and this new model is set to be your next perfect companion. It comes with enhanced hardware and software that would certainly appeal to young professionals and college students as it provides an impressive suite of PC-level apps and services.
The HUAWEI MatePad Series product line has drawn acclaim among consumers since its inception in 2019. The HUAWEI MatePad 11-inch 2023 model is spruced up to offer a next level of performance while building on the powerful capabilities seen on previous MatePad devices.
PC-Level WPS Office Taking Mobile Productivity Forward
While mobile devices perform poorly especially in demanding office scenarios, Huawei's PC-level WPS Office offers the same page layout and capabilities seen on PCs so that users can open multiple windows, make pivot tables, and edit formulas, no different than you would on a laptop or desktop.
To ensure that you have the PC-level WPS Office in your device, check the settings and make sure to install the latest software update. Once done, tap on the WPS Office icon that appears on your homescreen that directs you to the AppGallery where you can download and install it. Once this is finished, you're all set to use the PC-level WPS Office via your MatePad 11 2023.
The HUAWEI MatePad 11-inch also supports keyboard and mouse interactions with optimised mouse selection and drag-and-drop operations, made possible by a more responsive and accurate cursor. The tablet even looks and works like a laptop, with its detachable keyboard, which can be connected to the tablet via Bluetooth and used independently.
Cross-device content editing has become increasingly common, but cumbersome third-party apps make it challenging. SuperHub leverages HarmonyOS to eliminate barriers between different devices, so that you can transfer a bunch of images, videos, and even text by one easy drag-and-drop operation.
A Mobile Productivity Booster for Young Professionals
The preinstalled HUAWEI Notes app is designed to help each user produce professional meeting notes as it comes chock-full of handy note-taking templates and personalised covers, and works seamlessly with the nimble HUAWEI M-Pencil stylus. These all make it easy to stay productive on the go.
HUAWEI Notes also makes meetings and conferences a sheer breeze, by supporting the import of materials like PDFs and images. While taking notes, you can switch brush effects to highlight key points, and even take and add photos to text-based notes with greater ease. What's more, images can be freely cropped, and arranged in perfect tandem with handwriting and text with the lasso tool. You can also have your handwriting converted into standard text and mark up your notes in different colours.
During a presentation, you can create marker effects that disappear after set periods of time, or magnify key passages so that they stand out from everything else. HUAWEI Notes also provides multi-layer folders for organizing your materials, in which you can pin key notes to the top, or search through all your notes across devices, even handwritten notes, by keyword.
The HUAWEI M-Pencil, on the other hand, captures the full nuance of each stroke, thanks to its imperceptible 2 ms latency. M-Pencil ensures a pen-on-paper level writing experience and displays your best work and favourite content brilliantly.
Immersive Audiovisual Entertainment with 120Hz FullView Display
Viewing your favorite content on the HUAWEI MatePad 11-inch is a joy thanks to its 120 Hz FullView Display, 2.5K resolution, P3 colour gamut, and colour management. This tablet is also TÜV Rheinland Low Blue Light (Hardware Solution) and Flicker-Free certified to ensure that hours of viewing remain easy on the eyes.
The HUAWEI MatePad 11-inch is also built for an immersive concert experience with its amazing audio. The quad-channel large-amplitude quad-speaker sound system and Huawei Histen 8.0 capabilities enable this handheld tablet to generate an all-consuming listening experience. Moreover, proprietary Huawei AI noise cancellation technology automatically filters out unwanted sounds, like keyboard typing, mouse clicks, and footsteps, to keep calls clear as can be.
HUAWEI MatePad 11-inch 2023 is a paradigm-shifting mobile office device that reflects Huawei's commitment to continuously adapt with future-facing solutions to the constantly evolving modern nature of work.
Starlight Sand Process and Cosmic Star Ring
The tablet's symmetrical design is a tribute to classic aesthetics while its cutting-edge technologies, complemented by a striking 120 Hz refresh rate and impressive 86% screen-to-body ratio[5], take performance through the roof.
The tablet's smooth visuals alongside its new starlight sand design work flawlessly with the cosmic star ring camera, making the tablet as aesthetically pleasing as it is powerful.
These two design highlights make the MatePad 11-inch 2023 tablet look pretty stylish with its Graphite Black body. The front and back of the ultra-thin transparent plate are both processed, creating an exquisite texture that exudes elegance.
Promo for early birds
From May 26 to June 30, you can get as much as Php 18,346 worth in freebies when you purchase your HUAWEI MatePad 11-inch 2023 for only Php 24,999 through offline and online HUAWEI Stores, authorized retail outlets, and leading e-commerce sites like Shopee and Lazada. Up for grabs are the HUAWEI Detachable Magnetic Keyboard worth Php 6,999, an M-Pencil (2nd gen) worth Php 5,999, a WPS PC-level worth Php 4,999, and a 3-month Premium Viu membership worth Php 349 during this promo period.
Get more with the exclusive HUAWEI MatePad 11 2023 WiFi 6+128GB Early Bird voucher worth Php 1,000 when you purchase from May 24 to May 31. You can avail your voucher via the following online stores:
Shopee: Use code HUAWEIPAD
Discover the latest from Huawei by checking out the Official Facebook Page.
Want to stay updated on all things Huawei? Join and follow the Official Facebook Community and be part of all the latest conversations on Huawei.