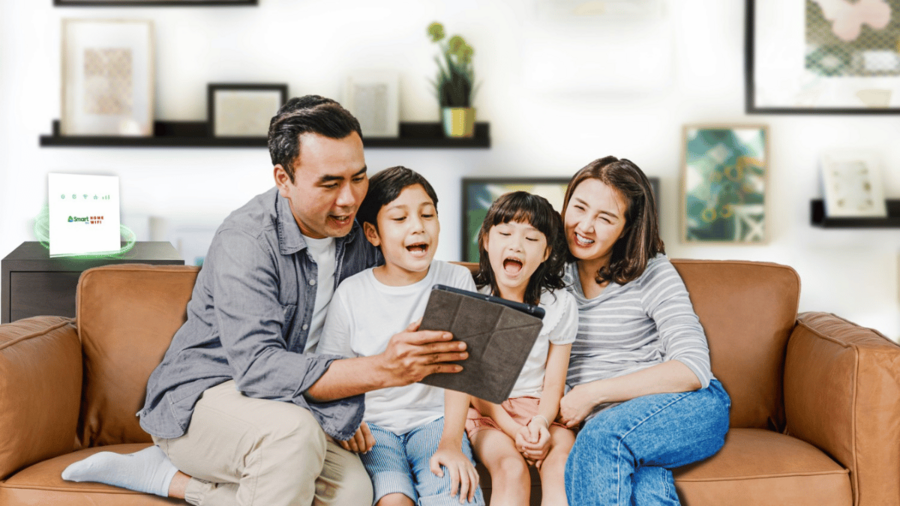 Need a fast connection at home, but must stay within your budget? Smart Bro Home WiFi got you covered!
Enjoy affordable, reliable, and fast sulit-speed pampamilya internet when you purchase a Smart Bro Home WiFi device powered by Smart's fastest LTE network. The device is available for only P995 and it comes with 30 days of free unlimited data when you successfully activate the modem. The promo is available now up to September 30, 2023 only!
With the free 30-day unlimited data, family members can enjoy their online activities without worrying about their internet connection.
Professionals at home can easily conduct their meetings and transfer large files without experiencing any lag, students can attend their online classes and access their campus online portal without interruption, and the family can enjoy smooth and seamless YouTube streaming, web browsing, and social media scrolling anytime.
Once the 30 days of unlimited data have been fully consumed, you can easily subscribe to the different prepaid data offers available, each of which is suited to different budgets and digital lifestyles. You can go as small as FamLoad 199 for 7 GB of YouTube and 12 GB of open-access data for a week, or as big as FamLoad 1199 for a 30-day of unlimited data for all sites and apps.
Smart Bro Home WiFi is also incredibly easy to use! It's just plug and play – meaning you can just power it on after activating then start surfing the internet. Up to five (5) WiFi-powered devices can connect to the LTE-modem.
Smart Bro Home WiFi is powered by Smart, the first and only Philippine mobile operator to win Ookla's Best Mobile Network award in Q1-Q2 2022 and Q3-Q4 2022. To get this rare and prestigious recognition, Smart won both the Fastest Mobile Network and Best Mobile Coverage awards within the same reporting periods.
Where to get Smart Bro Home WiFi?
Get your own Smart Bro Home WiFi from Smart Store, Lazada, Shopee, official distributors, or in any telco tiangges nationwide!