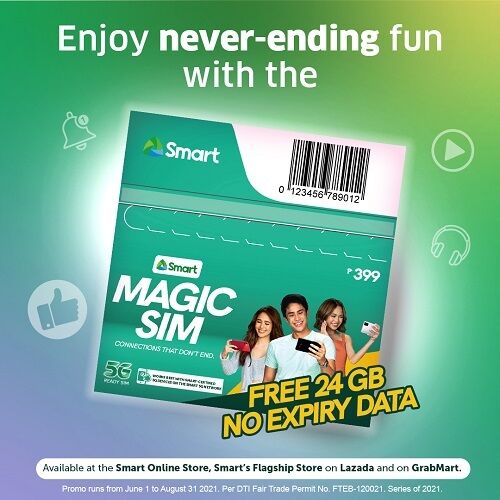 SMART is making it simpler and easier for Filipinos to shift their daily activities online powered by the country's
fastest mobile data network as it launches the SMART Magic SIM, a limited-edition prepaid SIM that comes with 24 GB no-expiry open access data for only P399.
The SMART Magic SIM gives users the freedom and flexibility to instantly enjoy more data and access of their favorite digital experiences. Upon activation, subscribers can use the SIM's preloaded 24 GB data for work, school, social media, or entertainment – from attending online work meetings, sending huge work files, streaming online classes,  sharing content on social media, binge-watching the latest series and movies, and playing mobile games, among others.
"The Smart Magic SIM is our most compelling bundle pack yet, which we have specially designed to give users generous data right from the get-go so they can simply pursue their passions. On top of this, we bring a much-differentiated digital experience because of our fastest and most reliable mobile network," said Jane J. Basas, SVP and Head of Consumer Wireless Business at SMART.
The SMART Magic SIM is ready-to-use in all smartphones including SMART 5G-certified devices, and is available at the Smart Online Store, Smart's Flagship Store in Lazada, and on GrabMart For more no-expiry open access data, Subscribers can also link their account to the GigaLife App to avail of exclusive rewards and data offers such as Magic Data with just a few taps on their phone.
 
Downloadable on Google Play Store, Apple App Store, and Huawei Mobile Services, the GigaLife App also enables subscribers to conveniently monitor their data usage as well as earn and accumulate GigaPoints, which may be used to redeem exclusive rewards and lifestyle perks.
Get the Smart Magic SIM at the SMART Online Store now!